Centenary Shield: England v N. Ireland
Thursday 29 March 2007By ESFA Office
Last Updated:
13/11/2010 16:02:59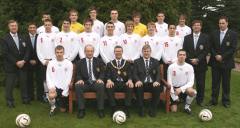 England U18 Schoolboys

England U18 Schoolboys, holders of the Centenary Shield, will play host to Northern Ireland at Ewood Park, Blackburn Rovers Football Club, on Friday 20 April 2007.
England have already got their defence of the Shield off to a flying start with a 1-0 victory against Scotland at Stirling Albion last Friday (23 March), thanks to a Phil Bannister strike on the stroke of half time.
Tickets for this game are now on sale and can be purchased on the night at:
£8 adults
£5 concessions
Discounts for group bookings are available
Ticket Office Hotline 08701 123456
Tony Martin, England Schoolboys Team Manager, will be hoping his young lions can build on their success in Scotland with a win in Dublin tomorrow night (Friday 30 March), where they take on the Republic of Ireland at Home Park FC, kick-off 7pm.
Archived News
Seasons
Season 2006-2007
March 2007
29th :: Centenary Shield: England v N. Ireland