ESFA PlayStation Under 13 Inter Association Trophy Final Match Report
Thursday 08 June 2017By ESFA Office
Last Updated:
28/06/2017 11:53:25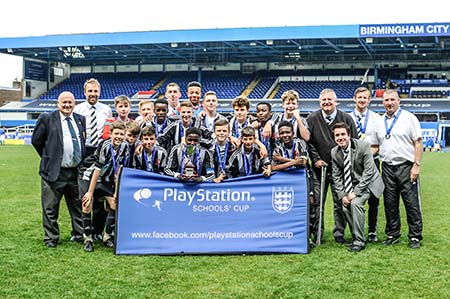 North Kent District Schools' FA 1-2 Newcastle Upon Tyne District Schools' FA
Newcastle Upon Tyne District Schools' FA have been confirmed as the winners of the 2017 ESFA PlayStation Under 13 Inter Association Trophy after beating North Kent District Schools' FA 2-1 in an entertaining game wherein the only difference between the two sides was Newcastle's ability to take their chances, having just about edged the balance of play. Newcastle-Upon-Tyne secured the victory courtesy of Alfie Whatmore's long range free-kick and Newcastle-Upon-Tyne's captain, Michael Ndiweni's side-footed effort from inside the area. North Kent grabbed a late consolation through Nikola Krstanovic's close range header, but it was not enough to prevent Newcastle from lifting the trophy. Both sides deserve tremendous credit for the entertaining spectacle that they produced in front of an extremely partisan and vociferous crowd on the hallowed St. Andrew's turf.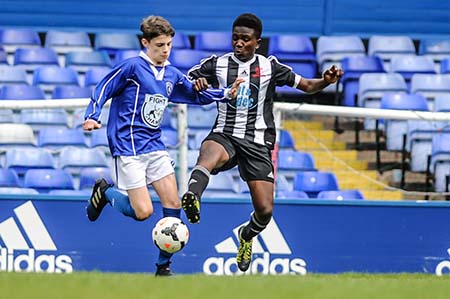 Match Background:
Both of this year's finalists had successfully navigated six previous rounds before the final, in what is most likely to have been a long and arduous road, full of many joys and sorrows, starting in September and culminating with this entertaining contest at St. Andrew's. As was the case in the previous finals, the quality of the two teams can be indicated by the degree of difficulty that each county had faced in getting to this stage: North Kent were taken to extra time by Aldershot & Farnborough before they eventually prevailed 2-1. Concurrently, Newcastle-Upon-Tyne overcame Nottingham 2-1 in what appeared to be a very tight affair. Furthermore, it would be remiss of us not to briefly acknowledge both teams' exceptional pedigree in developing promising talent. In particular, North Kent Under 13 team were unbeaten up until the final and this final would serve to be the second of four finals for this group of players having recently won the Charles Harvey Trophy 5-1 against Medway. Likewise, Newcastle-Upon-Tyne has a rich heritage of helping promising talent forge a career in the professional game. This includes but is not limited to Alan Shearer, Lee Clark and Steve Bruce. Therefore, the stage was set for a blockbuster.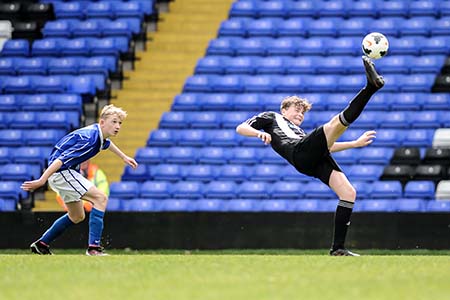 Match Details:
North Kent had the first notable effort of the match through Josh Leach who saw his shot deflected wide and the resultant corner came to nothing. Newcastle then hit back with a decent chance themselves. This effort came via the boot of Alfie Whatmore as he fired wide from the edge of the area. Almost immediately, North Kent's Adrian Akande found himself in acres of space in the Newcastle box, but could only drag his shot wide from 12 yards out. Adrian Akande soon tested the reflexes of Newcastle keeper, Mauro Asikaogu as his downward header was comfortably dealt with. It proved to be an enticing first ten minutes or so as Ben Douglas had a shot, level with the edge of the box saved by Max Hearn in the North Kent goal. Subsequently, a lot of the game was played in the midfield as both teams battled for supremacy following a positive start. The game burst into life once more in terms of goal mouth action, 10 minutes prior to the half time break, with North Kent going close through Adrian Akande's fierce shot, whereas Newcastle tried the luck through both Michael Ndiweni and Ben Douglas, but to no avail. That proved to be the last noteworthy action of the first half as it ended goalless.
Half Time: North Kent District Schools' FA 0-0 Newcastle-Upon-Tyne District Schools' FA
The North Kent goalkeeper Max Hearn was injured in the very early stages of the second half but fortunately he was able to continue after a period of treatment. Alfie Whatmore set his sights as he sent a shot wide from the edge of the box. He was to go one better five minutes later as he sent a looping 35 yard free kick past the despairing dive of the aforementioned Hearn to open the scoring. North Kent looked to respond immediately in an effort to restore parity, with Adrian Akande having his shot well saved. At the other end Nathan Nkunku saw his effort from 30 yards out well saved. Newcastle, then doubled their lead through Michael Ndiweni cool sidefooted finish after the ball had broken to him kindly on the edge of the area. The forward advanced into the area and fired high into the net. It wasn't until late on in the piece that North Kent halved the deficit as Nikola Krstanovic managed to beat Mauro Asikaogu to the ball and head home from six yards out.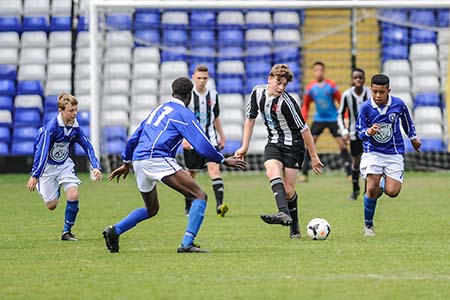 Joyous scenes followed at the final whistle as Newcastle-Upon-Tyne District Schools' FA celebrated a hard-fought victory. North Kent District Schools' FA, to their credit accepted their defeat gracefully and thoroughly deserved their applause after the match, as well.
Full Time: North Kent District Schools' FA 1-2 Newcastle-Upon-Tyne District Schools' FA
Squads:
North Kent District Schools' FA: 1. Max Hearn; 2. Frankie Burgess; 3. Namory Kane; 4. Josh Leach; 5. Callum Hudson; 6. Kyle Smith; 7. Tayt Trusty (C); 8. Josh Chambers; 9. Nikola Krstanovic; 10. Victor Akinwale; 11. Adrian Akande; 12. Lennie Barnes; 13. Dan Butt; 14. Wayne Bushell; 15 Jack Pieski; 16 George Hunter.
Newcastle-Upon-Tyne District Schools' FA: 1.Mauro Asikaogu; 2. Ben Franklin; 3. Nathan Daines; 4. Ben Douglas; 5. Vitalis Nyekila;6. Afonso Lindo; 7. Harvey Hills; 8. Alfie Whatmore; 9. Michael Ndiweni; (C) 10. Nathan Nkunku; 11. Luke Majmudar; 12. Jack Leckie; 14. George Wilson; 15. Joseph Grigg; 16. Owen Drinkeld; 17. Joe Ferguson.
Match Officials:
Referee: Lewis Richards
Assistant Referees: Craig Taylor & Paul Hobday
Fourth Official: Martin Corrigan
The ESFA would like to place on record it's thanks to the staff at Birmingham City F.C. for hosting the event and PlayStation for sponsoring a plethora of our competitions, including this tournament. Further thanks go to 247tv for providing the live stream, as well as 353 Photography for providing the match photos.
https://www.youtube.com/watch?v=A4go-eEiQpI
Images © ThreeFiveThree Photography - not to be reproduced without permission.
Latest News
Archived News
Seasons
Season 2016-2017
June 2017
08th :: ESFA PlayStation Under 13 Inter Association Trophy Final Match Report