ESFA Under 16 Inter County Trophy for Girls' Match Report
Thursday 08 June 2017By ESFA Office
Last Updated:
28/06/2017 11:53:25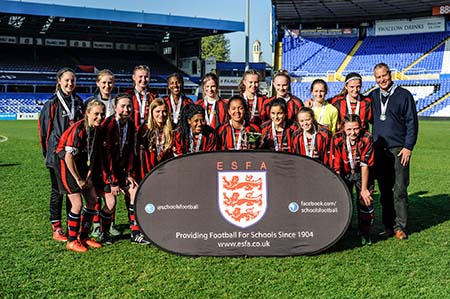 Sussex County Schools' FA 0-2 Derbyshire County Schools' FA
Derbyshire County Schools' FA have been confirmed as the winners of the 2017 ESFA Under 16 Inter County Trophy for Girls' after they had put in a convincing performance to overcome Sussex County Schools' FA 2-0 in an entertaining game that proved to be a fantastic advert for both schools' football and women's football alike. Derbyshire secured the title courtesy of a first half strike from their number nine, Naomi Lawrence as she slotted past Lauren Graves, in the closing stages of the first 40 minutes. The scoring was completed in spectacular fashion, early in the second half, as Sheniel Lymer launched a long range piledriver, that went in off the bar. Both sides deserve tremendous credit for the entertaining spectacle that they produced in front of an extremely partisan and vociferous crowd on the hallowed St. Andrew's turf.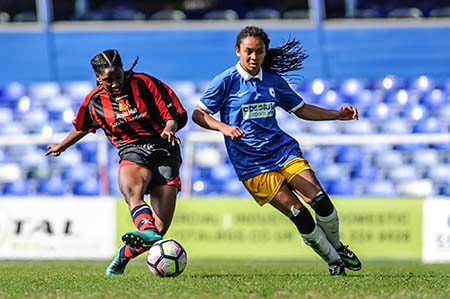 Match Background:
Both of this year's finalists had successfully navigated two previous rounds before today in what is most likely to have been a long and arduous road, full of many joys and sorrows, starting in September and culminating with this entertaining contest at St. Andrew's. As was the case in the previous finals, the quality of the two teams can be indicated by the degree of difficulty that each county had faced in getting to this stage: Sussex squeezed past Essex 4-3 on penalties, in what seemed to have been a very tight encounter. On the other hand, Derbyshire ended up on the right side of a seven-goal thriller, having bested Worcestershire 4-3 to progress to the final. Furthermore, it would be remiss of us not to briefly acknowledge both teams' exceptional pedigree in developing promising talent. In particular, Sussex have had the honour of having one of their players called up to Welsh National Squad in Bronwen Thomas. Likewise, Derbyshire's squad for this final was populated by a number of girls that attend various Regional Talent Centers' including but not limited to Birmingham City Ladies and Derby County Ladies respectively. Therefore, the stage was set for a blockbuster.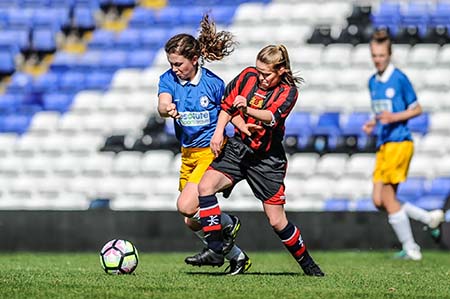 Match Details:
Derbyshire started the stronger of the two sides with Derbyshire's Ellie Marshall testing Sussex's Lauren Graves with a low effort from just inside the box, which she easily gathered up. Not long after Derbyshire won a corner that was taken short and resulted in an effort from their captain, Paris McKenzie flying wide. Almost immediately, Naomi Lawrence had an effort cleared off the line by the covering defender. These early exchanges set the tone for the rest of the match with only last ditch defending denying the impressive Naomi Lawrence from opening the scoring on two separate occasions. The deadlock was broken in the 21st minute as Naomi Lawrence collected a defence splitting pass and slotted calmly past Lauren Graves and give Derbyshire the lead. Derbyshire's dominance continued, this time manifesting itself through Ellie Marshall firing over the bar and having a shot well saved from 25 yards out. The final action of the first half came courtesy of Naomi Lawrence once again, who had a shot saved from approximately 20 yards out.
Half Time: Sussex County Schools' FA 0-1 Derbyshire County Schools' FA
The second half began in much the same vain as the first half with Naomi Lawrence continuing her personal quest to add to the score-sheet after she saw her shot on the turn sail agonisingly into the Gil Merrick Stand. Then came the moment of the match as Sheniel Lymer let fly from outside the penalty area following a mazy run. Her rising effort left Lauren Graves a mere spectator as the ball kissed the top of the bar and bounced down beyond the goal line. Thereby doubling Derbyshire's lead. Sussex's first notable opportunity of the second half fell to Tilly Gray, who dragged her effort wide when well placed in the area. Sussex immediately looked to build on this opening as the aforementioned Tilly Gray had a shot saved by Derbyshire keeper, Rosie Hodges at the expense of a corner, which came to nothing. Subsequently, Olivia Walker launched a speculative 25-yard effort well wide. Despite all of Sussex's endeavour this period of pressure was the closest they came to regaining a foothold in the game and as such Derbyshire were able to see out the rest of the match fairly comfortably. In fact, the difference between the two teams was underlined when Derbyshire's Tavia Myles hit the post from inside the area.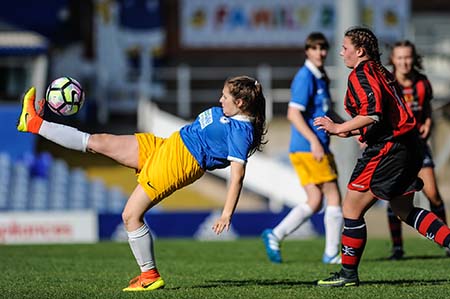 Joyous scenes followed at the final whistle as Derbyshire County Schools' FA celebrated a hard-fought victory. Sussex County Schools' FA, to their credit accepted their defeat gracefully and thoroughly deserved their applause after the match, as well.
Full Time: Sussex County Schools' FA 0-2 Derbyshire County Schools' FA
Squads:
Sussex County Schools' FA: 1. Lauren Graves; 2. Ava Hudson (C); 3. Emily Salusbury; 4. Gemma White; 5. Charesse Amatey; 6. Chloe Coaker; 7. Beth Kincaid; 8. Meghann Wingstutton; 9. Becky Reed; 10. Tilly Gray; 11. Tiggy Webb; 12. Emily Hounsell; 13. Izzy Donnelly; 14. Olivia Walker; 15. Daisy Bedall; 16. Holly Heffron.
Derbyshire County Schools' FA: 1. Rosie Hodges; 2. Millie Drinkhall; 3. Sheniel Lymer; 4. Rosie Hunt; 5. April Bennett; 7. Georgina Brewster; 8. Paris McKenzie (C); 9. Naomi Lawrence; 10. Lilly Lymn; 11. Isobel Ford; 17. Karagh Tait; 12. Tavia Myles; 13. Emily Jones; 14. Sophie Hoyle; 15. Ellie Marshall;16. Hannah Baker.
Match Officials:
Referee: Susan Albrighton
Assistant Referees: Simon Burgess & Andy Insole
Fourth Officials: Vlad Aleksandrov
The ESFA would like to place on record it's thanks to the staff at Birmingham City F.C. for hosting the event and PlayStation for sponsoring a plethora of our competitions, including this tournament. Further thanks go to 247tv for providing the live stream, as well as 353 Photography for providing the match photos.
https://www.youtube.com/watch?v=CsGIr1nE7rE
Images © ThreeFiveThree Photography - not to be reproduced without permission.
Latest News
Archived News
Seasons
Season 2016-2017
June 2017
08th :: ESFA Under 16 Inter County Trophy for Girls' Match Report