ESFA PlayStation Under 15 Open Schools' Cup for Boys' Match Report
Monday 12 June 2017By ESFA Office
Last Updated:
28/06/2017 11:53:25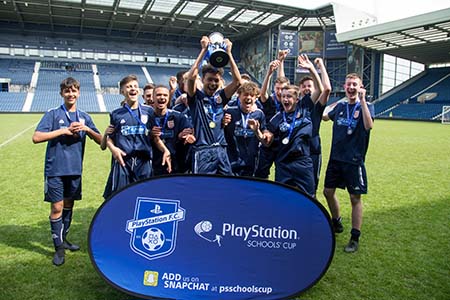 Nene Park Academy (Peterborough SFA) 2-4 Sandwell Academy (Sandwell SFA)
Sandwell Academy have been confirmed as the winners of the 2017 ESFA PlayStation Under 15 Open Schools' Cup for Boys' after beating Nene Park Academy 4-2 in an entertaining game that could have gone either way in the end, simply because the pendulum swung one way and then the other throughout normal time, before Sandwell Academy's superior quality told in the extra time period. First half goals from Morgan Rogers and Finley Thorndike meant that Sandwell Academy were able to seize the early advantage, which they were able to retain until the early stages of the second half. Nene Park Academy subsequently staged a magnificent second-half comeback to send the game into extra-time, courtesy of efforts from Bradley Rolt & Nathan Rudman. Despite Nene Park Academy's continuous endeavour, Sandwell Academy secured the victory thanks to efforts from Kian Bedford & Bradley Burton. Both sides deserve tremendous credit for the entertaining spectacle that they produced in front of an extremely partisan and vociferous crowd on the hallowed Hawthorns turf.
Match Background:
Both of this year's finalists had successfully navigated five previous rounds before the final, in what is most likely to have been a long and arduous road, starting in September and culminating with this entertaining contest at The Hawthorns'. As was the case in the previous finals, the quality of the two teams can be indicated by the degree of difficulty that each county had faced in getting to this stage: Nene Park Academy demonstrated their undoubted quality in defeating Harefield Academy 4-1 in their penultimate fixture. Not to be outdone, Sandwell Academy overcame Wright Robinson College 6-1 at the same stage in the competition. Furthermore, it would be remiss of us not to briefly acknowledge both teams' exceptional pedigree in developing promising talent with many players from both sides registered with a professional academy, including West Bromwich Albion F.C. and Peterborough United F.C. to name a couple. Therefore, it seemed that both teams would be evenly matched heading into the encounter.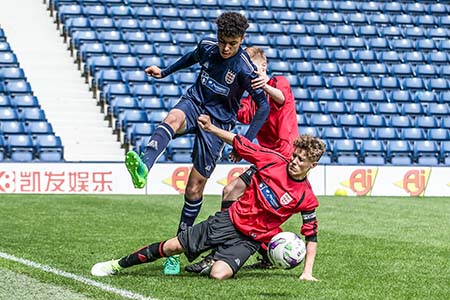 Match Details:
Sandwell Academy started the stronger of the two sides as they dominated the ball in the early stages, applying a considerable amount of pressure to the Nene Park Academy goal in the process. The first notable effort on goal came from the boot of Sandwell's captain, Morgan Rogers, who fired over the bar from the edge of the box in the 11th minute. In the five minutes that followed this, Sandwell almost opened the scoring on two separate occasions thanks to Nyal Genard, who had his stinging shot well saved by Nene Park's goalkeeper, Josh Allen. Nyal Genard was clearly eager to get on the score-sheet and as such he tried his luck once more. This time, though his shot from inside the box was cleared off the line by the covering defender after an excellent cross from Finley Thorndike. This early pressure told in the 17th minute as the ball was excellently won back in the midfield by Sandwell's Lewis Smith, who released Harvey Cartwright down the wing. The tricky winger then stood up an exquisite cross to the far post for Morgan Rogers to head back across the goal and beyond Josh Allen. The aforementioned Finley Thorndike then tried his luck but he could only muster a hopeful effort that drifted harmlessly wide. Sandwell's lead was only doubled in the 32nd minute as Finley Thorndike played a one-two with Nyal Genard to then smash an effort into the roof of the net.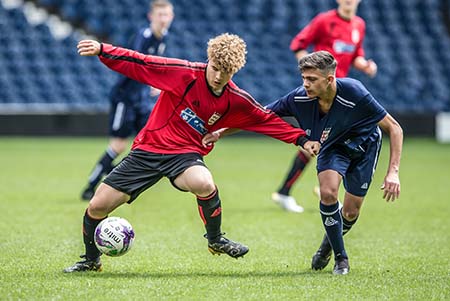 Half Time: Nene Park Academy 0-2 Sandwell Academy
Sandwell Academy's Harry Williams had the first effort on goal with an ambitious 25 yard header that was easily gathered by Josh Allen. Nene Park Academy were given a lifeline in the 49th minute as a counter attack ended with Nathan Rudman being bought down inside the area. His team-mate, Bradley Rolt stepped up and dispatched the spot-kick beyond Jake Richards to halve the deficit. Nene Park Academy proceeded with a renewed sense of confidence and were unfortunate to see Lewis Benton's header fly over the bar. As Nene Park Academy pushed more players forward in an attempt to equalise, Sandwell Academy launched a counter attack which saw Carrick Hall's shot acrobatically saved by Josh Allen. Two minutes later, another counter attack from Sandwell resulted in Morgan Rogers being played through in a one-on-one situation but his effort was well saved by the advancing Josh Allen, closely following this, Finley Thorndike saw his effort drift over the bar. There was to be a grandstand finish to the game, as in the dying moments Nathan Rudman saw his shot from the edge of the area dribble inside the far post, thus sending the match into extra time.
Full Time: Nene Park Academy 2-2 Sandwell Academy
Sandwell Academy regained the lead early in the first period of extra time through Kian Bedford who emulated Cristiano Ronaldo with a perfect Ronaldo chop to bamboozle the defender and fire past Josh Allen. Credit must go to the impressive Bradley Burton for his defence-splitting pass. Not content with his assist alone, Bradley Burton sealed the win in the second period of extra time by getting on the end of Finley Thorndike's cross.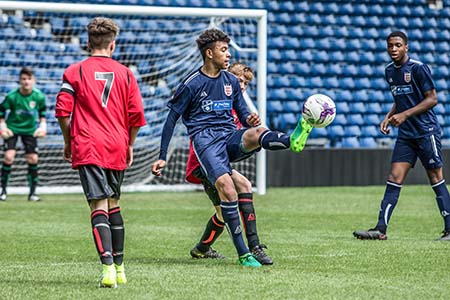 Joyous scenes followed at the final whistle as Sandwell Academy celebrated a hard-fought victory. Nene Park Academy, to their credit accepted their defeat gracefully and thoroughly deserved their applause after the match, as well.
Squads:
Nene Park Academy: 1. Josh Allen; 5. Owen Gilbert; 6. Harry Wagner; 12. Lewis Benton; 4. Tommy Rigby; 7. Taylor Steward (C); 8. Louie Venni; 9. Corey Gray; 10. Archie Jones; 11. Nathan Rudman; 16. Bradley Rolt; 2. Luca Zirpolo; 3. Kyle Tyler; 13. Joe Serrano-Taylor; 14. Jay Ward; 15. Alex Roe.
Sandwell Academy: 1. Jake Richards; 2. Josh Harper; 3. Federico Kudrik; 4. Lewis Smith; 5. Harry Williams; 6. Bradley Burton; 7. Harvey Cartwright; 8. Carrick Hill; 9. Nyal Genard; 10. Morgan Rogers (C); 11. Finley Thorndike; 12. Jarvis Cleo; 13. Callum Brownhill; 14. Jack Mercer; 15. Oliver Haydon; 16. Kian Bedford.
Match Officials:
Referee: Steven Taylor
Assistant Referees: Bill Quirk & Connor Everard
Fourth Official: Mark Warren
The ESFA would like to place on record it's thanks to the staff at West Bromwich Albion F.C. for hosting the event and PlayStation for sponsoring a plethora of our competitions, including this tournament. Further thanks go to 247tv for organising the live stream, as well as 353 Photography for providing the match photos.
https://www.youtube.com/watch?v=6jM8-ewyGcY
Images © ThreeFiveThree Photography - not to be reproduced without permission.
Latest News
Archived News
Seasons
Season 2016-2017
June 2017
12th :: ESFA PlayStation Under 15 Open Schools' Cup for Boys' Match Report