ESFA PlayStation Under 14 PlayStation Inter County Trophy for Girls Match Report
Thursday 08 June 2017By ESFA Office
Last Updated:
28/06/2017 11:53:25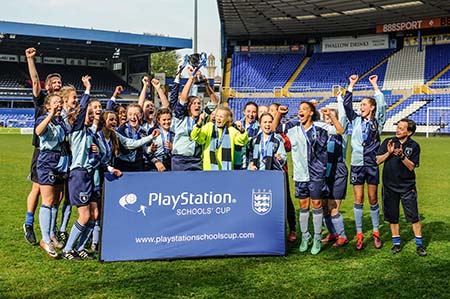 Lancashire County Schools' FA 0-2 Kent County Schools' FA
Kent County Schools' FA have been confirmed as the winners of the 2017 ESFA Girls Under 14 PlayStation Inter County Trophy after beating Lancashire County Schools' FA 2-0 in an entertaining game wherein the only difference between the two sides was Kent's ability to take their chances, having just about edged the balance of play, albeit it was a very close match. Kent's victory was secured courtesy of second half goals from Tallulah Holy and Rebecca Bagge. Tallulah Holy showed good awareness to be in the right place, at the right time and tap home from close range. Rebecca Bagge, on the other hand, netted a long range pile-driver that burst through the fingers of Lancashire's keeper, Tilly Brand to seal the victory for Kent County Schools FA. Both sides deserve tremendous credit for the entertaining spectacle that they produced in front of an extremely partisan and vociferous crowd on the hallowed St. Andrew's turf.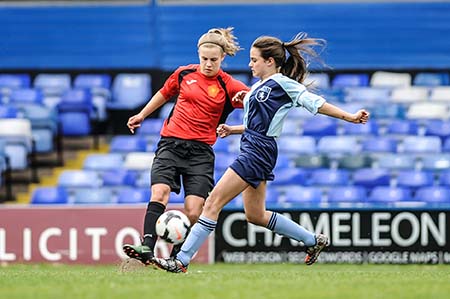 Match Background:
Both of this year's finalists had successfully navigated four previous rounds before the final, in what is most likely to have been a long and arduous road, full of many joys and sorrows, starting in September and culminating with this entertaining contest at St. Andrew's. As was the case in the previous finals, the quality of the two teams can be indicated by the degree of difficulty that each county had faced in getting to this stage: Lancashire showed their undoubted quality in overcoming Worcestershire 3-0 in their respective semi-final fixture. Not to be outdone, Kent put in a mature performance to book their place in the final as they beat Inner London in their penultimate fixture. Furthermore, it would be remiss of us not to briefly acknowledge both teams' exceptional pedigree in developing promising talent. In particular, Kent County Schools' FA can count current Manchester United and England centre-half Chris Smalling amongst their list of distinguished alumni. This is in addition to helping to facilitate football for over 25,000 young people within their jurisdiction each year. Therefore, there is a strong foundation in place with the potential for many more talented youngsters to come through in the future. Likewise, Lancashire County Schools' FA have been present for all of the six previous finals in this competition, winning five of those encounters. Notable alumni of Lancashire County Schools' FA include Stephen Warnock (ex-Blackburn Rovers F.C. & Aston Villa F.C. defender) and James Beattie (ex-Southampton, Stoke City, Everton & England striker) among others. Therefore, the stage was set for a blockbuster.
Match Details:
There was very little notable goal mouth action in the first quarter of an hour with both teams looking to establish a foothold in the match. On the 15 minute mark, Kent registered the first shot on goal with Tegan Attree forcing a smart save out of Tilly Brand, from the edge of the area. The game seemed to burst into life after this point with Lancashire's Tahnee Lucas having a shot brilliantly cleared off the line by the Kent defence. Sensing an opportunity to apply some pressure to the Kent goal, Lancashire's captain, Cara Milne – Redhead had a shot blocked once more. Five minutes later in the 25th minute, Kent hit the woodwork following Sophie Chapman's effort from the edge of the box. Lancashire subsequently enjoyed a period of relative dominance towards the end of the first half, with Emily Slater seeing her effort drift wide of the post after Lancashire corner was only half cleared by the Kent backline. Five minutes later in the 32nd minute, Kent launched a counter-attack which saw Lauryn Wood get a toe on an exquisite through ball to divert it wide at the cost of a corner. The resulting corner was only partially cleared and Charlie Casey was unfortunate to see her powerful strike from outside the box, drift wide of the post. Almost immediately, Lancashire's Alyssa Mae – Aherne saw a carbon copy of Charlie Casey's effort finish up with practically the same end result. That proved to be the last noteworthy action of the first half and thus both teams headed to the dressing rooms with the match evenly poised. It remained to be seen who would grab the initiative and take home the trophy this year.
Half Time: Lancashire County Schools' FA 0-0 Kent County Schools' FA
Kent flew out of the traps at the start of the second half as they seemed determined to lay siege to the Lancashire goal. Their persistence paid off as early as the 45th minute as a short corner was crossed into the corridor of uncertainty and Tallulah Holy displayed fantastic anticipatory skills to tap home from less than 2 yards out. Lancashire sought to respond immediately in an effort to restore parity through Mary Collier's deflected free kick but that and the resulting corner was easily dealt with by the Kent defence. It was soon 2-0 to Kent, thanks to Rebecca Bagge's long range screamer that burst through the fingers of Lancashire's keeper, Tilly Brand, much to the delight of her team-mates. Realising it was a case of now or never, Lancashire sought to return the earlier favour and laid siege to Kent's goal themselves. This manifested itself, first through Tahnee Lucas, whose powerful shot sailed over the bar in the 52nd minute. Eight minutes later, Tahnee Lucas was through on goal again, but unfortunately for her, the ball ran away from her and out for a goal-kick. The next clear cut opportunity fell to Aimee Hodgson had a shot saved by Kent's goalkeeper, Alicia Grimmond after a clever run and cross from Mary Collier. Two minutes later, the impressive Mary Collier had a shot blocked once more, at the expense of a corner. The resulting corner caused panic in the Kent box and after an impromptu game of pinball, the danger was cleared. The game's final chance fell to Lancashire's Cara Milne – Redhead as her free-kick was brilliantly saved at the cost of a corner by Alicia Grimmond. The following corner was agonisingly headed over the bar. Kent were then able to see out the closing stages without further alarm to claim the title.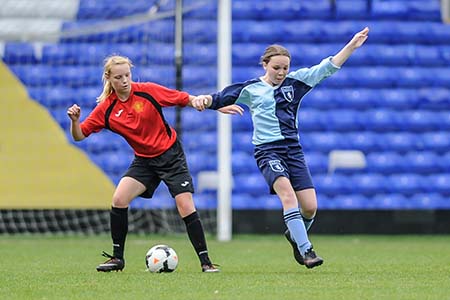 Joyous scenes followed at the final whistle as Kent County Schools' FA celebrated a hard-fought victory. Lancashire County Schools' FA, to their credit accepted their defeat gracefully and thoroughly deserved their applause after the match, as well.
Full Time: Lancashire County Schools' FA 0-2 Kent County Schools' FA
Squads:
Lancashire County Schools' FA: 1. Tilly Brand; 2. Keisha Masterson; 3. Kaitlin Woodhead; 4. Emily Slater; 5. Chloe Broughton; 7. Lauren Tunstall; 8. Cara Milne - Redhead (C); 9. Tahnee Lucas; 10. Alyssa Mae – Aherne; 11. Mary Collier; 17. Lauryn Wood; 12. Jessica Eastwood; 13. Imogen Maguire; 14. Annabel Collin; 15. Grace Mills; 16. Aimee Hodgson
Kent County Schools' FA: 1. Alicia Grimmond; 2. Stephanie Adby; 3. Tegan Attree; 4. Rebecca Bagge; 5. Tahlia Baker; 6. Charlotte Broughton; 7. Charlie Casey; 8. Sophie Chapman; 9. Courtney Cook; 10. Ella Gilheaney; 11. Amy Haynes; 12. Abi Hearn; 14. Tallulah Holy; 15. Christabel Okongwu; 16. Milly Penfold (C); 17. Rachel Stevens; 18. Millie Thistleton; 19. Kadella Wilkins; 20. Ellie Cole; 21. Saskia Kacary.
Match Officials:
Referee: Debbie Rhooms
Assistant Referees: Amy Chew & Esme Bakewell
Fourth Official: Katie Evans
The ESFA would like to place on record it's thanks to the staff at Birmingham City F.C. for hosting the event and PlayStation for sponsoring a plethora of our competitions, including this tournament. Further thanks go to 247tv for providing the live stream, as well as 353 Photography for providing the match photos.
https://www.youtube.com/watch?v=gCwwMMImQXo
Images © ThreeFiveThree Photography - not to be reproduced without permission.
Latest News
Archived News
Seasons
Season 2016-2017
June 2017
08th :: ESFA PlayStation Under 14 PlayStation Inter County Trophy for Girls Match Report