ESFA PlayStation Under 15 Schools' Cup for Boys Match Report
Thursday 08 June 2017By ESFA Office
Last Updated:
28/06/2017 11:53:25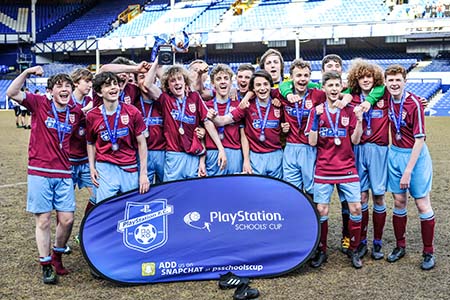 St Francis Xavier's College (Liverpool SFA) 2 – 2 Little Heath School (Reading SFA)
St Francis Xavier's College have been crowned National Champions of this season's ESFA PlayStation Under 15 Schools' Cup for Boys after a win over Little Heath School on penalties at Goodison Park, home of Everton Football Club. St Francis Xavier's College struck early in the Final after netting just after five minutes in through Louis Sharp. The ball was floated in from the corner after a miss-timed punch by the goal keeper and Sharp put it into the net from close range. Little Heath managed to get the equaliser mid-way through the first half courtesy of Shay Edwards-Bedeau who tucked away the rebound after a previous effort was kept out: Edwards hit the ball on the volley to put his side back on level terms. A red card was issued to Vinnie Borrows after his reaction to a tackle that was made moments earlier, putting his side down to 10 men. The game went into extra time which saw both teams score, firstly through Taylor Harry of Little Heath School who lobbed the keeper from outside the box. Lewis Sinnott equalised from a free kick which was taken left footed and curled into the far post. There were no further goals and thus penalties were required. This saw St Francis Xavier's College win the game thanks to their goal keeper, Dylan O'Brien, who managed to the crucial save. Both sides deserve a huge amount of credit for providing such a fantastic game of football.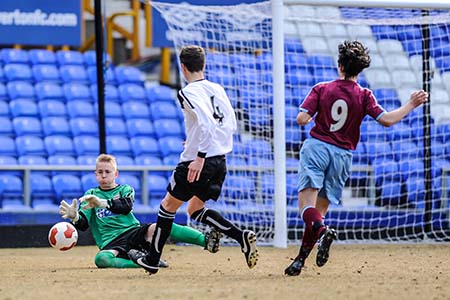 Match Background:
Both sides had to navigate 9 rounds of football for the chance to play at Goodison Park. St Francis Xavier's College managed to see off sides such as: Shrewsbury School, Altrincham Boys' Grammar School, Cardinal Heenan Catholic Sports College and Westfield School scoring 23 goals on their route to the Final. Little Heath School also played through all of their games beating teams such as: Hove Park School, Torquay Academy, Cardinal Newman Catholic School and Royal Wootton Bassett Academy scoring an impressive 62 goals on their journey.
Match Details:
The game started at a frantic pace with SFX taking the early advantage with a series of early corners, one of which saw the first goal of the game. Louis Sharp was able to connect with a corner after the goal keeper was beaten; he managed to score easily despite a defender being present on the goal line. Little Heath School managed to get into the game only a few minutes later with a free kick forcing the goal keeper to make a save to keep his side in the lead. Little Heath weren't done with their chances after Shay Edwards-Bedeau was put through on goal with a great opportunity to score, but the SFX keeper saved the ball at point blank range. Little Heath's pressure was rewarded half way through the first half with a goal from Shay Edwards-Bedeau. The striker was following up on an earlier shot which the keeper had managed to save, only for the ball to drop to Edwards to hit it on the volley and even up the score line. SFX could have gone ahead again in the first half after a free kick was awarded to them. Jake Burton helped the ball on which saw the ball travel just wide of the post in what was a great chance for SFX.
Half Time: St Francis Xavier's College 1 – 1 Little Heath School
St Francis Xavier's College could have been ahead within seconds of coming back onto the field from yet another corner. The ball was struck inside the box, but the defence of Little Heath was in the right place at the right time to head off the line to keep the scores level. SFX had clearly been working on their set plays as their next chance came from a free kick. Matthew Watt stepped up to take a curling shot which forced the Little Heath keeper to make a diving save. The next chance came at the other end for Little Heath as the ball was perfectly floated into the box for Taylor Harry but his header ended up just wide of the post. Shay Edwards-Bedeau came back off the bench after a little breather and made an immediate response after taking the ball into the area but only to crash the ball against the crossbar. The game was a fiery affair with both sides being only 5 minutes away to potentially going into extra time, when SFX were put down to 10 men after Vinnie Burrows was sent off for his reaction to a tackle from one of the Little Heath players.
Full Time: St Francis Xavier's College 1 – 1 Little Heath School
The game went into extra time and it didn't take long to see the next goal. This time, Little Heath School took the lead as Taylor Harry finally got the goal he was looking for. Harry had the ball at his feet outside the penalty area with an onrushing keeper to deal with – displaying a level of composure that would not be out of place in the professional game, he managed to loop the ball perfectly into the air and lob the keeper to score despite the Little Heath defence running back to try and clear the ball. Only a minute after the goal, we saw SFX hit the post with a brilliant left footed free kick by Lewis Sinnott, before the referee blew for half time in extra time.
The second half of extra time started which saw SFX get back on level terms through their substitute, Simon Grace. The ball came in from a free kick which saw the defence try to clear their lines but after failing to do so, Grace snatched up the chance and put his team back in the match. Penalties were required after a very well contested game between both sides; SFX managed to score all 5 of their spot kicks, but they owed a debt of gratitude to their goal keeper, Dylan O'Brien as he managed to get the all-important save and give his side the win on a sunny day in Liverpool.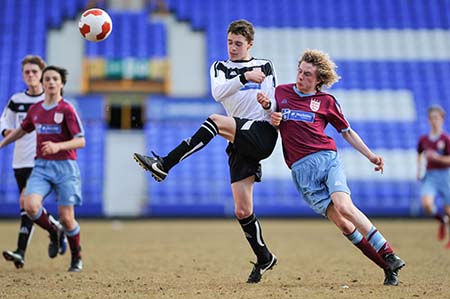 Score after extra time and penalties: St Francis Xavier's College 2 – 2 Little Heath School. St Francis Xavier's College win 5-4 on penalties
Joyous scenes followed as both teams were presented with their commemorative medals by ESFA Chairman, Alan Johnston, on the pitch in front of their elated travelling fans.
Squads:
St Francis Xavier's College: 1. Dylan O'Brien; 2. Vinnie Borrows; 3. Lewis Sinnott; 4. Daniel Longworth; 6. Joseph White; 7. Louis Sharp; 8. Matthew Watt; 9. Jake Burton; 10. Thomas Massey (C); 11. Ross Craig; 12. Jack Eyres; 14. Maxwell Griffin; 15. Simon Grace; 16. Dominic Riley; 17. Jack Ward; 18. Dominic Ross-Hesketh.
Little Heath School: 1. Bradley Christie; 2. Niall Aspell; 3. Nathan Jones; 4. James Knight; 5. Liam Parry; 6. Jack Amitaga; 7. Archie Hase; 8. Kai Mills; 9. Shay Edwards-Bedeau; 10. Taylor Harry (C); 11. Nathan Claxton; 12. Matthew Bustin; 13. Harry Ambler; 14. Thanbir Hussain.
Match Officials:
Referee: Josh Smith
Assistant Referees: Yasmin Saeed and Anthony Ferguson
Fourth Official: Callum Jones
The ESFA would like to place on record the thanks to the staff at Everton Football Club for hosting the game and to PlayStation for their generous sponsorship of the competition. Thanks must also go to 247.tv for providing the live streaming of the game and to 353 Photography, who photographed the match.
https://www.youtube.com/watch?v=sTQeTWuuIyA
Images © ThreeFiveThree Photography – not to be reproduced without permission
Latest News
Archived News
Seasons
Season 2016-2017
June 2017
08th :: ESFA PlayStation Under 15 Schools' Cup for Boys Match Report