ESFA PlayStation Under 14 Schools' Cup for Boys Match Report
Thursday 08 June 2017By ESFA Office
Last Updated:
28/06/2017 11:53:25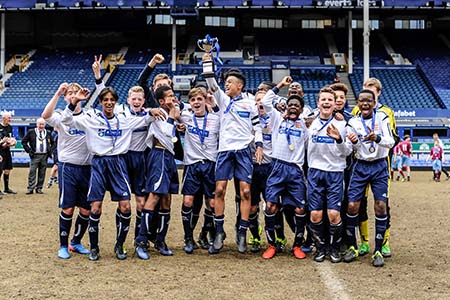 Beths Grammar School (North Kent SFA) 5 – 1 St Francis Xavier's College (Liverpool SFA)
Beths Grammar School have been crowned National Champions of the 2017 ESFA PlayStation Under 14 Schools' Cup for Boys after beating St Francis Xavier's College 5-1 in an entertaining game that was dominated by the North Kent side. Beths Grammar School has got themselves in front within 90 seconds of the game starting after a brace from Lester Lawrence down to the keeper's right hand side. St Francis Xavier's, Alex Murphy saw red after a late challenge on Beths captain, Richard Chin on the half hour mark. The one man advantage played into Beths hands within a few minutes Ose Aifuobhokhan followed up with their second after Lewis Bate struck the post. St Francis Xavier's College managed to get on the score sheet within 20 seconds after half time through a half time substitute, James Davenport, who managed to be in the right place at the right time to slot into the net. Beths managed to get their 2 goal cushion back via Pareece Cooke who scored from a corner. Beths were very comfortable in possession and found the net once again from a corner through Ose Aifuobhokhan, who had gotten his second goal of the day. With four minutes of time left Beths Captain, Richard Chin, went from being the provider to the finisher after the ball was dragged back from the by-line, for him to let fly with a first time shot towards the keeper's right hand side. Both sides deserve tremendous praise for providing such an entertaining game of football at Goodison Park.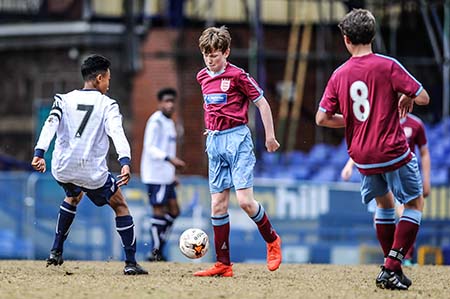 Match Background:
Both sides have has to navigate nine rounds of football to play in this season's final at Goodison Park, home of Everton Football Club. Beths Grammar School breezed through their Quarter Final game against Carshalton Boys' Sports College winning 8-1 away from home, but then faced a penalty shootout in the Semi Final against St Paul's Academy from Bromley. St Francis Xavier's College managed to pass Cardinal Heenan Catholic Sports College in Round 1 after beating them 2-0 away from home. There were also a couple of notable victories against their local rivals, Archbishop Beck Catholic Sports College and Wade Deacon High School along the way. In total, they managed to score 37 goals in the 9 rounds of football.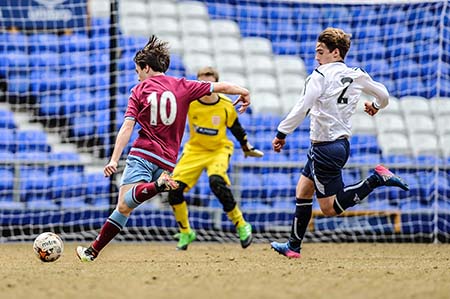 Match Details:
The eagerly awaited National Final at Goodison Park saw us get a glimpse of some potential future stars in the game after Beths Grammar School managed to find the net within 2 minutes of the game starting. A perfectly floated ball from deep within the midfield by their captain, Richard Chin, saw Lester Lawrence take the ball down and slot past the advancing keeper to put his side 1-0 up. Beths seemed to have the bit between their teeth as the aforementioned Lawrence had the chance to double, both his tally and Beths' lead after only four minutes. This time, the ball was crossed into the St. Francis Xavier's College's box where it was met powerfully by Beths' number nine, but Morgan Kinsella was on the line to back up his beaten goal keeper to keep their lead to just the one goal. Almost immediately, St Francis Xavier's College's Thomas Costello hammered the ball from inside Beths' penalty area but, unfortunately for him, his shot just missed the right hand post with the keeper well beaten. A few minutes later and Costello missed another golden opportunity as his strike sailed just over the bar. The match's momentum shifted once more on the half-hour mark as St. Francis Xavier's central midfielder, Alex Murphy, was sent off for a late tackle on the Beths' captain. The one man advantage played into Beths' hands as Lewis Bate was played through on goal, only to see his effort hit the post, luckily this fell into the path of Ose Aifuobhokhan on the right wing, and he fired the ball past the St. Francis Xavier's College's goal keeper. Not content with the thought of letting the game drift towards the half time whistle, Lester Lawrence saw his attempt from the inside of the 6 yard box, cleared off the line by St. Francis Xavier's College for the second time in the game.
Half Time: Beths Grammar School 2-0 St Francis Xavier's College
The second half began just as the first half did, with a very early goal, this time by St. Francis Xavier's College as their half time substitute, James Devonport, was put through on goal, out on the left wing. Having assessed what was around him; he clearly fancied his chances and took aim. Unfortunately for him, the keeper did manage to get a touch on the ball, but this fell to straight into Devonport's path to halve the deficit. Beths eventually did manage to restore their two goal cushion courtesy of their substitute, Pareece Cooke, who managed to latch onto a corner to put his side 3-1 up. Beths were now dominating the game and could have scored a spectacular team goal after they took the ball all the way from their defence with great pass and play football, only to see the final chance fall to William Powell who struck the ball first time straight at the waiting keeper. Beths had clearly been practising their set plays as their fourth goal came from yet another corner. The ball was delivered to the far post where Richard Chin was waiting; he controlled the ball down and passed to Ose Aifuobhokhan who struck the ball on the turn into the net. St. Francis Xavier's College's did not give up and in the last ten minutes of play saw another great chance through Morgan Kinsella, he was put through on goal but the keeper managed to rush out and clear any danger. Beths Captain, Richard Chin, who had been the provider for most of the game, was rewarded for all of his hard work with a goal. The ball was carried to the bye-line before being cut back, right into the path of Chin who finished with aplomb to seal the title for Beths Grammar School.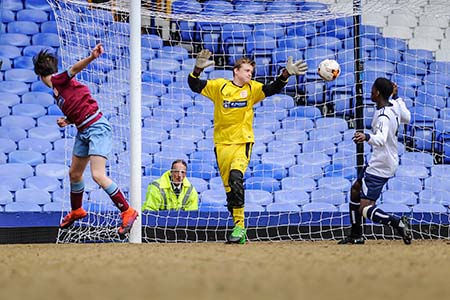 Full Time: Beths Grammar School 5-1 St Francis Xavier's College
Squads:
Beths Grammar School: 1. Oliver Hearn; 2. Reece Jones; 3. Daniel Cunningham; 4. Femi Abatan; 5. Emmanuel Coleman; 6. Semilore Kassim; 7. Richard Chin (C); 8. Lewis Bate; 9. Lester Lawrence; 10. Ose Aifuobhokhan; 11. William Powell; 12. Michael Donkor; 13. Samuel Hatton; 14. Pareece Cooke; 15. Alvin Marie Louise; 16. Walter Adjei.
St Francis Xavier's College: 1. James Pyper; 2. Fraser Garvey; 3. Harrison Rietdyk-Donohue; 4. Benjamin McKeown; 6. Alex Murphy; 7. Harry Hatton; 8. Harry McDonald; 9. Joseph Wright; 10. Thomas Costello; 11. Matthew Grivosti; 12. James Devonport; 14. Sean McCrystal; 15. Cameron Murray; 16. Carl Furlong; 17. Joshua Hobbs; 18. Morgan Kinsella.
Match Officials:
Referee: Ray McLaughlin
Assistant Referees: Phil Woodward and Kyle Matthews
Fourth Official: Anthony Ferguson
The ESFA would like to place on record their thanks to the staff at Everton Football Club for hosting this event and to PlayStation for their generous sponsorship of the competition. Further thanks go to 247.tv for the live streaming of the game and to 353 Photography for providing us with the photographs
https://www.youtube.com/watch?v=w7VHwI-TFxQ
'Images © ThreeFiveThree Photography - not to be reproduced without permission'
Latest News
Archived News
Seasons
Season 2016-2017
June 2017
08th :: ESFA PlayStation Under 14 Schools' Cup for Boys Match Report