ESFA Panini Classroom Challenge - National Winners 2018
Thursday 28 June 2018By ESFA Office
Last Updated:
10/02/2021 10:50:20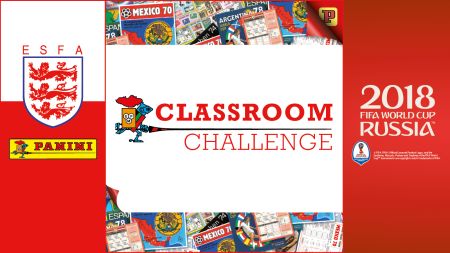 The ESFA and Panini have previously announced the Regional Winners of this year's brand new ESFA Panini Classroom Challenge competition and - to celebrate England's World Cup match tonight - we are thrilled to be announcing this year's four National Champions!
The Classroom Challenge, invited schools from across England to enter a variety of curriculum-based competitions that provided teachers with valuable learning resources, showing how effectively football can be used as an educational tool – particularly with the help of some fantastic Panini facts and figures.
The quality of competition entries was fantastic and you can see the list of Regional Winners here – however, judges convened at this year's ESFA PlayStation Schools' Cup finals, to decide which pieces of work would be been whittled down to three worthy winners.
Each individual winner has now won a football shirt of their choice as well as a trophy presentation from Panini at their school assembly and the class winners for the World Cup song will be presented with Panini goodies and a trophy. On top of this, all winners have also secured a £1000 voucher for sports equipment for their school!
Sticker Album Cover – National Winner
Molly B, Year 4, St Albans RC Primary Academy, Cheshire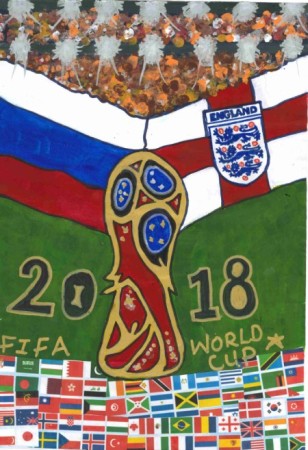 The judges thought Molly's work was beautifully executed and loved how much effort had gone into creating not only the World Cup but all the flags of the world too. It was a really artistic approach and a very impressive entry.
Footballer Biography – National Winner
Levi, Year 5, Avondale Primary School, Lancashire
The judges thought that Levi's biography was not only full of facts and information, but captured the imagination with the descriptive language and inspirational message. You can read Levi's short biography on Eden Hazard here.
World Cup Song – National Winner
https://www.youtube.com/embed/X-Re37s8oVU
Class 5Y, Fairfields Primary School, Hampshire
The judges were impressed at the variety of different instruments included in the song and the originality of the lyrics. They enjoyed hearing the number of pupils that were included in the recording of the song and felt it had a great feeling to it.
Match Report – National Winner
Dylan R – Burnham Grammar School, Buckinghamshire
The judges felt that Dylan's match report on the 1974 match between Holland and West Germany was beautifully written and really captured the drama and emotion of the match. You can read Dylan's match report here.
A huge well done from both the ESFA and Panini to all this year's Classroom Challenge winners!
Archived News
Seasons
Season 2017-2018
June 2018
28th :: ESFA Panini Classroom Challenge - National Winners 2018