ESFA Competition Entries Open for season 2018-19
Friday 15 June 2018By ESFA Office
Last Updated:
10/02/2021 10:50:20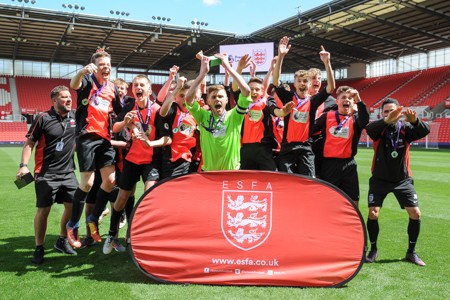 But don't delay – you only have until Friday 29 June to enter!
The ESFA National Competitions Department are excited to announce entries for the 2018-19 Competitions' Season are now open!
The ESFA offers National Cup competitions for all secondary schools and further education colleges in England and we don't want your pupils to miss out on the fantastic experience of entering English Schools' FA Cup competitions for Season 2018-2019! The competitions we run are some of the world's largest football competitions and nearly 7,000 secondary school football teams competed last season. We firmly believe our competition formats give your pupils an excellent, educational experience within schools' football, whatever the skill level of your teams.
We have regular interaction with teams and schools throughout the season either directly or through our fantastic sponsors including PlayStation, Danone and the Premier League. We also work with some other fantastic partners including our official kit suppliers, Pendle, Panini UK, the National Football Museum, Mark Harrod Ltd. and the British Heart Foundation amongst others to help increase the value in our National Competition Programme.
Our season ends with a set of fantastic National Finals, held at prestigious football stadia across the country. Last season saw us visit venues including Stoke City and Reading FC. Information on National Finals from 2017-18 can be found on the news page of our website and video footage and highlights can also be found on our YouTube channel, ESFA TV as well as the PlayStation Schools' Cup YouTube channel. We are incredibly proud of the events we create to celebrate the wonderful achievements of our National Finalists each year and hope we can use them to inspire more schools to enter our competitions.

But don't just take our word for it, here's some of the feedback we've had from schools in our competitions and National Finals in recent seasons:

I would like to thank you for all your efforts . It is not easy organising such an event and will take a lot of time and preplanning which we have really appreciated . The players obviously had a great time having the opportunity to play at such a stadium . The parents and other students who also made the trip will remember this day for years to come.
- Calday Grange, Wirral
I am writing on behalf of all of the staff and students at Sandbach school in order to pass our thanks on to esfa for such a fantastic finals day at Stoke City. The crowd and team loved every single minute and it will be cherished for the rest of their lives.
- Sandbach School, Sandbach
I just wanted to say a MASSIVE THANK YOU for all the work and effort that you put in to running, organising and promoting the competition over the year resulting in what was our first experience as a school of finals day at Pride Park. It was an UNBELIEVABLE day that was way beyond the girls imagination…
- Heathside School, Kent
What a fabulous tournament and day that you organised for us all. It was amazing, we are still on a high from it all and can't wait until next year. Your work is much appreciated so from the boys and our PE staff a big thank you for all your work
- Little Heath School, Berkshire
We are always looking for new schools, colleges and teams to join us and if you haven't entered before and haven't received any information from us, please don't hesitate to contact the National Competitions Department on the email address below and we will be happy to help you get set up for a season of exciting fixtures, competitions, interaction and development!
We look forward to welcoming all entries, new and old to this season's competitions and wish you all the very best of luck.
Follow us on Twitter – www.twitter.com/schoolsfootball
Catch up with us on YouTube – youtube.com/esfatv
Check out our Instagram – search 'schoolsfootball'
Email – competitions@schoolsfa.com

Archived News
Seasons
Season 2017-2018
June 2018
15th :: ESFA Competition Entries Open for season 2018-19