Match Report: Girls' U12 9aside National Final
Thursday 28 June 2018By ESFA Office
Last Updated:
10/02/2021 10:50:20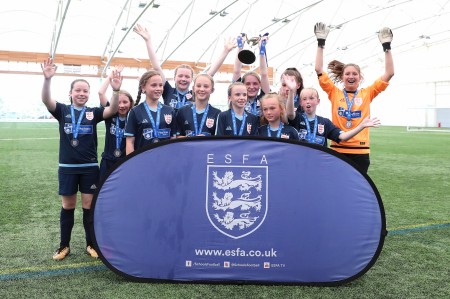 St John Fisher RC High School 1 – 0 Gordano School.
After a long and drama filled journey, the time had come for our two finalists, St John Fisher RC High School and Gordano School to meet in an epic final at the 'Home of Football' St George's Park, where just mere weeks ago Gareth Southgate and the England team were preparing for the World Cup in Russia.
The Final of the ESFA U12 PlayStation Schools' Cup for Girls was the culmination of 6 months of hard work for both teams; their routes to the final were jam-packed full of goals, with an incredible 53 scored between them.
On the morning of the final there was an excitement in the air, with the 9-a-side setup awaiting the squads on the Sir Alf Ramsey pitch, the crowd began to stream in and the noise levels rose. With kick-off imminent…it was time; 60 minutes of action packed football awaited the 400 capacity crowd and as the teams entered the field of play the atmosphere reached a crescendo and with the swift blow of the referees whistle, the concluding ESFA National Final of the season was off and running.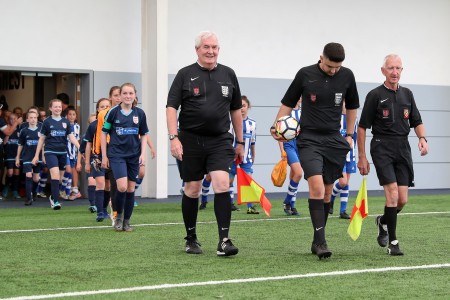 The match, though tight, had plenty of chances, making for a superb watch for the raucous crowd. Gordano Schools' goalkeeper Gracie Rushforth stood out, making several fantastic saves throughout the match. Midway into the first half St John Fisher RC High School took the lead through 'Captain Fantastic' Ruby Watts, some sublime build up play culminated in the ball falling to Watts, who rifled the ball into the roof of the net leaving the goalkeeper no chance. Gordano left everything out on the pitch and pushed until the last second to try to force extra time, but in the end they unfortunately couldn't find the breakthrough and it ended St John Fisher RC High School 1 – 0 Gordano School.
As the final whistle blew on an incredible final, we had our victors. For the first time in the ESFA competition history, St John Fisher RC High School could call themselves National Champions as they were crowned U12 Girls' victors.
Congratulations to St John Fisher RC High School on their victory, however Gordano School can be extremely proud of themselves as it is an incredible achievement to have made the final out of the 250 entrants from across the country. Both sides contributed to an incredibly exciting matchday at St George's Park and we here at the ESFA hope everyone involved enjoyed the day and will cherish the memories made through their cup run journeys. We wish both teams luck for next season.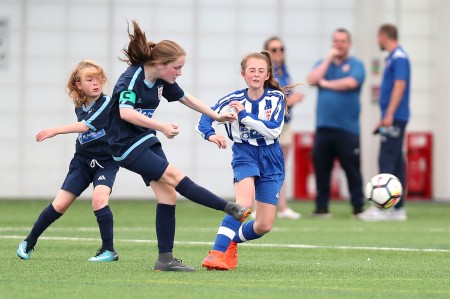 Photos courtesy of 353 Photography
Archived News
Seasons
Season 2017-2018
June 2018
28th :: Match Report: Girls' U12 9aside National Final