Centenary Shield: England 2-0 Scotland
Sunday 27 April 2008By ESFA Office
Last Updated:
10/02/2021 11:49:03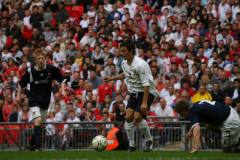 England and Scotland in action
England U18 Schoolboys rounded off this season's Centenary Shield campaign with a 2-0 win over Scotland yesterday afternoon at Wembley Stadium in front of nearly 20,000 spectators.
The match started brightly with the ball in the Scottish net within 90 seconds, unfortunately, though, the linesman ruled that Callum Riley, the provider of the cross, was in an offside position when he received the ball. This early scare galvanised the Scots and they quickly raised their game. Both teams were trying to play attacking football but the defenders held the upper hand until Taylor Morgan found the net from close range following sound attacking pressure from the English in the 38th minute. This was Taylor's first goal of the international season after numerous frustrations.
After the half time break the game continued apace with opportunities at both ends but continued solid defending meant that there were few clear cut chances. Midway through the second half Danny Watson, who had been on the pitch for just 10 minutes, managed to lose his marker and cut across the goalkeeper to slot home Luke Cole's piercing corner from the right. Another first international goal which will be fondly remembered. As with all games against Scotland the game was far from dead and buried. Referee, Howard Webb, awarded a penalty when goalkeeper James Wannell fouled his opponent when trying to make a save. The stadium went quiet, Wannell took up his position and then the place erupted when he brought of a great save diving to his left. In a supreme example of sportsmanship, rarely seen in the pro games shown on TV, England's centre half, Aaron Martin, made straight for the distraught Scots penalty taker to console him- an example to warm the hearts of all involved in school's football.
The game continued to be played in excellent spirit but with no further scoring England were relieved to have recorded their first home win at the new home of English football. In the words of one regular steward (who asked to remain anonymous) 'How nice to see an England team play well at Wembley.'
Following the game both teams were presented with their international caps from the Royal Box with England skipper, Matthew Bloor, picking up the Bobby Moore Memorial Trophy from the great man's widow, Mrs Tina Moore.
The win ensured that England finished second in this year's SAFIB Centenary Shield league table, just one point behind winners, the Republic of Ireland.
Archived News
Seasons
Season 2007-2008
April 2008
27th :: Centenary Shield: England 2-0 Scotland