ESFA U12 Girls' 9-A-Side Finals at Lilleshall NSC
Monday 27 July 2015By ESFA Office
Last Updated:
28/07/2015 12:17:49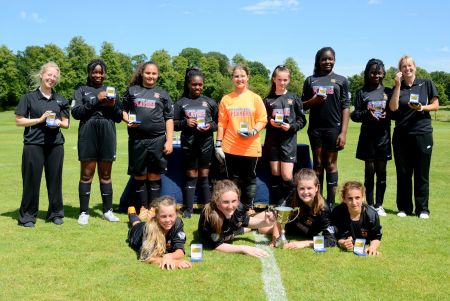 Our Ladys with their Winners' Trophy & Medals
The game kicked off on a sunny afternoon at Lilleshall National Sports Centre on Friday 10th July 2015 with Our Ladys RC High School from Manchester and Linslade School from Leighton Buzzard contesting for the trophy.
For the first 20 minutes it was a tight affair in the middle of the field with both teams fighting for the ball. The breakthrough came from Our Ladys forward, Thaila Morley, after beating the Linslade offside trap to slot in past the keeper, putting them into the lead.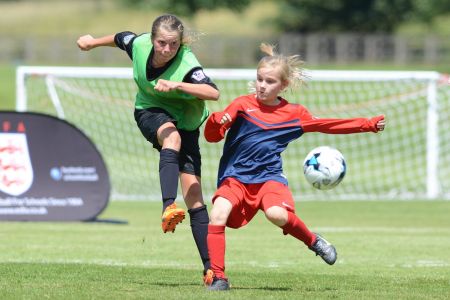 Our Ladys were in full force by attacking the Linslade goal but the keeper was standing strong to keep the deficit down to just the one goal. Our Ladys struck from outside the box which took a deflection, looping the ball into the air but the goal keeper tipped it over the bar. The teams went into the half time break with the score at 1-0 to Our Ladys RC High School.
Our Ladys came out strong again in the second half and it only took them six minutes to get their second goal. Thaila Morley took the ball on to score and after a defensive error by Linslade she was able to score her second goal.
Four minutes later and Maria Edwards of Our Ladys ran through the defence to slot in for their third goal.
Linslade struggled to get into the game as only seconds after conceding their third goal, they found themselves four goals down as Thaila Morley completed a hat trick after another defensive error by Linslade.
Our Ladys were now full of confidence as they scored their fifth goal of the match. Maria Edwards scored her second goal of the game as she beat the defence to put it past the Linslade keeper.
Linslade were trying tried their best to keep their heads up after Our Ladys attacking presence but Our Ladys were not finished as Thalia Morley scored her fourth goal of the day to put her side six goals up.
Linslade finally managed to get the ball in the back of the net but the assistant referee had his flag up on the far side to declare the goal as offside.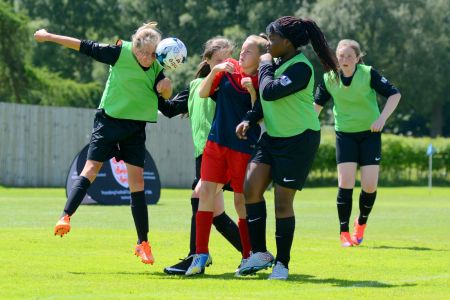 The full time whistle marked the end of the match, awarding Our Ladys RC High School the title of National Champions with a 6-0 win.
Both teams were presented with their medals by ESFA Council Member, John Appleby, and Our Ladys RC High School then received the trophy to be crowned National Champions for 2014-15.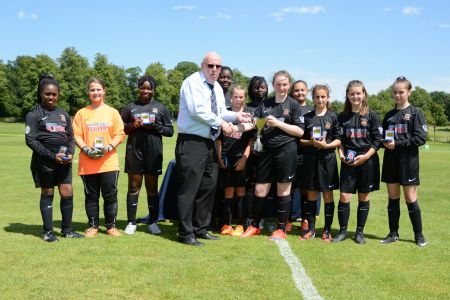 Photos courtesy of 353 Photography - the full gallery is available to view and purchase via his website http://353photography.weebly.com/.
Match report by Ed Mitchell

Archived News
Seasons
Season 2014-2015
July 2015
27th :: ESFA U12 Girls' 9-A-Side Finals at Lilleshall NSC