FA Youth Review – Schools' Football
Monday 29 July 2013By ESFA Office
Last Updated:
10/02/2021 11:49:25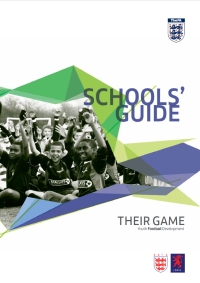 The English Schools' FA receives numerous queries regarding the changes that have been made to our national game following the FA Youth Review. Therefore, The FA and ESFA have worked together to produce this document to help teachers keep up to date on the development of youth football.
OUR CHALLENGE AS ADULTS IS SIMPLE - TO HELP YOUNG PEOPLE FALL IN LOVE WITH THE GAME
Adults involved in developing the playing environment for children need to recognise their role is to facilitate this; to enable young people to have fun, make new friends and learn the game.
The document offers advice on a number of matters relating to our national game:
A Guide to Football in Schools
Mini-Soccer: Meeting the Needs of Children
Benefits of 9v9
What Can Children Expect from Adults?
Working with Parents
Facilities
Managing the Match Day Environment
Match Day Tips for Teachers
Developing Talented Children
Goalpost Safety
The Future Game
Join The FA Licensed Coaches' Club