Message from the outgoing ESFA Charman
Monday 22 July 2013By ESFA Office
Last Updated:
29/07/2013 15:43:17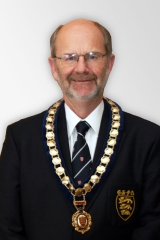 Ex-ESFA Chairman, Neil Pont
As Neil Pont has stepped down from his chairmanship, he has left us with this departing message;
As I had predicted (to myself anyway) the AGM was an efficient and positive affair. The business was handled effectively and there was ample time for those attending to meet with colleagues, old and new, for a social chin-wag. We were also able to hear from Martyn Heather - who gave a presentation on the exciting developments that we are developing with The Premier League in relation to primary-aged football. I would like to express my thanks to all those who made such kind remarks about my year in office and my time on Council. That time comes to an end because, as a retired teacher, I (quite rightly) am replaced by teachers who are currently still working. Council members need to understand fully the pressures involved in running football in schools and so it is right and proper that serving teachers are well represented on Council. However, for them personally, it becomes an added burden to the already heavy load borne by today's teachers. Members should be very grateful that serving teachers are willing to give up their precious personal time to serve the ESFA. It is also important that retired teachers DO take a place on Council. The extra time they can give, their experience and their expertise are all important components in having a well-balanced and effective Council to lead the Association. The current Council is, in my opinion, achieving the right balance. There is still the opportunity (especially in the Midlands) for other serving teachers to join Council - and Council would dearly love to change the gender bias of its membership by welcoming a woman member.
I have been asked several times about the highlights of my year in office. Generally these are related to watching young people play football rather than chairing meetings or whizzing up and down the East Coast rail track! International matches are always great occasions, especially the girls' first win of the season in Belfast and the boys' dominant display against Scotland. Attending assemblies in primary schools with our U18 team was also a privilege - some fine young men have represented us this year.
The enthusiasm of younger players that I witnessed at primary festivals -Year 3 and 4 at Gosforth in Newcastle, Under 11s at Whitley Bay and on Jersey - is always a delight; as was the way they conducted themselves both on and off the pitch. My wife accompanied me to the Jersey Festival and found the whole event such a wonderfully positive occasion. I would like to publicly express my thanks to Julia for the support she has given me this year. She is as proud as I am that I was entrusted with the leadership of such a wonderful organisation.
I hope I used my leadership experience to encourage Council to have a longer term vision of what the Association can achieve. We, and staff, worked together on producing a 3 Year Development Plan that should see ESFA add more to the promotional side of its work. National competitions are an important part of our portfolio - but they are not everything. We have to reiterate what we stand for - the standards, ethics and attitudes that make school football what it is. We have to spread the word wider and ensure that consistently high standards are achieved throughout the country. The product we are offering has to be special and different and attractive to young people, their teachers and their parents. We need to give a wider range of people the opportunity to participate in school football in a variety of ways. We have to provide support and leadership to administrators, teachers, coaches and players.
At the end of my last piece for the e-zine, in May, I used the word 'frustration'. One of the frustrations is the inconsistency in school football. One of the big lessons I have learned in my time on Council, as I became more aware of the wider picture, is that one cannot make generalisations about the state of football in our schools. In some places in thrives at all levels - primary and secondary, boys and girls, from individual school through District to County. In other places there are huge gaps and the product is not good.
There is no doubt that teaching and schools today are very different from when I started it 1973. But in 1973 it was surely different from 1953? We have to embrace the differences and the changes to make sure we do the best we can for today's young people because we know schools' football can be a positive force for good. The Association will have to work closely in partnership with sister organisations such as The FA and The Premier League as we move forward. Sony PlayStation has proved that there are major players out there who appreciate the work we do and who are ready to give us substantial financial backing. The future is bright - but it will not look like the past.
This message was meant to be brief one- mainly to thank everyone I have worked with in my year as Chairman and to acknowledge my appreciation of all the people up and down the country who give so much to schools' football. I hope I have done that - but I seem to have gone on a bit! Perhaps that is indicative of how I feel about the importance of the work we do and the great traditions that we must build upon.
I will still be busy in school football - especially in wonderful Northumberland - and hope to maintain contact with many of the acquaintances I have made during my time on Council.
May I wish you all fair weather (that would be nice!) in the seasons ahead and I hope you continue to enjoy all that school football can offer.
Archived News
Seasons
Season 2012-2013
July 2013
22nd :: Message from the outgoing ESFA Charman