Inter Association Trophy Draws
Friday 04 July 2008By ESFA Office
Last Updated:
13/11/2010 16:03:55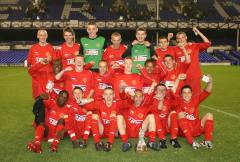 2008 Champions: Liverpool SFA
The Under 13 and Under 15 Inter Association Trophy draws are now online.
The new U13 competition has attracted an impressive 111 entries its first season, while the U15 competition, the longest running ESFA competition, continues to show its popularity after an increased entry for a second successive season to 167.
Liverpool, the holders of the U15 Inter Association Trophy, has been drawn away to Barnsley in Round One, while last season's runners-up Brighton, Hove and District will host Blackheath.
U13 Inter Association Trophy Draw
U15 Inter Association Trophy Draw