The New FA Youth Award
Monday 28 July 2008By ESFA Office
Last Updated:
13/11/2010 16:03:55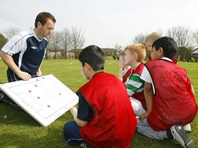 The FA has developed an exciting new range of youth coaching courses that are starting to roll out across the country through the County FA's – and are available now for you to enrol on.
The innovative FA Youth Award is as much about the HOW of working with young player as the WHAT. It is the first course that looks at the child and where they are developmentally (in the four corners of: physical, psychological, technical and social aspects) and then packages football through a number of exciting new activities in such a way that it "fits" the child and not the other way round.
This marks a progressive change in coaching philosophy, creating a truly player centred approach to the coaching and development of our young players.
Three modules are being delivered:
• Module 1: Developing the Environment , focussing on the 5-11 age group – available now
• 2009 – Module 2: Developing the Practice, focussing on 12-16 year old player
• 2009 - Module 3: Developing The Player, with emphasis on the 17-21 age group
With the new FA Youth Award promising to be one of the most popular FA courses yet, make sure you take your place and put yourself at the forefront of football coaching.
Please note: To enrol onto module 1 you will need to be at least a level 1 FA qualified coach, or alternatively if a qualified teacher you can undertake a one day introductory module before taking Module 1.