ESFA U18 off to a Flying Friendly Start
Friday 03 February 2017By ESFA Office
Last Updated:
27/02/2017 16:52:15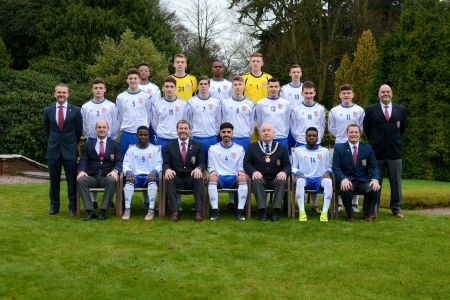 England U18s 2017 & Team Management
Last weekend, the English Schools' FA Under 18 England Squad descended on Lilleshall National Sports Centre in Shropshire for their first training weekend as a full squad. The team, named in January following their success through the national trials process, were presented with their ESFA kit, supplied by our fantastic partners, Pendle and took part in training sessions across the weekend, before facing the Australian U18 School team for England's first friendly match as a full squad.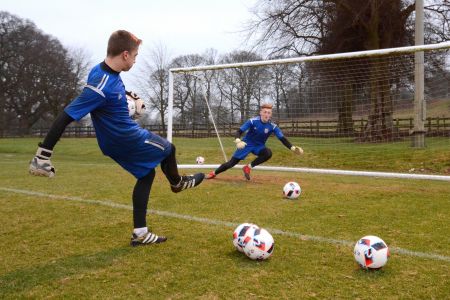 The England Squad underwent training sessions at Lilleshall last weekend
The game, arranged as part of the Australian's 2017 tour of the UK, took place on Saturday 28 January in the grounds of Lilleshall Hall.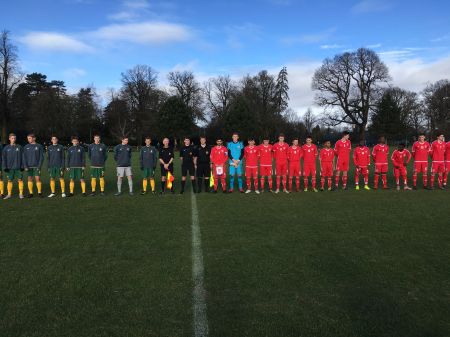 Australia U18 School Squad line up with England U18s ahead of their friendly match
England took time to adjust to never having played together as a complete team. Despite this and whilst being under constant Australian pressure for the first 15 minutes, took the lead with an outstanding long distance strike by Barlow (1-0). This gave England the 'fill-up' they needed and despite several attempts at the Australian goal, conceded a deflected own goal after 35 minutes (Baylis OG 1-1). This gave the Australians the impetus they needed and their continued possession in front of the England goal was rewarded in the 40th minute with a goal by the Australian number 10 Ssemakula (1-2).
Australia continued to dominate the remainder of the half, coming close to scoring on more than one occasion. England however gained a corner in the final minute of the period, from which Butler scored (45mins 2-2). This was to prove to be the turning point of the game as England started the second half on level terms.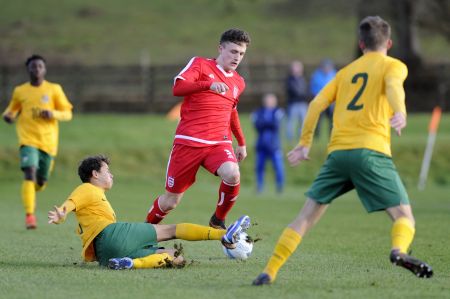 The second half saw a now confident England side begin to come to terms with the dominance of the Australian mid field and forwards which had characterised the first half.
England increased their possession and were rewarded in the 63rd minute with a goal by Ahrin (3-2). Three minutes later Copper added a 4th (4-2). Australia made several major substitution decisions in an attempt to address the difference. However, Cooper's goal in the 87th minute (5-2) and a missed penalty by Adyei a minute later, characterised England's firm grip of the second half which took the game away from the Australians.
Hopeful that the squad will continue this success in pursuit of holding onto the Centenary Shield for a second year, we wish the boys all the best with the rest of their training and luck with their first competitive match, which isn't due to take place until 3 March v Scotland at a changed location from St Mirren to Cappielow Park, the home of Greenock Morton FC.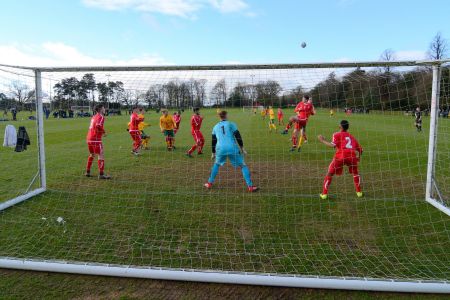 Next up for the England squad is another training camp in the North of England which will include a match against an ISFA (Independent Schools' FA) team and a cultural visit to our partners at the National Football Museum – more information on this to be released soon!
England U18 Squad – Saturday 28 January
First Half
| | |
| --- | --- |
| 1 | STONE, Aidan (GK) |
| 2 | RAMDIN, Jean Luc |
| 3 | O'HALLORAN |
| 4 | MOHAMMED, Shahban |
| 5 | BAYLISS, Dan |
| 6 | NGALO, Jordan |
| 8 | COOPER, Jack |
| 10 | SHORT, Connor |
| 11 | BARLOW, Daniel |
| 14 | ADJEI, Kingsford |
| 16 | BUTLER, Jack |
Second half
| | |
| --- | --- |
| 2 | RAMDIN, Jean Luc |
| 4 | MOHAMMED, Shahban |
| 5 | BAYLISS, Dan |
| 7 | WATTERS, Max |
| 8 | COOPER, Jack |
| 9 | ARHIN, Frank |
| 11 | BARLOW, Daniel |
| 12 | STATEN, Jordan |
| 14 | ADJEI, Kingsford |
| 15 | WATSON, Henry |
| 20 | HARRIS, Max (GK) |
Pendle – Our Kit Suppliers
Our fantastic partners for 2016-17, Pendle have some fantastic offers for ESFA Partner Schools – if you want to find out how to become a partner school and receive some great discounts on their fantastic ranges then simply follow this link
Purchase your replica England U18 Kits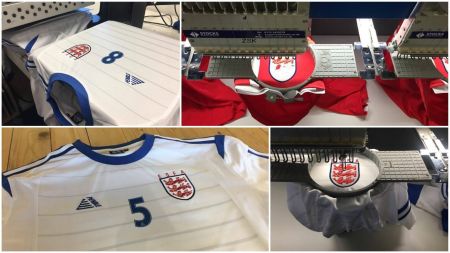 If you would like to purchase replica ESFA England kit and training kit, the online shop is now available – you can browse the options here.
All official photos from International Fixtures including trials and training will be available to purchase via 353 Photography.

Archived News
Seasons
Season 2016-2017
February 2017
03rd :: ESFA U18 off to a Flying Friendly Start