Celebrate World Book Day & Win a Class Set of 30 Jamie Johnson Books for your School!
Monday 27 February 2017By ESFA Office
Last Updated:
10/02/2021 11:49:58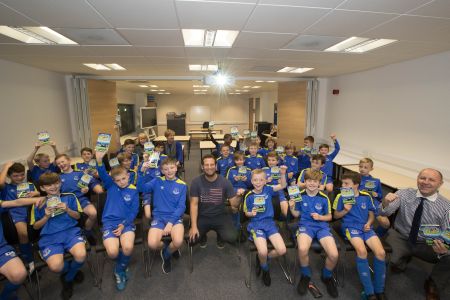 Author Dan Freedman with Everton Academy players
The ESFA will be partnering up with Dan Freedman, football journalist and best-selling author of the Jamie Johnson series of football novels, ahead of World Book Day on March 2nd.
Having formerly worked at The FA, Dan turned to writing children's football books, and since that day Jamie Johnson has become the UK's most-loved kids' football character. The series has been adapted for the CBBC programme, Jamie Johnson, which has just been made into a second season. Dan has written a special Jamie Johnson prequel, Born To Play, which tells the story of Jamie's early battles to overcome obstacles in his dream of becoming a professional footballer.
The ESFA are proud to promote Born To Play in the run up to World Book Day, having recognised it as a brilliant story of the difficulties of pursuing a dream while challenges knock you back. Dan has recently visited clubs such as Liverpool and Everton to share this message with young players of tomorrow, and he has even had top professionals such as Steven Gerrard and Gary Lineker showing their admiration for the series.
To celebrate World Book Day, The ESFA and Dan will be running a competition to win a class set of 30 copies of Born To Play for participating schools. There will be two class sets available. This is a brilliant chance for football-mad kids to take their playground games into the classroom and their homes and read about the young boy who shares the same dream as many of them. Don't miss out this World Book Day!
Win a Class Set of 30 copies of Born To Play
To enter the competition and to be in with a chance to win simply email your answer to the question below and remember to include the name and address of your school!
Question: In which position does Jamie Johnson Play?

Your answer and school information should be emailed to information@schoolsfa.com before Saturday 18 March. The winners will then be drawn at random and notified by email on Monday 20 March 2017.
You can also use Born To Play to teach your pupils Spelling, Punctuation and Grammar!
Specially written teaching resources will appear for free download on www.DanFreedman.co.uk after the Easter holidays.
To purchase school or class-sets of Born To Play, contact books@madeleinelindley.com
Follow Dan on Twitter
Good luck!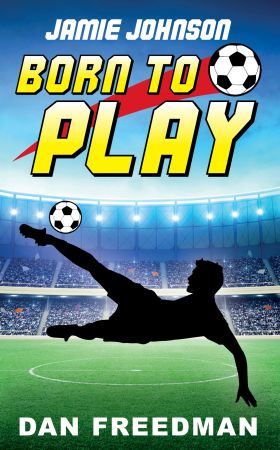 Archived News
Seasons
Season 2016-2017
February 2017
27th :: Celebrate World Book Day & Win a Class Set of 30 Jamie Johnson Books for your School!