ESFA Girls U18 Colleges' Semi-Final: West Herts College through to Final!
Tuesday 13 January 2015By ESFA Office
Last Updated:
20/04/2015 09:31:47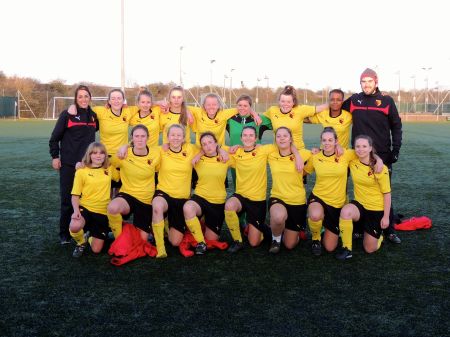 Back Row, L-R: Amy Radford, Perri Driscoll, Rebecca French, Chloe Farrell, Madison Gorton, Tilly Orchard & Janah Lawrence
Front Row, L-R: Aimee Durn, Sian Fisken, Mollie Burgess, Celine O'Halloran (c), Terri Harvey, Yasmine Walford, Amber Tullet & Megan Warner
Absent - Shayla Burgess (GK) who sustained concussion after 75mins of play
The West Herts College (Watford Female Academy) side are through to the ESFA U18 College Trophy Final after coming from behind to secure a 3-1 win over South Gloucestershire & Stroud College (Bristol Academy).
The two teams had previously met at this stage back in 2011/2012, where current England manager Mark Sampson led the opposition to a narrow 2-1 victory.
Watford travelled to Bristol following a dramatic Quarter Final, which saw the young Hornets come from behind twice, save a 90th minute penalty and secure victory in the dreaded penalty shoot-out.
The side lined up with Shayla Burgess in goal, a defence that included Rebecca French, Amber Tullett and Mollie Burgess, all who possess WSL Development League experience, along with Captain Celine O'Halloran from the Hornets U19s.
Amy Radford, Aimee Durn and Chloe Farrell were the midfield supporting Terri Harvey, Megan Warner and Sian Fisken in attack.
Watford started brightly, but it was Bristol Academy who opened the scoring as they capitalised on an opportunity from their first corner of the game.
As the game approached half time Watford started to grow into the game, with French forcing a good save from the Vixens goalkeeper before a Megan Warner cross was turned into the net by a recovering defender, meaning honours were even at the break.
It was then two quick goals that secured the win. Having started the half brightly, Sian Fisken timed her run to perfection to round the Bristol keeper and net to put Watford ahead.
Moments later, as Watford continued to press, Aimee Durn fired a long range effort into the top corner to give Watford the two goal cushion.
Bristol Academy pressed and with 12 minutes remaining Shayla Burgess produced a fantastic double save to keep the score at 3-1. Burgess was replaced by Maddie Gorton as she suffered a mild concussion in the process.
Watford held onto their two goal advantage and secured their place in the Final, where they will go on to face either Runshaw College, Accrington & Rossendale College, or Gateshead College.
Thanks to West Herts College for sending us their match report and photograph and congratulations on their win. Details of the final will be available from the end of January and the ESFA Competitions team are working hard on ensuring the final will be an excellent event for all those involved!

Archived News
Seasons
Season 2014-2015
January 2015
13th :: ESFA Girls U18 Colleges' Semi-Final: West Herts College through to Final!