Bishop's Stortford v Woolwich Polytechnic - U14 Boys
Wednesday 21 January 2015By ESFA Office
Last Updated:
20/04/2015 09:31:47
By Cam Johnston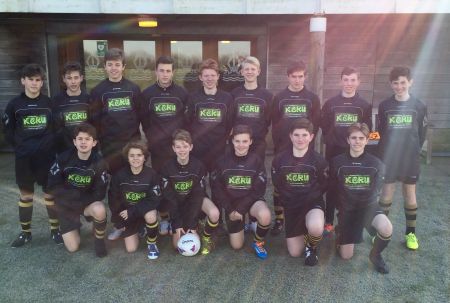 Bishop's Stortford Team (Taylor Sharpe)
On a sunny afternoon at Jobbers Wood in Much Hadham the Bishop's Stortford High School u14 football team lined up against Woolwich Polytechnic for a prestigious National Cup last 16 fixture.
The match began with some slick passing from both sides before Jack Walker hit a looping cross from the right hand side which deceived the Woolwich Keeper, hitting the post and trickling into the net for the home side's first goal of the game. The goal was met with roaring celebrations from players, staff and parents.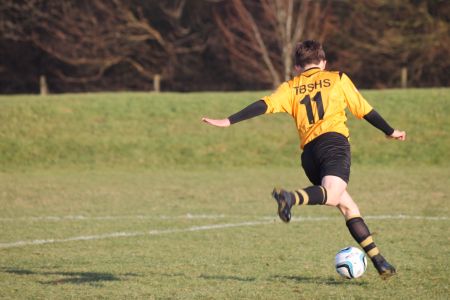 Match Action (Taylor Sharpe)
Despite a tense start from Woolwich they managed to find their number 9, Dmiji Adeniran, on a number of occasions, who would use direct forward play and tricky feet to beat the TBSHS defenders. It was Adeniran's cross in the first half which led to Woolwich's first chance that was cleared after a scramble in the box.
After hitting the crossbar on 19minutes through TBSHS's Brad Taylor following more good wing play from Jack Walker, Woolwich began piling on the pressure, forcing some great diving saves from the TBSHS keeper as Adeniran began to find more and more space behind the TBSHS back line.
Before the close of the half, Sam Law scored directly from his corner kick, following a great run from Brad Taylor, leaving the score at 2-0 before the break.
After a bright start to the second half, Adeniran broke the TBSHS offside trap but blasted his shot over the crossbar before having another chance on the edge of the 18 yard box, finishing with a right footed shot which nestled into the bottom left hand corner of the TBSHS goal.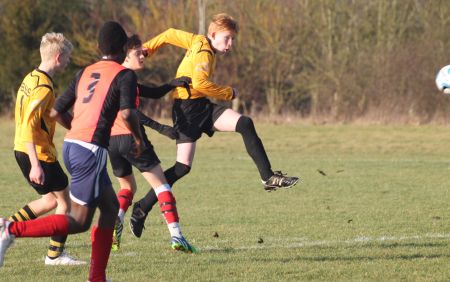 Match Action (Taylor Sharpe)
Not 10 minutes later Tobi Oludunni looped a great ball into the TBSHS box which found its way into the net after a number of failed clearances, leaving the game level.
After some fine saves from the TBSHS keeper and some good defensive clearances, Jack Walker volleyed in his second goal from a left sided cross, which saw the game end 3-2 to TBSHS.
The celebrations were loud and deserved, with TBSHS now moving into the quarter final draw of the competition. There were outstanding performances from Callum Taylor, Captain Ethan Barton and Man of the Match Jack Walker as well as from Dmiji Adeniran of Woolwich Polytechnic
This was a great game of football which, whilst watching, I found myself thinking "Are these players only 14?"

Archived News
Seasons
Season 2014-2015
January 2015
21st :: Bishop's Stortford v Woolwich Polytechnic - U14 Boys