Andy Williams' Euroblog: Spain or Italy?
Friday 29 June 2012By ESFA Office
Last Updated:
10/02/2021 11:49:17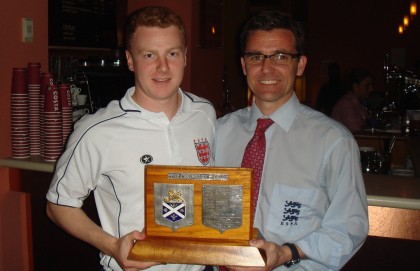 Andy Williams (right) after guiding England U18 Schoolboys to Centenary Shield success last season
So Sunday's European Championship Final will be contested between Spain and the unfancied Italians. Not too many shocks there I guess, but what makes them the two best teams in Europe and the benchmark for the best?
For Spain it is quite clear; their inspiration starts with perspiration. They are by far and away the most aggressively defensive sidein the world at this present time. Their appetite to win the ball back at the earliest opportunity is relentless. Their current defensive record is phenomenal: they have not conceded a single goal in their last nine WC and EC knockout games: 0-0*, 3-0, 1-0, 1-0, 1-0, 1-0,1-0, 2-0, 0-0 (*won on penalties). In the semi-final, Portugal could not even manage one shot on target in the entire 120 minutes of play; and remember, they had Cristiano Ronaldo! Like the winning run that has just come to a grinding halt for Germany, you just wonder when Spain's clean sheet run will come to an end.
Spain believe in playing by numbers; they are not interested in an English mentality of cutting your opponent wide open and driving home your advantage with goal after goal. They play a high tempo patient possession based game called 'tiki-taka'believing that it is better to tire out your opponent creating two or three clear openings over the course of the game winning one or two nil. Del Bosque has been criticised in many quarters for his negative 1-4-6-0 approach (or 1-4-3-3 depending how you read it) in this tournament, playing without a recognised centre forward. Regardless of having so many world class midfielders at your disposal, personally I would be inclined to play with one recognised forward for their natural goal scoring threat as well as their ability to keep a defence honest by playing off shoulders in an attempt to get into that negative space behind the back four. Against Italy in the group stage, the game changed with the introduction of Torres, I suspect Del Bosque will follow the same pattern on Sunday, only introducing Torres later in the game when he sees fit.
It may be more of a surprise to see the world's 12th ranked team make the final, or is it? Although Italy lost their three friendly games leading up to the finals (against Uruguay, USA and Russia), since the WC in South Africa they are on a remarkable run of form. The Italians love to play in adversity, so amid another match fixing scandal it is not a huge surprise to see them as an emerging force. Prandelli has certainly got them united.
The final will be intriguing as most tend to be. The Italians look supremely confident, but the Spanish have an aura about their play too, they never panic and have recent tournament successes. So, will the Italian diamond win over the Spanish midfield? It is unlikely that the Spanish will man-mark Pirlo, but it is highly likely the Italians will seek to exploit Spain's permeable back four and its high line with quick long balls similar to the ones which saw Balotelli expose both England and Germans. With all the attention on the midfield battle, watch out for the match winners coming from full back; Jordi Alba has had a terrific tournament, but so too has Balzaretti. It will be a tactical battle, one too close to call. My money is on the Italians - just! Enjoy the game
Archived News
Seasons
Season 2011-2012
June 2012
29th :: Andy Williams' Euroblog: Spain or Italy?