Danone U11 National Finals –Saturday 13th June – Results
Tuesday 16 June 2015By ESFA Office
Last Updated:
19/06/2015 12:00:44
Leeds SFA Win the Danone District Competition & Will Represent as Team England in Morocco this October!
Saturday 13th June marked the staging of the 2014/15 ESFA Danone Nations' Cup U11 National Finals, at the Lilleshall National Sports Centre, where the ESFA team and Danone were joined by former England and Liverpool star, John Scales as the competition ambassador. The relentless rain did not stop the 32 competing teams from pulling out all the stops to try and become National Champions in each of the four individual competitions, Small Schools', Girls', School Teams' and Inter District.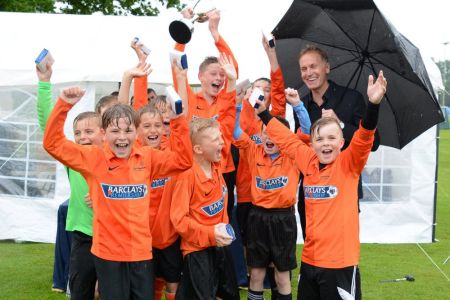 John Scales Celebrating A Team Win!
Schools' Cup
After playing 3 matches each in the group stage, Buttsbury Junior School played Lyndhurst Junior School in semi-final 1, whilst Westbrook Hay Primary School took on Victoria College Preparatory in semi-final 2. Buttsbury and Victoria College were to be victorious and went on to play against each other for the title of Danone U11 Schools' Cup National Champions. Buttsbury Junior School secured a 4 – 0 victory, leaving them to lift the winners' trophy on the day!
Thank you to all the other competing teams in the Schools' Cup competition this season, who's hard work paid off in allowing them to be part of such a fantastic National Final: Barlby Community Primary School, Fairhaven Primary School, St Patrick's Catholic Primary and Budbrooke Primary School.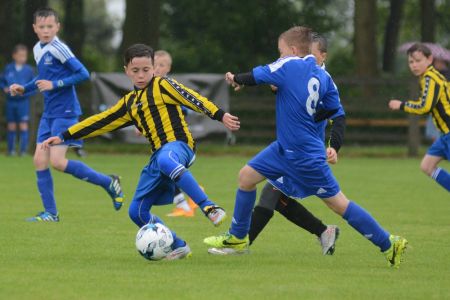 Girls' Cup
Following the group stage, Hanham Abbots Junior School played Windmill Primary School in semi-final 1, while Loose Primary School played Perdiswell Primary School in semi-final 2. Hanham Abbots and Loose went on to beat their opponents and to play off against each other in the final. Hanham Abbots Juniors won 1-0, allowing them to lift the Girls' Cup as National Winners!
Thank you to all other competing teams in this competition, who's hard work paid off by allowing them to be part of these National Finals: St Edwards RC Primary, St Joseph's Junior School, Immaculate Heart of Mary Catholic Primary School and St Boltoph's School.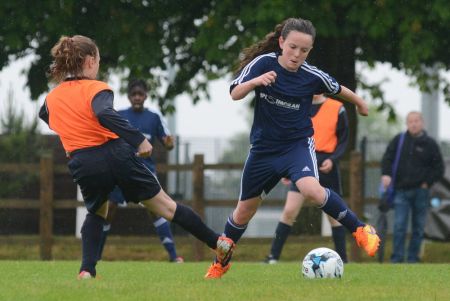 District Cup
After competing in the group stages, Liverpool SFA found themselves playing Barnet SFA in semi-final1 and Leeds SFA playing South London SFA in semi-final 2. After beating Liverpool SFA 1-0, Barnet progressed to play in the final against Leeds SFA, who beat South London 1-0. The final score left Leeds SFA triumphing as District Cup Champions after defeating Barnet 1-0. They will now be preparing to fly to Morocco in October to represent as Team England at the Danone Nations' World Cup!
Thank you and well done to all other teams that competed in this competition. The high standard and quality of play throughout the District Finals was clear to see: Bath SFA, Redditch SFA, Jersey PSFA and East Riding SFA.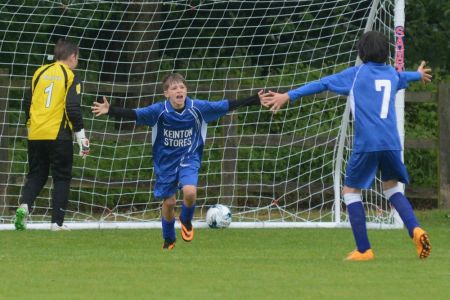 Small Schools' Cup
After triumphing in the group stages, St Bernadettes Catholic Primary School went on to play Boughton under Blean & Dunkirk Primary School in semi-final 1 and North Walney Junior School to play St Gregory's Primary School in semi-final 2. Boughton under Blean & Dunkirk progressed to the final after a 1-1 draw AET, followed by a 4-2 win on penalties, while North Walney won their place in the final following a 2-0 win. Results of the final saw North Walney Junior School lift the winners' trophy as Small Schools' National Champions!
Thank you to all the other teams that participated in this years' Small Schools' Cup: St Oswald's Primary School, Loscoe C of E Primary School, Keinton Mandeville Primary School and Chase View Primary School.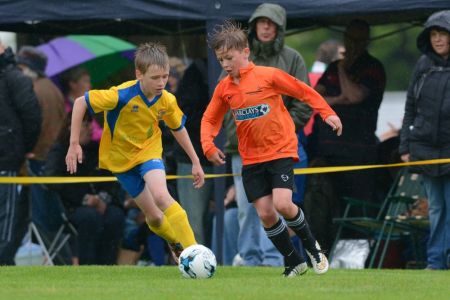 Danone will be organising local celebrations for the winners of the Schools', Girls' and Small Schools' competitions and preparations are already underway for the Danone Nations' World Cup which Leeds SFA will be attending in October in Morocco.
Thank you again to all the teams that have entered into the competition this year, who have helped to make it such a success throughout the season. Thanks again to our sponsors, Danone and our friends at Lilleshall NSC and finally to all the supporters of the teams in the National Final on Saturday. The atmosphere was wonderful and helped to provide a great experience for the children who have worked so hard to get to this stage.
Photographs of the event will be available via Three5Three Photography, to be added to the mailing list please email Garry Griffiths.
Some matches were also recorded by Film My Match. Details will be made available of the footage captured from the event.
Archived News
Seasons
Season 2014-2015
June 2015
16th :: Danone U11 National Finals –Saturday 13th June – Results