ESFA Danone Nations Cup National Finals to be held on Saturday 13th June
Monday 08 June 2015By ESFA Office
Last Updated:
10/02/2021 11:49:41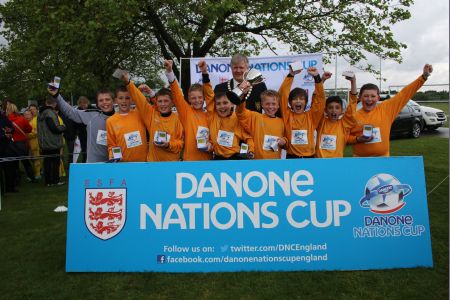 32 school and inter-district teams are celebrating after reaching the National Finals of the ESFA Danone Nations Cup, the world's biggest football tournament for 10-12 year olds.
The 32 teams successfully progressed from the county knockout rounds of the tournament, triumphed at their respective Regional Finals, and will now compete in the National Finals at Lilleshall National Sports Centre on Saturday 13th June.
Former Tottenham, Liverpool and England centre back John Scales, ambassador of the tournament said: "Congratulations to all the teams for an outstanding performance at the regional finals, I expect they will bring more of the same to the national final!
"I am so proud to have so closely supported the Danone Nations Cup for more than 10 years now. It's a truly remarkable project that brings joy to thousands of kids nationally. Being active, eating well, having fun and working hard as part of a team are fundamental pillars of influencing the many that participate."
This year, not only has Danone been celebrating the best talents on the pitch; they have also been rewarding the unsung Match Day Heroes of local football. They asked all teams taking part in the regional finals to nominate their heroes, whether it be the spectator that turns up whatever the weather or the school teacher that drives the team across the region to compete. This is to celebrate the people in the community that make the ESFA Danone Nations Cup an unforgettable experience for the players.
The ESFA Danone Nations Cup National Finals is shaping up to be an unforgettable occasion for all those involved, with professional photographers and film crews capturing every moment, fun activities for spectators and players alike, and of course some top-quality football on the pitch.
You can follow progress on Twitter via @SchoolsFootball and @DNCEngland to as well as via Facebook, to stay up to date with information and announcements!
Archived News
Seasons
Season 2014-2015
June 2015
08th :: ESFA Danone Nations Cup National Finals to be held on Saturday 13th June