N.U.T. Trophy Entries for Season 2006-07
Monday 26 June 2006By ESFA Office
Last Updated:
13/11/2010 16:02:53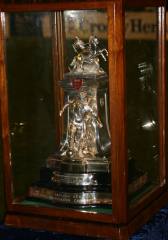 ESFA U15 Inter Association Trophy
The deadline date for accepting entries into the 2006-07 English Schools' FA U15 Inter Association Trophy was on Saturday 24 June 2006 at the Annual General Meeting in North Lincolnshire.
This season's Trophy will once again be sponsored by the National Union of Teachers. It will be the third successive season that the N.U.T. has supported this competition.
136 entries have been registered for next season's competition. Liverpool Schools' FA will be looking to defend their Trophy after the beating Swansea 2-0 on aggregate in last season's two-legged final. The first leg was played at Swansea City's Liberty Stadium and the second leg was played at Anfield, home to then, European Champions, Liverpool FC.
The N.U.T. Trophy currently resides in Liverpool Football Club's Trophy Room alongside the FA Cup and FA Youth Cup. It is believed to be the first time all three trophies have been held by a city / town.
The draw for next season's Trophy will be published here within the next few days.
U15 Trophy Entries 06--07

| Affiliation No | Association Name |
| --- | --- |
| A301 | ALLERDALE |
| A302 | BARNSLEY |
| A305 | BISHOP AUCKLAND |
| A308 | CARLISLE |
| A310 | DARLINGTON |
| A311 | DERWENTSIDE |
| A312 | DONCASTER |
| A313 | EAST DURHAM |
| A316 | HAMBLETON & RICHMOND |
| A318 | HARTLEPOOL |
| A321 | MIDDLESBROUGH |
| A322 | NEWCASTLE UPON TYNE |
| A323 | NORTH TYNESIDE |
| A324 | REDCAR & CLEVELAND |
| A325 | ROTHERHAM |
| A327 | SHEFFIELD |
| A328 | SOUTH NORTHUMBERLAND |
| A330 | STOCKTON & DISTRICT |
| A331 | SUNDERLAND |
| A333 | WEST TYNE |
| A334 | YORK & DISTRICT |
| A335 | COPELAND |
| A337 | SOUTH LAKES |
| B301 | BLACKBURN & DARWEN |
| B302 | BLACKPOOL |
| B303 | BOLTON |
| B304 | BURY METRO |
| B305 | CHESTER |
| B307 | SALFORD |
| B310 | KNOWSLEY |
| B312 | LIVERPOOL |
| B314 | MANCHESTER |
| B315 | MID CHESHIRE |
| B317 | PENDLE |
| B318 | PRESTON |
| B320 | ROSSENDALE |
| B321 | SEFTON |
| B323 | ST HELENS |
| B324 | STOCKPORT |
| B326 | TRAFFORD |
| B328 | WEST LANCASHIRE |
| B329 | WIGAN |
| B332 | BRADFORD METRO |
| B334 | CALDERDALE |
| B335 | SPEN VALLEY |
| B336 | LEEDS |
| B339 | ELLESMERE PORT |
| C303 | BRIERLEY HILL & DUDLEY |
| C306 | COVENTRY |
| C307 | ERDINGTON & SALTLEY |
| C308 | HALESOWEN & STOURBRIDGE |
| C309 | HEREFORD & DISTRICT |
| C310 | KINGS NORTON & SOUTH BIRMINGHAM |
| C311 | MID & SOUTH WARWICKSHIRE |
| C313 | NUNEATON & DISTRICT |
| C314 | REDDITCH |
| C317 | SOLIHULL |
| C319 | STAFFORD & DISTRICT |
| C322 | TELFORD & DISTRICT |
| C326 | WOLVERHAMPTON |
| C327 | WORCESTER & DISTRICT |
| D305 | EAST RIDING |
| D307 | GRIMSBY, CLEETHORPES & DISTRICT |
| D309 | KETTERING & CORBY |
| D310 | KINGSTON UPON HULL |
| D311 | LEICESTER |
| D316 | NOTTINGHAM |
| D318 | SOUTH EAST LINDSEY |
| D322 | SOUTH NOTTS |
| D323 | WELLINGBOROUGH & RUSHDEN |
| D325 | WORKSOP, RETFORD & DISTRICT |
| E301 | BRIDGWATER |
| E302 | BRISTOL & SOUTH GLOUCESTERSHIRE |
| E303 | CHELTENHAM & DISTRICT |
| E304 | EAST CORNWALL |
| E305 | EXETER & EAST DEVON |
| E306 | GLOUCESTER CITY |
| E307 | MID SOMERSET |
| E309 | NORTH DEVON |
| E310 | NORTH SOMERSET |
| E311 | PLYMOUTH |
| E312 | STROUD |
| E313 | SWINDON |
| E314 | TORBAY & DISTRICT |
| E315 | WEST CORNWALL |
| E316 | WEST GLOUCESTERSHIRE |
| E317 | YEOVIL & DISTRICT |
| E320 | TAUNTON |
| F301 | ALDERSHOT & FARNBOROUGH |
| F303 | BANBURY & DISTRICT |
| F305 | BOURNEMOUTH |
| F306 | EAST BERKSHIRE |
| F307 | EASTLEIGH & WINCHESTER |
| F308 | GOSPORT & FAREHAM |
| F313 | MID OXFORDSHIRE |
| F314 | NEWBURY |
| F315 | NORTH DORSET |
| F317 | POOLE & EAST DORSET |
| F318 | PORTSMOUTH |
| F319 | READING |
| F322 | SOUTHAMPTON |
| F323 | VALE OF WHITE HORSE |
| G301 | BARNET |
| G302 | BEDFORD & DISTRICT |
| G303 | CAMBRIDGE & DISTRICT |
| G306 | GREAT YARMOUTH |
| G307 | IPSWICH & SOUTH SUFFOLK |
| G308 | ISLE OF ELY |
| G310 | LUTON |
| G315 | ST ALBANS |
| G317 | WEST NORFOLK |
| G318 | WEST SUFFOLK |
| G319 | MILTON KEYNES |
| G321 | SOUTH BEDFORDSHIRE |
| H304 | BLACKHEATH |
| H306 | BRIGHTON & HOVE |
| H310 | CHELMSFORD & MID ESSEX |
| H311 | CROYDON |
| H312 | DOVER |
| H313 | ENFIELD |
| H316 | HACKNEY & TOWER HAMLETS |
| H319 | HAVERING |
| H321 | ISLINGTON & CAMDEN |
| H327 | NEWHAM |
| H328 | NORTH KENT |
| H329 | OUSE VALLEY |
| H332 | SHEPWAY |
| H334 | SOUTH EAST SUSSEX |
| H335 | SOUTH LONDON |
| H340 | THANET |
| H341 | WALTHAM FOREST |
| H344 | WOKING |
| H347 | THURROCK |
| H350 | NORTH SUSSEX |
| Welsh | NEWPORT |
| Welsh | SWANSEA |
Archived News
Seasons
Season 2005-2006
June 2006
26th :: N.U.T. Trophy Entries for Season 2006-07