National Finals Round-up
Friday 02 June 2006By ESFA Office
Last Updated:
13/11/2010 15:02:53
U12 JETIX KIDS' CUP FINALS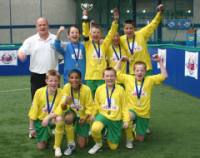 U12 Jetix Kids Cup (Boys) Winners -
Mosslands School
The National Finals took place indoors at the JJB Soccerdome in Derby on Saturday 29 April 2006. Congratulations to Mosslands School from the Wirral, winners of the boys' competition where they narrowly beat Nunthorpe (Middlesbrough) 1-0 in the Final.

Matthew Arnold School from Staines in Surrey won the girls event with a 3-0 victory in the Final over Witton Middle School (Droitwich). Both winners received the fantastic prize of an all-expenses paid trip to represent England at the Jetix Kids TV World Cup Finals in Munich in July.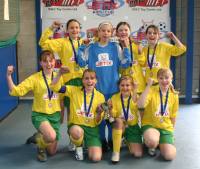 U12 Jetix Kids Cup (Girls) Winners -
Matthew Arnold School
U14 SCHOOLS' CUP FINAL (BOYS)
Thomas Telford (Shropshire CSFA) 3 Parmiter's (Hertfordshire CSFA) 1
On the hot and sunny afternoon of Wednesday 10 May 2006, in front of a large and enthusiastic crowd, two excellent teams played out a match at Molinuex that was closer than the score indicates. Jake Jervis gave Thomas Telford the lead in the first minute before Josh Jones equalised with a header. Telford won the game with two goals at critical times, one in added time at the end of the first half through Samy Morsy and the other with practically the last kick of the game, a second for Jake Jervis.
Squads:

Thomas Telford - Tom Morgan, Joshua Wright, Alexander Nwenwu, Liam Cook, Thomas Ray, Harry Warburton, Samy Morsy, Nathan Rooney, Jake Jervis, Benjamin Lewis, Matthew Beddoes, Kane Thomas, Peter Willett, David Ryan, Daniel Codling, Daniel Bell, Thomas Fadian, Craig Abley, Aswin Babu, Jarrod Matthews.
Parmiter's - Stuart Mackenzie, Nathan Byrne, Ben Talbot, Charles Norman, Elliott Minton, Jack Ashcroft, Chris Fountain, Tom Carroll, Harrison Crawford, Ben Parkes, Chris Brotherwood, Josh Towle, Elliott Goward, Ben Lawrence, Stephen Williams, Jordan Williams, Tom Channing, Robbie Samson-Barry
U16 ROYAL AIR FORCE SCHOOLS CUP FINALS Girls'
Final Meadowhead (South Yorkshire CSFA) 3 Aylsham (Norfolk CSFA) 0
Both matches were staged at the same venue, West Bromwich Albion Football Club, on the same day, Tuesday 9 May 2006. Goals from Anna Kelsey and a second from Emily Rumsby put the Sheffield school in control in the first half. Nicola Swift, living up to her name as a quick and elusive winger, settled the game in the second half although Norwich City Ladies may have produced a gem for the future in Dawn Mallett of Aylsham, who was rightly adjudged to be the Player of the Match.
Squads:
Meadowhead: Georgia Ward, Lauren Taylor, Jane Watkinson, Giselle Smith, Eleana Kallis, Zoe Ellison, Nicola Swift, Gemma White, Emily Rumsby, Anna Kelsey, Claire Watkinson, Ellie Brightmore, Lauren Brown, Anna Myers, Jane McInnes, Laura Mann
Aylsham: Hayley Clark, Logan Shepherd, Samantha Ede, Frances Ellis, Charlotte Bunn, Abby Timmins, Katy Smith, Dawn Mallett, Rebecca Chamberlain, Amy Walsh, Gemma Reeve, Rebecca Burton, Emily Simmonds, Stephanie Barnes, Lauren Dunthorne
Boys' Final
Impington (Cambridgeshire CSFA) 3 St Margaret's (Merseyside CSFA) 1
The Boys Final was played at The Hawthorns later the same day. Impington effectively won the match with three goals in the first half although St Margaret's reduced the arrears after half-time. Air Marshall Chris Davidson who, on behalf of the sponsors, assisted with the post-match presentations, where the losers were extremely gracious and sporting in defeat. The match was featured the following day on the local BBC "Look East" news programme.
Squads:

Impington: William Cook, Steven Kirkys, Adam Coles, Adam Dalby, Julian Austin, Luke Thulbourn, Phillip Carington, Jack Watson, James Tyrrell, Lewis Trimmer, Aidan Litterick, Sam Allan, Nick Thears, Tom Gray, Andrea Constantinides

St Margaret's - Nathan Elliott, Joshua Smith, Matthew Hudson, Jonathan Crossdale, Philip McCaughran, Anthony Williams, Ben McHugh, Andrew Durans, Matthew Hughes, Paul McManus, Charles Jones, Michael Jones, Chris Lloyd, Simon Murphy, Andrew McGral, Jonathan Monks
U16 FA PREMIER LEAGUE INTER COUNTY TROPHY FINAL
Lancashire County SFA 1 Devon County SFA 2
Ewood Park was the venue for this game, which took place at lunchtime on Thursday 11 May 2006. Ben Joyce scored both Devon goals in the first half, his second being a screamer from outside the area. Lancashire were unable to reduce the arrears until injury-time when Dean Stott scored with a penalty. Huw Jennings, the newly-appointed Director of Youth for the FA Premier League, was on hand to assist with the post-match presentations..
Squads:
Lancashire: Chris Thompson, Dean Stott, Ashley Holt, Kewis Field, Rory Winters, Tom Wilson, Dominic Merella, Adam Kay, Rob Turner, Alex Smith, Nathan Fairhurst, Michael Aspin, Lewis Craig, Adam Crossley, Ross Lloyd, Ben Simmonds, Jack Bilsborough
Devon: James Wannell, Aiden Way, Ben Tozer, Reece Moseley, Shane White, Mitchell O'Donnell, Jamie Hatch, Bobby Hopkinson, Ben Joyce, Daniel Gosling, Liam Sercombe, Stuart Davies, Jake Wannell, Sean Szabo, Luke Cole, Karl Baker, Nick Gidley, Craig Russell
U18 FA PREMIER LEAGUE INTER COUNTY TROPHY FINAL
Merseyside County SFA 3 Bedfordshire County SFA 2
The National Final took place at Anfield, Liverpool Football Club, on Saturday 6 May 2006, and followed on after the Second Leg of the Under 15 English Schools Trophy Final. Merseyside took an early lead but it was Bedfordshire who led 2-1 at the interval. However, the home side struck twice in the second half to take the trophy, in front of an enthusiastic crowd of 599 spectators.
Squads:

Merseyside: Steven Longrigg, Sean Adcock, Ben Smart, Danny Owens, Tom Sweeney, Michael Forrest, Alex Baldwin, Michael Deakin, Paul Pearson, Dale Wright, Craig Noon, Wayne Miles, Chris Scott, Leigh Veidman, Peter McShane, James Armstrong

Bedfordshire: Michael Parkin, Luke Knight, Anthony Moulds, David Thompson, Matthew Clark, Robert Luya, Chris Reeves, Craig Daniel, Emeka Obiechefu, Sam Dawe, Ian Draycott, Matthew Sutton, Luke Bliss, Robert Lindsey, Carl Harrison, Gibran Pirbhai, Daniel Simm, Serge Khadji
U18 SCHOOLS' TROPHY FINAL
Monkseaton (Northumberland CSFA) 2 West London Academy (Middlesex CSFA) 1
This final was held at Notts County Football Club on Monday 8 May 2006. The match proved to be a thriller. Lee Novak put the team from the North ahead after 15 minutes following a good passing move with Alan Patterson. 20 minutes later came a fine equaliser after David Campbell was put clear on goal only to see his shot hit the underside of the bar and bounce in of the keeper's heel. The decisive and deciding goal came via substitute Shaun Forster, who finished neatly with a right footed flick over the keeper into the net.
Squads:

Monkseaton: Philip Robinson, Martyn McGonigal, Carl Patterson, Chris Jewels, Tom Wilson, Eddie Dines, Alan Patterson, James Stephenson, Lee Novak, Phil Bannister, James Novak, Liam McPeake, Paul King, Sean Forster, Stephen Mason, Chris Wooley, Terry Martin, Daniel Iredale, Chris Brown, Michael, Jewels, Phil Smith, Phil Douglas, Calum Alexander, Mark Andrews, Glen Campbell, Stuart Moran, Liam Sword
West London: Michael Power-Simpson, Gary Hill, Aaron McKenzie, Alan Hedley, Steve Marsh, Billy Barker, Terrell Lewis, Jason Sheenhan, David Campbell, Ashley Flanmore, Jerome Okimo, James Waterhouse, Kyle Bunning, Lucas Marthurin, Thomas Wood, Ottis Kingsley
U18 COLLEGES' TROPHY FINAL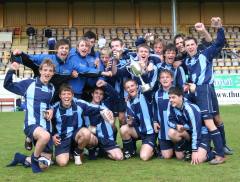 U18 Colleges Trophy Winners -
Wilberforce College
Wilberforce (Humberside CSFA) 1 Kingston (Surrey CSFA) 0
The National Final took place at Boston United Football Club on Wednesday 3 May 2006 and was a very successful occasion. The club may be in a lower division but their hospitality was Premier League. The game was refereed by Des Coulson, from the Football League Assistant Referees List. The match was a somewhat dull and tedious contest until a "free-for-all" half-way through the second half resulted in referee Coulson red-carding one of the Wilberforce players. This seemed to spur on the Hull team because a few minutes later a certain Robbie Fowler scored what proved to be the decisive goal with a header.
Squads:

Wilberforce: Adam Smith, David Suddaby, Lewis Barley, Lee Beach, Ben Etherington, Ryan McAllister, Alex Davidson, Scott Phillips, Alex Reverley, Andrew Kaye, Jordan Pullen, Robert Hunter, Robert Abrahamson, Robert Fowler, Alex Richmond, Andrew Coverdale
Kingston: Rodney Chiweshe, Elliot Blake, Tim Pitt, Chris Robinson, Daniel Fisher, Robin Shroot, John Coleman, Tom Windsor, Craig Masham, Jordan Kiffin, Harry Draper, Dean Thomas, Daniel Gurney, Daniel Meggie, Ronnie Vincent, Jermaine McGlashan, Nick White