U18 Schools Trophy Final
Tuesday 16 May 2006By ESFA Office
Last Updated:
13/11/2010 16:02:52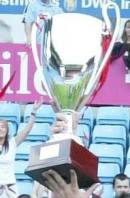 Monkies lift the U18 Schools' Trophy
Monkseaton 2-1 West London
Monday 08 May 2006
Meadow Lane, Notts County Football Club
Monkseaton School (Whitley Bay) just came out on top in this thrilling Under 18 Schools' Trophy Final played at Meadow Lane. A goal 15 minutes from time from Shaun Forster settled the game after West London Academy (Northolt) had recovered after a poor start.
Monkseaton were well on top in the early stages and twice came close to taking the lead, first when their powerful striker Lee Novak rose well to head the ball goalwards only for it to hit the head of Steve Marsh and go behind for another corner and then when he shot just wide of the far post.
It then came as no surprise when Novak put Monkseaton ahead after 15 minutes when following a good passing move with Alan Patterson, he hit a rasping shot past West London's captain, Michael Power-Simpson, in the Academy' goal. Power-Simpson was in action again moments later when Novak again got clear but the goalkeeper saved bravely at the striker's feet.
West London's attacks were only intermittent although strikers David Campbell and Ashley Flanmore caused trouble with their pace. Monkseaton captain, Chris Jewels, arguably their outstanding player, coped well with the danger, well supported as he was by Tom Wilson. In the 35th minute, however, West London Academy shocked Monkseaton with a fine equaliser which was conjured up by Flanmore and Campbell with help from Jerome Onimo on the right. They combined well for Lewis to put Campbell clear on the right of goal and his shot hit the underside of the bar and bounced in off keeper Philip Robinson's heel.
Monkeaton created two more opportunities before the break with Power-Simpson saving from Paul King and Phil Bannister but could not regain the lead they probably deserved.
The second half proved a more even affair with hard tackling from both sides restricting the number of clear cut opportunities. It was West London Academy who came closest when Campbell broke through and as he was challenged went to ground which provoked strong appeals for a free-kick on the edge of the penalty box which was rejected by referee David Coote who had a fine game. As the players began to tire, injuries and cramp limited the flow of the game but Monkseaton went close when Power-Simpson and to save at Shaun Forster's feet.
Substitute Forster was naturally fresher than most of the other players and it may have been this which led to him netting the winning goal. He chased a long ball to the left of the penalty area beyond West London Academy's defence as Power-Simpson rushed out to try and clear into touch, Forster just got there first and cleverly flicked the ball with his right foot from a narrow angle over the keeper and into the bottom of the net.
Monkseaton celebrated wildly but West London were not finished yet and with their own substitutes bring new energy, it took a wonderful block by Robinson to stop Ottis Kingsley equalising. After six minutes added time was indicated, both sides went close although Monkseaton had the two best chances with Chris Wooley being checked by a fine saving tackle from Aaron McKenzie and Steven Mason being thwarted by yet another brave save by Power-Simpson.
The final whistle brought relief to Monkseaton who thus won the Under 18 Individual Schools' Cup outright for the first time although they had shared the trophy with Parmiter's School (Watford) in 1997 and it was captain Chris Jewels who received the Cup from Dennis Fulton, past Chairman of the English Schools' FA.
The Monkseaton Team Manager was already looking to the future next year when he commented that all but three of his squad would be available next season and was full of praise for his captain, Chris Jewels.
Alan Paris, Assistant Manager of West London Academy, who was back at one of his former clubs, Notts County, for this final, felt that the West London side did not play as well as they had in many of their games leading to the final and congratulated Monkseaton on a deserved success.