U12 Girls' 9-a-side National Cup Final
Monday 21 July 2014By ESFA Office
Last Updated:
21/07/2014 12:21:06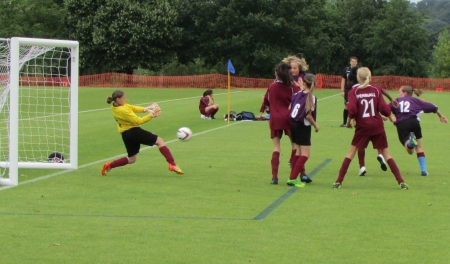 Action from the final
Grey Coat Hospital School (West London SFA) 0-2 St Ivo School (Huntingdon SFA)
What a superb way to complete the ESFA competitions' programme for 2013-14. The two finalists in our newest competition, the U12 9-a-side Schools' Cup for girls, met at Bisham Abbey on Friday 11 July and took part in what would undoubtedly be the top football game of the weekend (the same weekend as the World Cup final). The quality of football was helped by the billiard table like preparation of the pitch by the ground staff; if only games could always be played on surfaces as good as this.
St Ivo School scored twice in the second half through Ellie Burgess and Ellie Jefferson, to ensure that their name would be first on the new trophy.
At the end of the game both teams were congratulated on their sporting attitudes, shaking hands and congratulating each other on a really entertaining game. They were thanked for not diving, biting, crying and behaving like some grown men!
Yes, football is alive and well and being played correctly in our schools.
Squads
Grey Coat Hospital School: 1 GK Victoria Johnson, 2 Francesca Sweet, 3 Amelia Ager (Captain), 4 Elira Bejtullahu, 5 Kierah Nabena, 6 Louise Fitzpatrick 7 Martha Bryant (Vice Captain), 8 Gabriella Howard Baker, 9 Amber Penniall. Substitutes: 10 Lauren Hadeed, 11 Hera Hamiti 12 Annabelle Moore, 13 Hannah Richmond, 14 Rebecca Price. Team Manager: Matthew Powell.
St Ivo School: 1 GK Sophie Marjoram, 2 Nell Webber, 3 Emma Mellors, 4 Sophie Tarpey (Captain), 6 Casey Norman, 7 Katherine Speed, 8 Lauren Mellors, 10 Elle Jefferson, 13 Ellie Brown. Substitutes: 5 Georgia Currie, 9 Ellie Burgess, 11 Erin Maxwell. Team Management: Lisa Trigg and Darren Marjoram.
Match officials (All Hertfordshire CSFA)
Referee: Philip Draper.
Assistant Referees: Sam Draper & Matt Draper.
Fourth Official: Suresh Pulandaren.
Archived News
Seasons
Season 2013-2014
July 2014
21st :: U12 Girls' 9-a-side National Cup Final