RAF Cup gets ready for "take-off"
Thursday 03 January 2008By ESFA Office
Last Updated:
13/11/2010 16:03:51

The National Rounds of the ESFA U16 Schools' Cup, sponsored by the Royal Air Force for a fourth successive year, is ready to kick into action again this term after County Schools' FA qualifiers were nominated before Christmas.


Click on the appropriate draw to view:
Girls' Draw
Boys' Draw
The Semi Finals will be played at RAF Cosford on
Girls: Wednesday 12 March 2008
Boys: Thursday 13 March 2008
The National Finals will be held at the City of Manchester Stadium, home to Manchester City Football Club on Monday 28 April 2008.
Rushcliffe School
The winners of last season's boys' competition were Rushcliffe School (Nottinghamshire) after they overcame Forest School 3-2 (Berkshire) (after extra time) thanks to a hat-trick from captain and player of the match, Tim Hopkinson.
Rushcliffe Team Manager, Peter Milner: I'm ecstatic we won. It has been a real release of emotion. To score the winning goal just 90 seconds before the end of extra time was just amazing. It was a real team performance, reflecting a spirit by playing together for five seasons.
Rushcliffe Captain, Tim Hopkinson: It was an overwhelming occasion. We had all been dreaming about this for the past two weeks since the semi-final. I can't explain how it feels to win.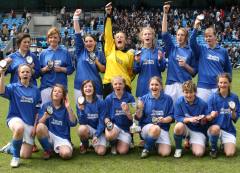 Church Stretton School
The girls' competition was won by Church Stretton School (Shropshire) as they produced a convincing display to win 6-1 against Katharine Lady Berkeley's School (Gloucestershire). Kim Bebbington netted an impressive hat-trick, while Abi Cottam bagged a brace and Megan Lloyd completed the scoring.
Archived News
Seasons
Season 2007-2008
January 2008
03rd :: RAF Cup gets ready for "take-off"