U15 Girls' Cup: Myton 7-2 West Park
Monday 30 October 2006By ESFA Office
Last Updated:
10/02/2021 10:48:43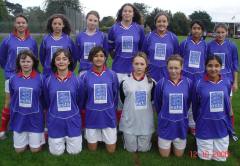 Myton Girls before Cup win
Myton U15 girls marched into Round Three of the ESFA U15 Schools? Cup for Girls after a convincing 7-2 win against West Park School from Derby before half term.
The Warwick based school were simply irresistible in the first half and found themselves going into the half time interval 5-1 up thanks to a hatrick from Tasha Devis and a brace from Chantelle Raker.
Chantelle Raker completed her hatrick after the break and a single strike from Louise Barnes completed the scoring for Myton. Goals from Becky Murden and Chloe Flinn provided the consolation for West Park.
Myton will now play at home to Rugby High School for Girls in Round 3 after they beat Chellaston (Derby) 4-2.
Archived News
Seasons
Season 2006-2007
October 2006
30th :: U15 Girls' Cup: Myton 7-2 West Park