West Ham Stars Kick-off Coca-Cola Cup
Monday 17 October 2005By ESFA Office
Last Updated:
13/11/2010 16:03:45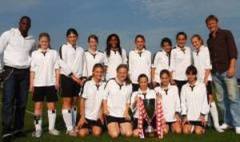 Teddy Sheringham and Marlon Harewood pictured
with last season's U13 Coca Cola Cup winners
St Bernard's School, Essex
The biggest schools' football competition in Europe the English Schools' FA "Coca-Cola" Under 13 Cup has now kicked-off for the fourth season running.
Former European Cup winner Teddy Sheringham and his West Ham United strike partner Marlon Harewood helped launch this year's competition at the club's Chadwell Heath Training Ground on Monday 10 October.
The star strikers were joined by last season's girls' competition winners, St Bernard's High School & Arts College from Westcliff on Sea. The girls were given the chance to experience an official club press conference as they joined the media quizzing the players and assistant boss Peter Grant. Some of the girls even piped up with their own testing questions for the West Ham trio!
Teddy Sheringham praised the opportunities the "Coca-Cola"/ ESFA English Schools Cup brings to the grassroots of the game before commenting on his own experiences in grassroots football
To have a tournament the length and breadth of the country is fantastic. Youth football be it for boys or girls is so important. Kids need coaching and to learn new things ' you never stop learning in this game.

I had plenty of people telling me when I was younger that I wouldn't make it. But the one thing I can tell youngsters is to keep going and believe in yourself " have faith in your own ability."
His sentiments were echoed by team-mate Harewood who added:
The more girls like these (St Bernard's squad) we have playing the game well at grassroots level the more we'll have playing the game at the top level.

The important thing for them to remember in training is that practice makes perfect. You've always got to work hard and train hard to improve your game.
Currently teams all over the country are training hard to prepare for this season's "Coca-Cola"/ ESFA English Schools Cup. Last season saw over half the secondary schools in England taking part " 40,000 young players from some 2,600 schools actively enjoying the beautiful game with the lucky national finalists playing at Villa Park, and this season's tournament is shaping up to be even bigger and better.
The "Coca-Cola"/ ESFA English Schools Cup is now up and running in 45 counties across the country with local English Schools' Football Association County Cups forming the first stage of the competition. Victorious teams will advance to one of four regional cup tournaments with the goal of making it to the National Semis and Finals, to be played at professional football stadia a real dream-come-true experience.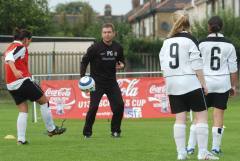 West Ham Coach, Peter Grant,
puts St Bernard's Girls through their paces
in a training session at Chadwell Heath
Back at Chadwell Heath, the St Bernard's girls completed their West Ham United experience with some high calibre coaching from assistant boss Peter Grant. The former Scotland International took the school side through a typical West Ham 1st team training session as well as offering them valuable advice on developing as footballers.
The final word was left to Peter as he closed the training session
It's really important to enjoy your coaching and carry enthusiasm into your training. Give your all in training and no doubts, you'll improve.
Archived News
Seasons
Season 2005-2006
October 2005
17th :: West Ham Stars Kick-off Coca-Cola Cup