Wembley Schoolboys' International 2009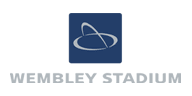 U18 Schools' International - England v France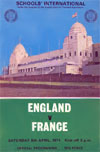 English Schools' International football is back at Wembley Stadium.
English Schools will face their French counterparts for the first time in 12 years at Wembley Stadium on 13th June 2009.
The first schoolboy encounter between the two countries was at the Under 15 level in 1972 when England won 1-0 in an international tournament in what was then West Germany. This was followed by a 5-0 victory in Paris a year later. The first Wembley game came in 1974 when England U15 won again, this time by 5-2.
This Under 18 Invitation International fixture will be played on :-
SATURDAY 13th JUNE 2009
at WEMBLEY STADIUM
KICK OFF 3.00PM


Pre-match Entertainment
Turnstiles open at 12.00 noon and pre-match entertainment starts at 12.20pm with the Finals of the four ESFA National Primary Competitions.
This will be followed by a Parade of Champions and musical activities lead by world famous Tenor Martin Toal who will then sing the English Anthem.


Main Event
Under 18 Schools' Invitation International fixture;
England v France, to play for the "International Trophy". Kick off will be at 3 pm.
At approximately 4.50pm, the winning team will climb the famous Wembley steps to the Royal Box where the captain will be presented with "The International Trophy".
Experience the New Wembley Stadium
The ESFA hopes that all schools/colleges will look to support this venture and make the Association's return to Wembley a great success. The unique family atmosphere of a Schools' International provides the ideal opportunity for children to experience the new Wembley Stadium. So, be it a School outing or a family day out, why not organise your trip today and make it a special day for all to enjoy and remember.

John Read - ESFA Chief Executive

The ESFA is delighted to be returning to Wembley in June. This builds on our rich history of holding English Schools' Football at the national stadium and gives some of this country's most talented young players the unique opportunity to showcase their skills at football's spiritual home.

The opportunity to see the under 11s play on the famous Wembley pitch as well as a full schools' international, should not be missed. This is a truly fantastic day out for schools and football fans of all ages - don't miss it!

Tickets
All tickets are priced at £24 each and can be purchased from the ESFA office, or on the day at Wembley Stadium. There are generous discounts when ordering from one of the many ESFA authorised Wembley ticket coordinators located across the country. A ticket could cost as little as £17 each. For more details see :
Match Information > Purchasing Tickets.

Hospitality Packages
A selection of Wembley Stadium Hospitality packages are available. For more details see : Match Information > Hospitality Packages.


Travelling to Wembley Stadium
We recommend that you plan your journey to and from Wembley Stadium in advance. For more information please see : Match Information > Travel Arrangements.


Mascots Required
For £195, the ESFA are offering lucky fans a once-in-a-lifetime opportunity to walk out with the France and England players onto the Wembley pitch and sample the roar of a large crowd.
The lucky mascots will line up with the players for the national anthems, have commemorative photographs taken and be presented with a special match day programme
They will also receive a full English Schools' replica playing kit (shirt, shorts and socks, one size only) and four match tickets - one for the mascot and three for friends or family.
Open to school children in Years 5 to 7. If you are interested please contact ESFA office on 01785 785970.
The closing date is 28 March 2009 with 36 packages available on a first come first served basis.
Advertising Opportunities
There are opportunities for Companies to advertise in the matchday programme, the rates are as follows:
One full colour page, which includes 2 complimentary Bobby Moore Package tickets (Bobby More seats, programme and half time buffet) £500
One half page £300
One quarter page £200
For further information and to book an advert, please contact the ESFA office.

Further Information
For further information regarding this fixture please contact
---
Under 18 Schools' Invitation International
ENGLAND V FRANCE
"The International Trophy"
WEMBLEY STADIUM
SATURDAY 13th JUNE 2009
KICK OFF 3.00PM