England Schoolboys take on Wales tonight
Thursday 29 March 2018By ESFA Office
Last Updated:
29/03/2018 15:49:05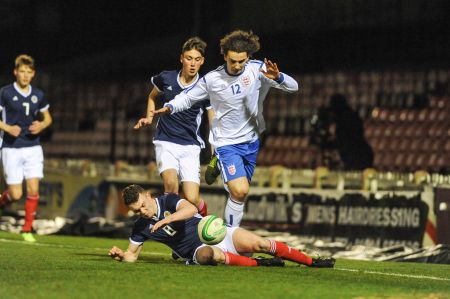 The boys' third match of the Centenary Shield is played tonight as England take on Wales at Cardiff Met University, which will be shown live on Premier Sports.
The first match was played at Luton Town against the Republic of Ireland in a goal-less draw. The match showed moments of quality from a number of the England attackers. Their second match was played last Friday under the lights of York City's Bootham Crescent. The game would be decided on refereeing decisions as a penalty gave Scotland the early lead. The English would then be denied a penalty early in the second half, which would see King Baidoo booked. The English would then be down to 10 men as captain, Cormac Pike, was sent off for a poor tackle on Scotland's Nathan Fell. The final blow for England would be dealt moments before full time as the fouled Scot, Fell, would score a fantastic goal from over 20 yards.
This match sees England searching for their first win. Coverage will begin at 6.55 on Premier Sport (Sky 428) and tickets will be available at the gate.

Archived News
Seasons
Season 2017-2018
March 2018
29th :: England Schoolboys take on Wales tonight