Match Report: Bob Docherty Cup
Saturday 24 March 2018By ESFA Office
Last Updated:
29/03/2018 15:49:05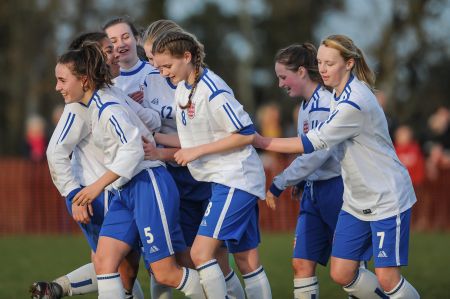 England U15 2 - 1 Northern Ireland U15
Saturday 24th March 2018University of Ulster
The England Under 15 girls got their Bob Docherty Cup campaign off to the perfect start with a hard fought 2-1 win over Northern Ireland this afternoon.
Kiya Webb was called into action early on with a fine finger tip save onto the post preventing the hosts taking the lead but she could do little to prevent the Irish opener shortly when an almost carbon copy set piece saw her beaten by a fierce header.
Despite this set-back the girls gathered their composure and grew into the game as the half wore on with Emily Atkinson and Alyssa Mae Aherne constantly probing for openings.
Bebe Smith went close as the half ended but her touch to Atkinson's low cross was direct at the keeper.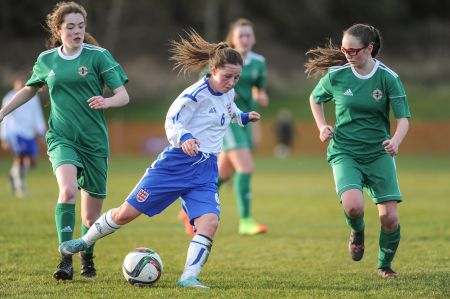 The second half offered much the same with the hosts on the back foot and England having the vast majority of the possession but unable to create many clear cut openings.
At the other end Webb was again called upon to keep the score at 1-0 before she provided the turning point in the match with a magnificent double save when it looked certain the Irish would double their lead.
From here on it it was all England and when Libbi Mae McInnes was felled in the box it was Bebe Smith who stepped up to take the spot kick. Her strike had an enormous amount of power but cleared the bar and the chance was gone.
However, Smith made amends shortly after when the Irish defence failed to deal with a ball in the box and she slid the ball past the keeper to draw England level.
With the clock ticking down and penalty shoot-out looming large, England nicked a winner to complete their comeback.
Ruby Hughes picked the ball up twenty yards out and struck an angled drive towards the far corner that the home keeper could not keep out and the bench erupted as the ball found the far corner to edge England ahead.
The girls held on to earn a maximum return from their opening fixture and can take pride in a battling performance for the entire 60 minutes, showing great character to battle back from a goal down and earn their reward.
The squad can now look forward to tomorrow's clash with Wales with a 2pm kick-off, again at the University of Ulster.
Photos from 353 Photography