10-man England lose to Scotland in York
Friday 23 March 2018By ESFA Office
Last Updated:
29/03/2018 15:49:05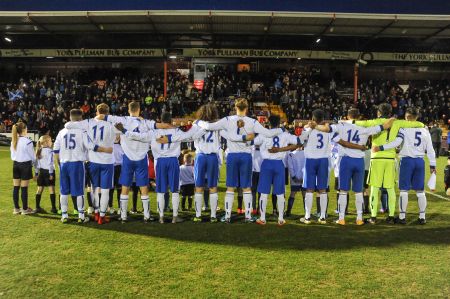 Team still looking to progress in this season's Centenary Shield
York City FC played host to the second game of the centenary shield for England's Under 18 Boys team, looking to build on their 0-0 draw with the Republic of Ireland last Friday at Luton Town.
The English Boys took to the pitch with a high tempo and high press. Scotland looked to negate England's extra man in the of the park by forcing long balls which looked to be effective.
Scotland won an early penalty in the 20thminute after Ethan Brooks took down Daniel MacKay just inside the edge of the area. MacKay stepped up to take the spot kick but Callum Coulter got a strong hand low to his left to turn the ball round the post. MacKay would make up for his penalty miss moments later nodding a cross into the bottom corner to give Scotland the lead. The game would give little to offer positive football for the rest of the match as both teams stifled and slowed their opponents.
In the Second half England saw captain, Cormac Pike sent off in the 77thminute for a poor tackle on the Scotland winger Nathan Fell. Fell would pick himself up and put the game to bed with only added time to play. Collecting the ball from a defensive mix up, Fell placed the ball into the top left hand corner from some 25 yards.
The match, which was broadcast live on Freesports, will be available to watch on the ESFA'sYouTube channelin the coming days and photos will be available from353 Photography.
Full match report to follow.
Archived News
Seasons
Season 2017-2018
March 2018
23rd :: 10-man England lose to Scotland in York