Today's National Final:
Monday 12 March 2018By ESFA Office
Last Updated:
29/03/2018 15:49:05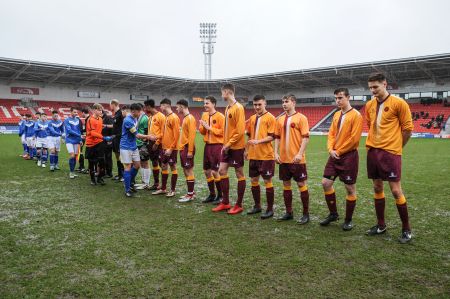 Thomas Telford take home the ESFA Boys' B Team Cup in washout at Doncaster
Glyn School 1 - 2 Thomas Telford School
The ESFA Under 18 Boys Schools' Cup and Schools' B Team Cup finals were due to be played today (12 March) at Doncaster Rovers' Keepmoat Stadium.
The first match of the day saw Glyn School take on Thomas Telford in the Schools' Cup for B Teams on a dreich day in the incessant rain. Glyn school had the better of the opening 20 minutes but it would be just before the break that Thomas Telford managed to break the deadlock and take a halftime lead. The conditions would slow the game down in the second half leading to few chances. Thomas Telford doubled their lead after 80 minutes following an overlap on the left wing. The second goal sparked Glyn School into life who managed to get one goal back in the 88thminute, pushing for an equaliser until the end of the game.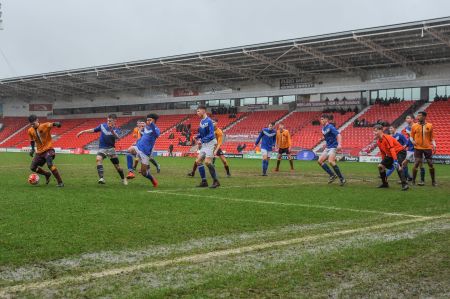 Unfortunately, the rain continued to pour down as the day went on, leading to the decision being made to postpone the Under 18 Schools' Cup for Boys Final due to the conditions. The rearranged fixture for the match will be announced as soon as possible and announcements will be made on social media via @schoolsfootball.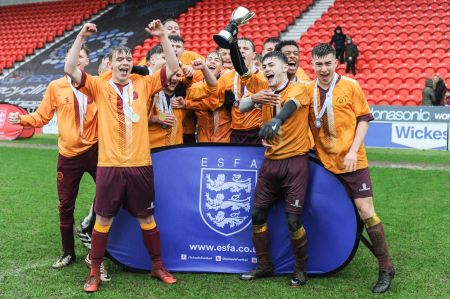 We would like to thank all those who attended today and wish to apologise for any inconvenience caused be the cancellation of the second match of the day.
Photos available from 353 Photography and full match is available via the ESFA's YouTube Channel via this link.