ESFA Celebration of Girls' Football Kicks Off on Thursday
Tuesday 06 March 2018By ESFA Office
Last Updated:
29/03/2018 15:49:05

The top girls' footballers in England will come together this Thursday for the national finals of the Under 18 Girls' Schools' Cup and the Under 18 Girls' Colleges' Cup at Notts County Football Club.
On Thursday 8 March 2018, International Women's' Day, sees four teams who have a combined one thousand and eight hundred minutes of football leading up to the finals meet at Meadow Lane to crown the two winners of their respective tournaments. The day will also be a celebration of Girls' Football and it taking place on International Women's Day makes it all the more special.
The first kick off at Meadow lane at 12pm will see Sollihull College face off against South Gloucestershire and Stroud College in the final of the ESFA Under 18 Girls' Colleges' Trophy.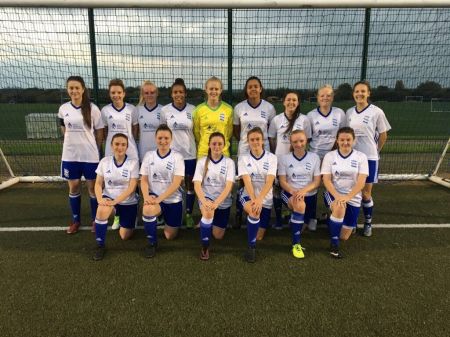 Solihull Colleges' U18 Girls' Squad 2018
Solihull College come into the game in excellent form so far this season. Their year opened with an away game against Dudley College in early October which saw Solihull control the game and run out 7-0 winners on the day. The team showed their ability to thwart the attacks of their oppositions as they moved through the rounds without conceding a goal. The team have also showcased their swashbuckling attacking having scored 31 goals on their way to the final. The team come into the final of the back of a 13-0 victory over Barnsley College.
South Gloucestershire & Stroud College (SGS) U18 Girls' Squad 2018
South Gloucester and Stroud College had a slower start than their opponents in this year's trophy, opening with a hard fought 1-0 victory over St Brendan's Sixth Form College. Over the following rounds South Gloucester and Stroud picked up some very impressive results including an 8-0 victory over Hartpury College and a 12-1 win over Itchen College. In the semi-final South Gloucester and Stroud beat Barnet and Southgate College 3-0 to reach their second final in two years, with this season aiming to be more successful than last year's 2-1 defeat to reigning champions Gateshead College.
This year's Under 18 Girls' Colleges' cup is expected to be a hard fought affair pitting two excellent football teams in a tactical battle. The sides both come in with great defensive records, having only conceded one goal between them, and both teams having scored goals for fun up to this point.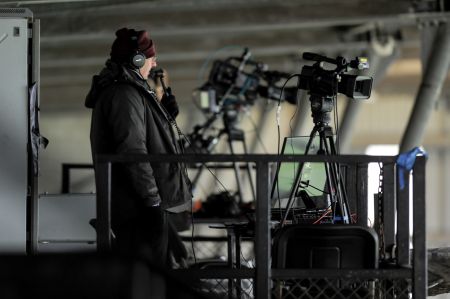 Matches will once again be streamed live and for free on the ESFA's YouTube Channel
The second final to be played on the day will be the ESFA Under 18 Girls Schools Cup which will feature Barking Abbey and Tomas Telford Schools. This final sees the reigning champions, Barking Abbey, looking to defend their title against one on schools footballs most successful teams in Tomas Telford.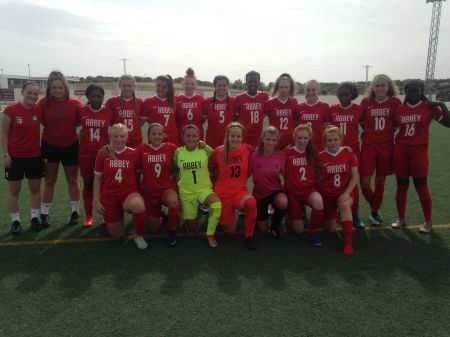 Barking Abbey's U18 Girls' Squad 2018
Barking Abbey won last year's competition following a 4-0 victory over Durham Sixth form centre at Meadow Lane. The team went opened this year's competition with a home tie against John Warner School in a hard fought match which saw Barking Abbey edge out a narrow 1-0 victory. The side grew in confidence with a run of four goal victories in the run up to their final. The team overcame an away trip to Onslow St Audrey's School with a 4-1 victory sealing their chance to keep the Under 18 Girls' Schools' Cup in the Barking Abbey trophy cabinet.
Barking Abbey will face a true test of their steel in the final coming up against a school that has over 20 Schools Football titles to their name.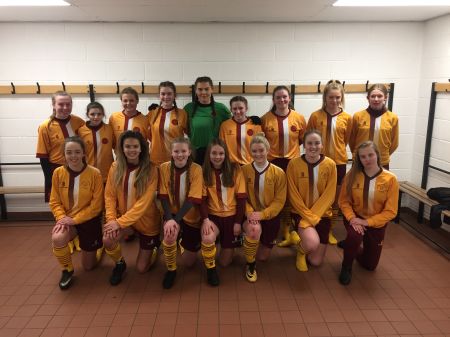 Thomas Telford Schools' U18 Girls' Squad 2018
Thomas Telford are looking to win the Under 18 Girls' Schools' Cup for the first time since undertaking their football revolution. Their team opened the competition with an emphatic 11-0 win away at Wimslow High School. They followed this win up with a trio of five goal thrillers over the following three rounds, only conceding 2 goals in the process. Thomas Telford faced a significant challenge in the semi-final, facing a Balby Carr Community Academy in a contest in which the players could not shirk their opponents' quality. The Thomas Telford side would run out eventual winners in a goal frenzied match that would finish 7-2 to this year's finalists.
The match this Thursday promises to be a rambunctious affair with the two finalists coming in with terrific goal scoring records and the intensity to deliver a barnstorming affair.
The gates open at 11 am on Thursday with the matches kicking off at 12pm and 4pm. Tickets are £4 for adults and concessions are free. We can also confirm that both matches will be streamed live, online via our ESFA YouTube channel. With high quality coverage and full match commentary, you can tune in and watch the drama of the matches unfold.
Archived News
Seasons
Season 2017-2018
March 2018
06th :: ESFA Celebration of Girls' Football Kicks Off on Thursday