ESFA Launches New Partnership & Competitions for Schools with Panini
Tuesday 27 February 2018By ESFA Office
Last Updated:
10/02/2021 10:50:16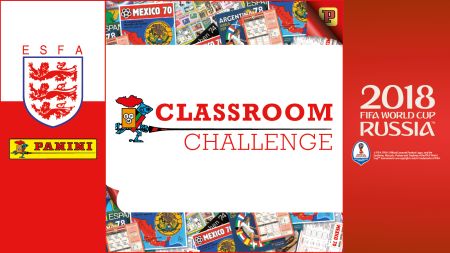 The English Schools' Football Association are delighted to announce that they will be working in connection with both Panini and the PFA to launch a nationwide competition for both primary and secondary schools and their pupils ahead of the 2018 FIFA World Cup Russia™!
By teaming up with the world famous producers of sticker books and collectibles, the ESFA are inviting schools to take part in a brand new, national competition which will not only provide pupils with the opportunity to create some wonderful pieces of work as entries, but also provide teachers with some additional learning materials across a variety of subjects over the Summer Term and finally, give schools the chance of winning prizes for taking part and submitting entries.
By using the rich history of the FIFA World Cup™ we will create opportunities to use English, history, geography, art and music classes to encourage pupils to be creative and imaginative and to look at football from some fresh angles. By working alongside Panini and the PFA, we will be able to offer a great competition structure and opportunities to win some fantastic prizes for individuals and their schools.
Full details of the competitions are currently being circulated to schools, but in the meantime and in case we don't have your school's details, we would like to invite all schools to register their interest in this exciting opportunity to celebrate football in 2018. Simply click the link below and fill out the short form with your school's details. All schools that register interest will be entered into a prize draw to win free 2018 FIFA World Cup Russia™ Panini sticker albums and stickers for their pupils!
Stay tuned for the official competition launch over the next couple of weeks!
CLICK HERE TO REGISTER YOUR SCHOOL

Archived News
Seasons
Season 2017-2018
February 2018
27th :: ESFA Launches New Partnership & Competitions for Schools with Panini