Pupils have their say on the leading talking-points in football
Friday 02 February 2018By ESFA Office
Last Updated:
27/02/2018 17:55:08

An overwhelming 86% would support the introduction of video assistant referees (VAR)
Harry Kane voted as pupils' Premier League Player of the Year
Young football fans would back the introduction of a 'sin bin' rule
Ahead of England's first-ever National Schools' Football Week, in conjunction with the ESFA PlayStation®Schools' Cup, taking place from 5 – 9 February, 2,041 secondary school pupils have taken part in a survey to give young fans a voice in football.
Approximately, 200,000 pupils will take part this season's PlayStation Schools' Cup football tournaments. Keen to understand the views of young people with a vested interest in the future of football, the organisers of National School's Football Week quizzed secondary school pupils on a range of hot topics.
Of the 2,041 respondents to the survey, 61% were boys and 39% girls.The results included:
Key changes to football:
A Video Assistant Referee (VAR) system was recently tested during both semi-finals of the Carabao Cup. An overwhelming 86% of pupils backed the introduction of VAR and a clear majority (74%) would like to see referees being allowed to give interviews after a game
A majority of 62% of young football fans would be in favour of introducing a sin-bin rule, as used in rugby union, as a good way to eliminate diving
While transfer fees continue to rise, 69% said that talented homegrown youth players are not getting enough opportunities to play for leading professional teams in England. Just over half of respondents (55%) would be in favour of a salary cap in football
67% of pupils felt attending live football games is not affordable for young fans and their families, while 44% of pupils surveyed did not expect to attend a live football match this season
A majority of 58% would support the opportunity for a Scottish team such as Celtic or Glasgow Rangers to be part of the Premier League
An overwhelming majority of 86% that felt the UK media should give women's football more coverage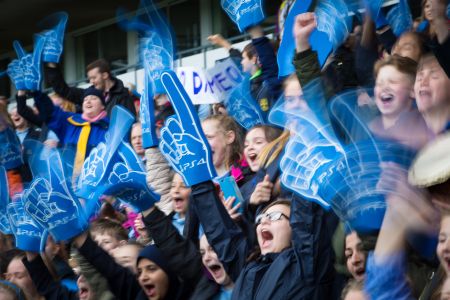 England team debate:
The England team is always one of the most talked about football subjects in the playground. Results of the survey showed that:
59% of young fans suggest that a winter break in the Premier League would help the national team
When asked how far England can go in the 2018 FIFA World Cup in Russia, only 5% see them as finalists. Luckily for England, only 14% see them going out in the group stage. The most likely result, according to the pupils, is a quarter-final exit (38%), ahead of 27% for the round of 16, and 16% believing England can make the semi-finals. There was no question about whether England could beat Germany in a penalty shootout!
Inspiring the youth of today:
An overwhelming 90% think professional footballers have a responsibility to be role models, both on and off the pitch. So, which stars have impressed young football fans the most this season?
Harry Kane was voted as the pupils' Premier League Player of the Year. Kane received 24% of the vote, ahead of Kevin Bruyne (17%), with Mohamed Salah nominated in third position (15%)
With Manchester City currently riding high in this season's Premier League campaign, it was less surprising that Pep Guardiola was voted the Premier League Manager of the Year (28%), ahead of José Mourinho (18%) and Antonio Conte (13%). Unexpectedly, Burnley FC's manager Sean Dyche only received 9% of the vote, but was still ahead of Jurgen Klopp and Marco Silvia, who both collected 8% of the nominations. Only 6% picked Mauricio Pochettino as their Manager of the Year
Raheem Sterling's rich vein of goal-scoring form was recognised with the pupils voting him the Young Premier League Player of the Year (25%), ahead of Marcus Rashford (17%). Both Gabriel Jesus and Dele Ali tied for third with 13% of the vote
At a time when fantasy football has become a popular part of football culture, pupils were offered one player to sign for their club. They were split on the Cristiano Ronaldo vs Lionel Messi debate, with both players receiving 38% of the vote. Neymar trailed the prolific pair with 24% of nominations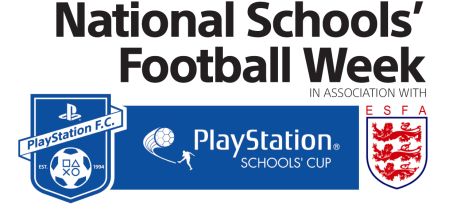 Following on from pupils giving their opinion on the key issues in football, classrooms around the country are now preparing to take part in the first-ever National Schools' Football Week; from 05 - 09 February 2018.
This new initiative supports the ESFA PlayStation Schools' Cup, the biggest grassroots football competition in England. National Schools' Football Week will reflect the spirit of competition, fair play and team work, with schools staging football-themed events and lessons throughout the week.
Jo Bartlett, who heads up the PlayStation Schools' Cup programme for Sony Interactive Entertainment UK explained, "It was great to get some very relevant feedback about football from young people who care about the game. Giving pupils this platform to voice their opinion is in keeping with the spirit of National Schools' Football Week, which is all about using the power of football to inspire pupils both on and off the pitch."
Visit www.playstationschoolscup.com to learn more, or find out how your school can get involved.
You can also follow the social media conversation by using:
#SchoolsFootballWeek
@PSSchoolsCup
@SchoolsFootball

Archived News
Seasons
Season 2017-2018
February 2018
02nd :: Pupils have their say on the leading talking-points in football