Match Report: Hertfordshire Girls' U13 Football Tournament
Wednesday 25 October 2017By ESFA Office
Last Updated:
30/10/2017 12:01:53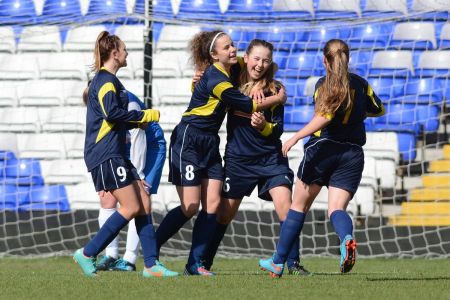 Greneway Score Goals Galore in North East Herts Schools' Sports Partnership Girls U13 Football Tournament
Greneway hosted the tenth annual football tournament between all the Middle Schools in the Partnership: Greneway, Roysia and Edwinstree and Ralph Sadleir. In good conditions all the teams played each other in 30 minute, nine a side matches.
"All the teams came to play their best football and were full of energy and commitment" (Glendon Crook, Greneway PE teacher and organiser)
In the group games Greneway Reds and Edwinstree won all of their matches which set up an epic final. In a very tight match both teams created good chances but it was Greneway who broke the deadlock with an Emma Todd goal to win the match 1-0 and lift the brand new, BIG cup as NE Herts U13 Champions.
"All the matches were well-supported and showed the footballing talent in the North East Herts region and how the game should be played with no gamesmanship, great endeavour, good skills, team-working, few fouls and real concern about their opponents welfare! The 'Respect' agenda was enhanced in this tournament and all the players were a real credit to the game and their schools." (Terry Graves, Greneway Assistant Headteacher)
Greneway:
Reds: Charlotte Cooley, Madi Thake, Eve Gore, Emma Todd, Estelle Brogden, Maddie Laughlin, Kiera Watts, Chloe Holt, Scarlett Gleghorn ©
Whites: Jess Gruskin, Amber Goodall, Lola Holson, Rose Norris, Lucy Parnwell, Laura Thompson ©, Ellie Johnson, Lauren Pinder
Blacks: Rosie Ogilvie, Astrid Matthews © Bethan Wall, Millie Carew, Beth Newland, Summer Barford, Annabel Smith, Isla Downie, Rosey Davies, Imogen Stevens
Thanks to: Mr Dowler, Mr Crook, Mr Judge, Mr Graves
Referees Assistants: James May, Jack Logan, Ryan Morgan, Ben Seabrook
The FA Girls' Football Week will be taking place across the country from 6 – 12 November and we'll be looking for lots more schools and teams that are embracing the Girls' Game within Schools' Football.
You can send match reports with pictures as well as information on anything your school or team are doing to support Girls' Football Week to us via email and we'll look forward to hearing from you!
Match report sent in by Terry Graves, Assistant Headteacher & Head of PE, Greneway School, Herts
Archived News
Seasons
Season 2017-2018
October 2017
25th :: Match Report: Hertfordshire Girls' U13 Football Tournament