Danone Nations Cup winners celebrate at Man City
Wednesday 18 October 2017By ESFA Office
Last Updated:
30/10/2017 12:01:53
The national champions of the ESFA Under 11 Danone Nations Cup for Girls were at Manchester City this weekend to celebrate their success. The team from Greenside Primary School in Manchester claimed the title back in May after the National Finals at Stoke City. The team had been successful in the regional, district and county rounds and beat seven teams from throughout the country on their way to cup glory.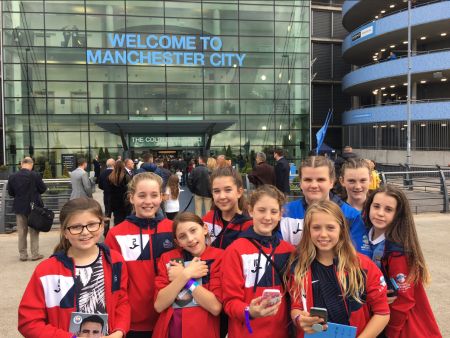 The English Scools' FA and Danone partnered to send the champions to the Etihad Stadium on the 14th October for full VIP treatment. The team was treated to the Blue Carpet where they were able to get up close to players such as Sergio Aguero, Kevin De Bruyne and Kyle Walker. The team were also interviewed for CityTV, which is broadcast in the stadium and throughout city square before the match stared. Finally, the girls watched as Manchester City went on to defeat Stoke City in an exciting game.
The Greenside team manager Kate Stonehewer said "Just wanted to message you to say what a fantastic day the girls had yesterday at city. They were especially made up with the blue carpet and getting to hi 5 the players and manager. Big thanks to you for organising it and big thanks to city - being a united fan that's hard to say - for giving the girls a day they won't forget."
The ESFA Danone Nations Cup is the England leg of the world biggest international football tournament for 10 to 12 year olds –The Danone Nations Cup – with 32 countries participating every year. The 17-18 tournament has already started in England, with a new champion to be crowned in May 2018.

Archived News
Seasons
Season 2017-2018
October 2017
18th :: Danone Nations Cup winners celebrate at Man City