ESFA Danone Nations Cup Winners to mark success at Man City
Wednesday 11 October 2017By ESFA Office
Last Updated:
30/10/2017 12:01:53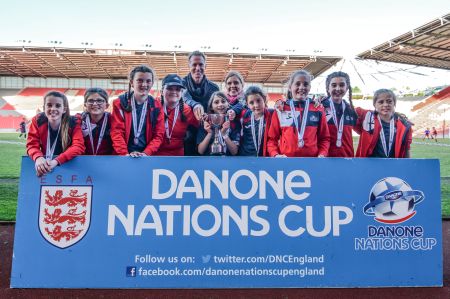 The Greenside Primary Winners at the National Finals in Stoke with ex-England Star & DNC Ambassador John Scales and Danone's Marie Wendling
National Champions in the ESFA U11 Danone Nations Cup for Girls' head to the Etihad Stadium on Saturday 14 October
The girls from Greenside Primary School in Manchester claimed the title of ESFA Danone Nations Cup U11 Girls'National Champions in May, following the National Finals held at Stoke City FC. The team, who had already been successful throughout the District, County and Regional rounds of the competition, had the chance to experience playing and indeed, winning on a Premier League pitch in May as the National Finals took centre stage at the Stoke City FC Stadium. Playing against seven other teams from across England, Greenside were successful in their campaign to top the table and took the National Champion status for 2017 following a 3 – 2 win against Broadstone Middle School from Poole in Dorset.
The team will be celebrating their win at Man City FC's Etihad Stadium on Saturday (14 October) as a well-deserved treat from the English Schools' FA and Danone for their continued success throughout the 2016-17 Schools' Football season. The girls will get to experience welcoming Manchester City players to the Etihad on Saturday at the Blue Carpet entrance as well as participating in an interview about their success in May which will be broadcast to waiting fans on the big screen inside the stadium as well as in City Square.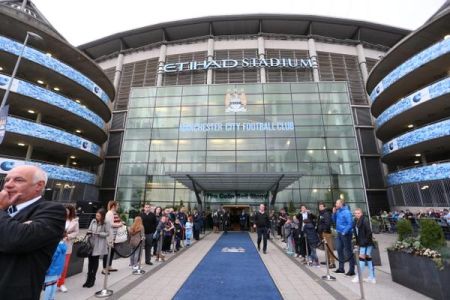 Andrea Chilton, CEO of the English Schools' FA said 'This event will be a great experience for the victorious team from Greenside Primary, who were worthy victors in the Danone Nations Cup. I hope that the girls enjoy this special celebration, courtesy of Manchester City and Danone, without whose support this terrific day out would not be possible'
Marie Wendling, PR & Events Manager at Danone said 'It takes real determination, hard work and team spirit to become national champions of the ESFA Danone Nations Cup, and the girls' team from Greenside Primary proved that they've got all of this in spades. We're delighted to be supporting such outstanding young talent and to be treating them to this special day out at Manchester City, they truly deserve it.'
The ESFA Danone Nations Cup competition is the England leg of the world's biggest international football tournament for 10 to 12 year olds – the Danone Nations Cup – with 32 countries participating each year. The first rounds of the 2017-18 competition are already underway in England, ready for new National Champions to be crowned in May 2018.
We hope the girls have a truly memorable day, celebrating their success.

Archived News
Seasons
Season 2017-2018
October 2017
11th :: ESFA Danone Nations Cup Winners to mark success at Man City