Match Report: St Gregory the Great School v King Alfred's School
Monday 02 October 2017By ESFA Office
Last Updated:
30/10/2017 12:01:53
Under 12 PlayStation Schools Cup Round 1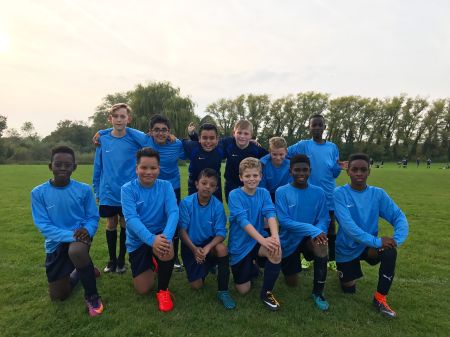 St Gregory the Great Catholic School U12s beat King Alfred's School 4-3 in 1st round of the PlayStation Schools National Cup.
St Greg's took the lead through Lennon Byles when Jamie Sibanda put in a great cross from a corner. King Alfred's reacted brilliantly and 10 minutes later found themselves 2-1 up. St Greg's soon equalised with a superb individual goal from Princewill Ehibhationmhan. Princewill dribbled past the whole KAs team before firing the ball into the corner. He followed this with another moment of brilliance by lobbing the goalkeeper from the halfway line.
St Greg's made it 4-2 at the start of the 2nd half. Princewill hit a long range free kick which was parried by the KAs goalkeeper and Lennon reacted quickest to fire the ball home. KAs got their third through a well struck free kick, but fortunately the boys did enough to hold on to win 4-3.
They will now travel to Royal Wootton Bassett Academy in the 2nd round. The ESFA would like to congratulate St Gregory the Great Catholic School on their success in the competition so far. We would also like to congratulate King Alfred's School on their efforts this year and wish them luck in the competition next season.
If you would like to see your match report published online, please email Andrew Ellery with your report and pictures for publishing on the website.
Match report submitted by Mr Hoskin of St Gregory the Great Catholic School.

Archived News
Seasons
Season 2017-2018
October 2017
02nd :: Match Report: St Gregory the Great School v King Alfred's School