It's Kick Off for the Fifth ESFA PlayStation Schools' Cup
Monday 25 September 2017By ESFA Office
Last Updated:
10/02/2021 10:50:09

Back for a fifth successive season, ESFA PlayStation Schools' Cup is the biggest grassroots football competition in England.
The partnership with the English Schools' FA (ESFA) will present over 200,000 school children a chance to compete in high-profile national tournaments to celebrate the spirt of competition, fair play and team work.
A grand total of 24 tournaments for both boys and girls across the secondary school age categories, give the future stars of football a high-profile platform for their skills to shine. Helping create fun and competitive formats, that are accessible to schools of all sizes and abilities, additional competitions include the 'Small Schools' and 'B Team' trophies.
Fulham FC star, Ryan Sessegnon, is a perfect example of a player that has made the transition from playground to professional footballer. In 2014 and 2015 Ryan was part of the Coombe School team that lifted the PlayStation Schools' Cup Trophy. Last season, at the age of 16, Ryan went on to become the youngest player to make their senior debut for Championship side Fulham FC, while this summer he was one of the standout players for the England U19 team that won the UEFA EuropeanUnder-19Championship. He is destined for a bright future in football.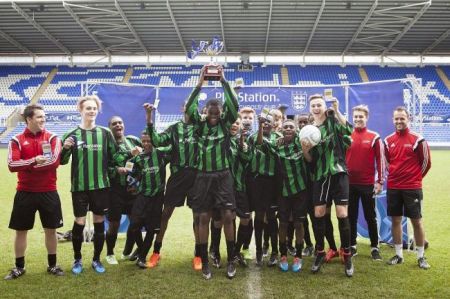 Fulham FC's Ryan Sessegnon lifting the PlayStation Schools' Cup Winners Trophy with his School, Coombe Boys
Since the launch of PlayStation Schools' Cup, Premier League players have visited 40 schools as part of the 'Tie of the Round' (TOTR) roadshows. Stellar names that have supported the grassroots initiative include Harry Kane, Juan Mata, Peter Crouch, Gary Cahill, Adam Lallana, Dele Alli, Riyad Mahrez, John Stones and England Women's captain Steph Houghton. Footballing heroes are once again being lined up to help inspire the next generation of budding players.
Getting Social
The first PlayStation Schools' Cup TOTR event for the 2017-18 season is scheduled to take place tomorrow (26 September) at Calderstones School in Liverpool, with a visit from Everton FC footballer, Tom Davies on the cards for the students there!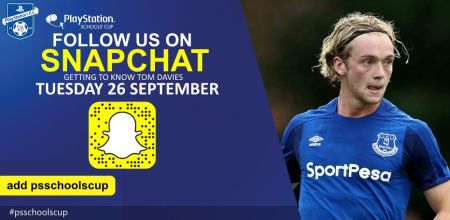 PlayStation Schools' Cup fixtures take place between September 2017 and March 2018, with the National Finals played in May 2018 as part of a football Festival staged over three-days at a professional football stadium.
There'll be other exciting opportunities for schools to get involved in additional activities across the new season, including challenges and encouragement for teams and schools to really get involved with the fantastic season ahead. With a multitude of media and social media channels promoting the PS Schools' Cup competitions, there's no reason not to be involved!
Match Reports
The perfect way to give journalism or keen English students the opportunity to experience the highs and lows of a Schools' Football match – write and email a match report with pictures (even just a squad photo!) and we will feature it online on the ESFA Website and also on Twitter!
Social Media
There are so many ways to stay up to date with the PlayStation Schools' Cup this season and more importantly, to keep us up to date with how you are getting on in your fixtures throughout the PlayStation competitions – follow the links below:
PlayStation Schools' Cup Twitter
PlayStation Schools' Cup Facebook
PS Schools' Cup online document upload
You can also follow @PSSchoolsCup on Snapchat and @SchoolsFootball and @PSSchoolsCup on Instagram.
Good luck to all the teams taking part in our fixtures this season!

Archived News
Seasons
Season 2017-2018
September 2017
25th :: It's Kick Off for the Fifth ESFA PlayStation Schools' Cup