ESFA PlayStation Under 14 Schools' Cup for Girls' Final: Match Report
Tuesday 04 July 2017By ESFA Office
Last Updated:
31/07/2017 11:50:16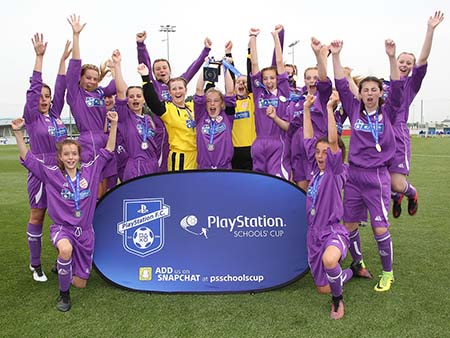 Rossett School (Harrogate & Craven SFA) 1-7 St Ivo School (Huntingdon SFA)
St Ivo School have been confirmed as the winners of the 2017 ESFA PlayStation Under 14 Schools' Cup for Girls' after beating Rossett School in an entertaining encounter. In truth, the score line was not a fair reflection on the pattern of play, given the fact that the game was level at the half-time interval, thanks to goals from Anouska Dresser and Tia Everdell. An early second-half goal from Lucy O'Brien saw St Ivo edge in front in what was up until then a closely fought match. However the game went goal crazy in the last ten minutes as St Ivo scored a further five times to categorically put the tie beyond any doubt. The goal scorers in the final throes of the game were Lucy O'Brien with a further two goals (thus, completing her hat-trick); Tia Everdell; Angel Lyden and Maddy Claridge. Both sides deserve tremendous credit for the entertaining spectacle that they produced in front of an extremely partisan and vociferous crowd on the renowned St George's Park turf.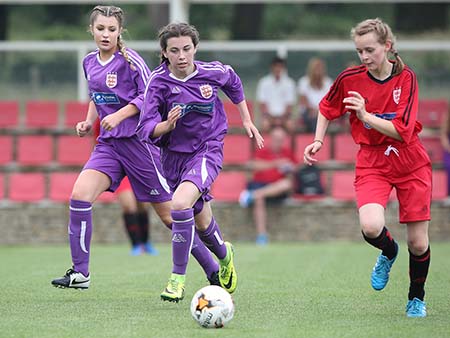 Match Background:
Both of this year's finalists had successfully navigated eight previous rounds before the final, in what is most likely to have been a long and arduous road, starting in September and culminating with this entertaining contest at St George's Park National Football Centre. As was the case in the previous finals, the quality of the two teams can be indicated by the degree of difficulty that each school had faced in getting to this stage: Rossett School edged past Idsall School 2-1 in their penultimate fixture, in what appeared to be a very tight affair. Concurrently, St. Ivo successfully overcame Stanley High School by the same score to set up this eagerly awaited match-up. Furthermore, it would be remiss of us not to briefly acknowledge both teams' exceptional pedigree in developing promising talent. In particular, Rossett School can claim to have helped John Scales (Ex Liverpool, Tottenham and England defender) on his way to becoming a professional footballer. Likewise, St Ivo School can count Paralympian Jonny Peacock amongst their alumni and as a result the sporting ethos that exudes throughout the school is clear. Therefore, the stage was set for a blockbuster. As an interesting aside to the day's proceedings, the game was played on the adjacent pitch to where the England Women's Football Team were training, at that particular time, in preparation for Euro 2017. Consequently, they did not have to look far for inspiration.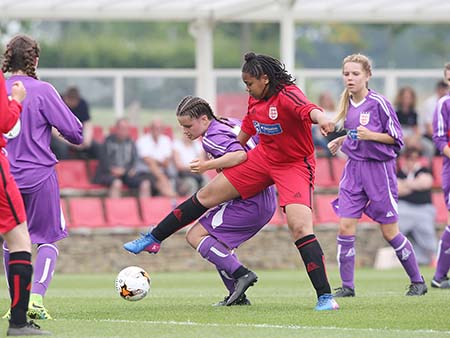 Match Details:
Both St Ivo School and Rossett School looked to make a confident start to the final with Angel Lyden testing Rossett's goalkeeper, Victoria Naylor with a speculative lob from the edge of the area, though it was easily gathered. In response, Rossett launched a counter attack from which Holly Mitchell had her fierce effort from just outside the box, tipped over by Ella Hampton: the resultant attempt at a short corner came to nothing. These early exchanges set the tone for the rest of the half as both teams favoured an open, attacking style of play. To add further credence to this observation, Sasha Brown's powerful strike was well saved by Victoria Naylor. Immediately afterwards, Rossett broke the deadlock thanks to yet another counter attack: Evelyn Richards went rampaging down the wing and sent over a cross that was fumbled by the unfortunate Ella Hampton into the path of Anouska Dresser to tap home in the 10th minute. Clearly buoyed by her goal, Anouska Dresser saw her effort from 6 yards out well blocked by the St Ivo defence. St Ivo were clearly determined to restore parity as soon as possible and threw everything into doing so before the half time interval. This strategy began to bear fruit almost immediately as Caitlin McGeown was played through into a one-on-one situation but could only direct her effort over the bar from the edge of the box. In the 20th minute, Rossett went close to extending their lead as Anouska Dresser curled an effort just wide of the post from 20 yards out. Indeed, Rossett's Issy Smith could count herself unlucky to have miscued her effort, from inside the box wide after an excellent cross from Lucy O'Brien. Rossett School were made to pay for their profligacy in front of goal in the 22nd minute as Tia Everdell won a free-kick level with Rossett's penalty area. She got up, dusted herself down, and sent a looping effort towards goal that deceived Victoria Naylor, levelling the scores. Subsequently, both sides went close to scoring in the last throes of the first half but were unable to convert these chances: firstly for St Ivo, Tia Everdell had an effort well saved from inside the box and then Lucy O'Brien forced Victoria Naylor into an excellent save from 6 yards out, which Naylor managed to turn on to the bar. However, it was Mel Millington who had the final say in the first half for Rossett as her effort from the edge of the box was well saved by Ella Hampton.
Half Time: Rossett School 1-1 St Ivo School
The second half began in a frenetic fashion as almost straight away Victoria Naylor was forced to channel her inner Manuel Neuer and deny Tia Everdell in true sweeper-keeper style. Up the other end, Georgia Goulding-Saunders saw her cross cut out by the St Ivo backline. St Ivo took the lead for the first time in the match as Lucy O'Brien rounded Victoria Naylor and managed to slot home despite being off-balance at the time. Rossett School looked to level the scores again straight-away but Anouska Dresser was desperately unlucky as her pile-driver of a free-kick crashed back off the bar; unperturbed by the lack of an equaliser they won a free-kick level with St Ivo's penalty area and the subsequent cross was fumbled by Ella Hampton, falling kindly for Holly Mitchell, who snatched at the chance and fired wide of an open goal. St Ivo began to dominate proceedings soon afterwards, going close through Lucy O'Brien's 20-yard effort and Tia Everdell, who managed to get a toe on the ball before the onrushing Naylor but her effort was cleared off the line. Their dominance was rewarded just before the hour mark as Lucy O'Brien grabbed the game by the scruff of the neck and embarked on a mazy run that saw her beat two defenders and fire past Victoria Naylor from inside the area. Unbelievably, she managed to repeat the trick just a couple of minutes later as she put the afterburners on to successfully beat all comers and nut-megged the unfortunate Victoria Naylor from less than two yards out. Rossett had barely kicked off again and suddenly the ball was in their net once again, courtesy of Tia Everdell, who completed her hat-trick with a powerful effort from the edge of the area that left Victoria Naylor a mere spectator. Credit must go to Abby Townsend for the pinpoint through-ball. St Ivo were not finished there as Angel Lyden sent a rasping effort towards goal that Victoria Naylor could only parry into the net. Maddy Claridge then rounded off the scoring in stoppage time, as Angel Lyden found herself in between the lines, where she was able to thread a delightful defence-splitting pass through for Maddy Claridge to run on to and calmly stroke the ball beyond the despairing Naylor.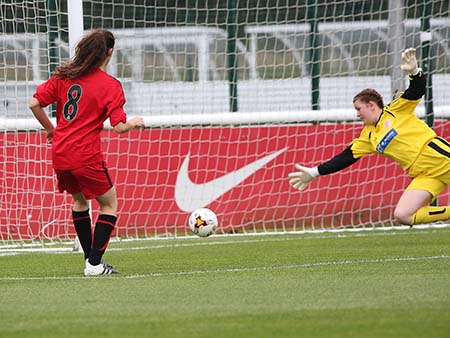 Joyous scenes followed at the final whistle as St Ivo School celebrated a hard-fought victory. Rossett School, to their credit, accepted their defeat gracefully and thoroughly deserved their applause after the match, as well.
Full Time: Rossett School 1-7 St Ivo School
Squads:
Rossett School: 1. Victoria Naylor (C); 2. Evelyn Richards; 3. Lilly Bellerby; 4. Alicia Hall; 5. Jess Bond; 16. Holly Mitchell; 7. Mel Millington; 8. Anouska Dresser; 9. Cleo Vine; 10. Georgia Goulding-Saunders; 11. Issy Smith; 12. Charlotte Jackson; 13. Hattie Black; 14. Mimi Goldberg; 15. Aerferne Conan; 6. Abbie Coumon
St Ivo School: 1. Ella Hampton; 2. Caitlin McGeown; 3. Aimee Best; 4. Alice Claridge; 5. Ellen Bullin; 6. Sasha Brown; 7. Angel Lyden; 8. Abby Townsend; 9. Zoe Barratt (C); 10. Lucy O'Brien; 11. Tia Everdell; 12. Erin Waterman; 13. Poppy Dunmore; 14. Charly Woolstenholmes; 15. Lana Dobbie; Maddy Claridge.
Match Officials:
Referee: Callum Aris
Assistant Referees: Mike Mooney & Oliver Cooper
Fourth Official: Bill Quirk
The ESFA would like to place on record it's thanks to the staff at St George's Park for hosting the event and to PlayStation for sponsoring a plethora of our competitions, including this tournament. Further thanks go to 247tv for organising the live stream, as well as to The Studio 17 for providing the match photos.
Latest News
Archived News
Seasons
Season 2016-2017
July 2017
04th :: ESFA PlayStation Under 14 Schools' Cup for Girls' Final: Match Report