International Focus: Q&A with team managers, past and present
Wednesday 10 May 2017By ESFA Office
Last Updated:
30/05/2017 09:51:54
In the first of our Question & Answer sessions, we catch up with former ESFA U15 Schoolgirl team manager Sarah Steadman.
Sarah was the first ever manager of the ESFA U15 team and managed both Georgia Stanway and Ellie Brazil (2013-14 team) and recalls her memories of the girl's as both players get ready to face off against each other in the Women's FA Cup Final this weekend at Wembley.
It's a while since we last spoke. How are you?
I'm very well thank you, I have moved schools and I now teach at Monk's Walk School in Welwyn Garden City which is still in Herts. The school has lots of potential so I'm excited by this new adventure.
It's three years now since you departed (as team manager) are you still coaching?
Yes, but only for the school teams, my spare time is very precious now as I love hanging out with my son William. I still do the odd bit of scouting for the ESFA when asked, but I drag him along for the sausage and chips after. Hahaha!
It's Women's FA Cup Final week. What is your overriding emotion at the realisation two of your former charges (Georgia Stanway, Man City Women FC and Ellie Brazil, Birmingham Ladies FC) will face each other at Wembley on Saturday?
Unbelievable pride.Wow, what an achievement for them,they're doing exceptionally well not only for club, but also for country as both have been a regular part of the England U17 and now U19 squads. They thoroughly deserve their places on the team and have been a real asset to their clubs at senior level.
Georgia Stanway played for you for two years didn't she? What do remember about her?
Yes,that right, on the pitch Georgia was a tenacious player, lots of heart and passion,which at times got her a little talking to by the refs, but she's a real fighter with an intelligent eye for goal. Off the pitch she was focused, but had a good sense of fun, she was exceptionally thoughtful and at the end of both seasons organised the team to sign a flag and shirt as a thank you, which I still have hanging up in my wardrobe with my ESFA suits.
And what do you remember about Ellie Brazil?
Ellie on the pitch was a silent assassin,she would work tirelessly box to box until the moment was right then attack;she'd reach balls most players wouldn't have the right to reach, but the fire in her belly would make her not only get to the ball, but make the GK work or gain a corner for the team. I'm pleased she chose football as Ellie was also a super talented 800m runner.Off the pitch, Ellie too was a quiet and polite player that lead by example with a smile on her face.
Did they show the potential as 14/15 year olds that they could go on and make such a big impact on the professional game at such a young age?
I knew both girls had the potential for sure,so it just goes to show what can happen when you work hard and dream big. Their clubs have obviously looked after them well and after meeting their families, I have no doubt that this will have also enabled them to achieve the highest levels at such as young age. It's remarkable. I just hope we get a mention and a signed copy of their autobiography in a few years' time. Hahaha!
Could you have ever imagined that day you all lifted the Bob Docherty Cup that three years later they (Georgia and Ellie) would be playing at Wembley in the Women's FA Cup Final?
I know its bonkers to think that the young players that we had thatseason have gone on to be recognisable names around their clubs. It makes me feel exceptionally proud of them when I read on Twitter how far they've gone in such a short time. The girls must be so excited, they haveprobably re-enacted scoring the winner at Wembley in the FA cupfinal100 times beforeon the playgroundat school,and now they can live that dream, and knowing them, they'll do everything they can to score that goal and make that dream and reality.
What advice would you give any young player wanting to trial for the ESFA side?
Without doubt apply using the right means indicated via the ESFA website.
If you're one of the lucky few, you'll be embarking on an experience of a lifetime, you'll have the opportunity to travel as an England squad, play among the best in the country at your age, be coached and managed by an amazing team, play against some top opposition,make friends for life and hear the national anthem being played…because of you. I still get goose bumps when I think back to my first game in charge against Scotland away,looking into the crowd and seeing all the families, including my own, singing at the top of their voices waving their flags. Then the feeling at the final whistle knowing we had beaten Scotland, our longest rivals in history. Priceless memories.
There have been so many players that have gone n to other football achievements by being part of the ESFA. Some have become match officials in the ESFA schools' finals, some have gained a scholarship for American universities, some have gained footballing awards, some have played for England. It is wonderful to see how these girls have used playing for ESFA as a springboard.
I do hope to be watching the final on a Saturday and cheering on the girls as it'll be a win-win for me.Fingers crossed the best team will win on the day and both girls score.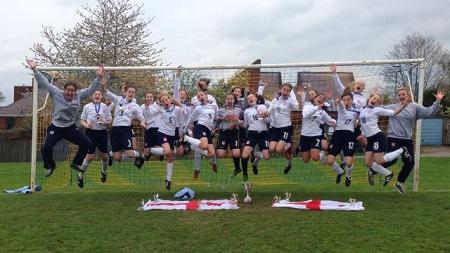 In his first season as ESFA U18 Schoolboy team manager, we caught up with Ben Lavelle as he reflects on a positive season retaining the Centenary Shield.
Ben, can I be the first to congratulate you on a truly magnificent season. I was privileged enough to watch your team play on five separate occasions this season, and let me say how impressed I was.
Thank you.
You have just completed your first season in charge as the manager, what have been your personal highlights?
The whole season has been one of the most memorable experiences of my life – challenging, at times uncertain but ultimately immensely satisfying not only through the final table positions but also through the hugely enjoyable time spent with the management team and the players – a real bonding experience.

Tell us what you remember about the Centenary Shield campaign.
Obviously I remember in detail the games themselves – the intensity and complete absorption into each pass, kick, and header. It is an emotionally turbulent time but since it ended in success, from that point of view it has been hugely enjoyable. The preparation involved was as good as we can provide and you try to think of every hour spent together in order to try to prepare as best you can.
A typical season has highs and lows, but the defeat at home to Northern Ireland was in stark contrast from the incredible result against Scotland (away) the game before. I'm intrigued to know how you lifted the players for that performance against the Republic?
Against Northern Ireland I felt a real telling off was needed, as set pieces and our overall game plan had not been implemented for no apparent reason and so we focussed upon the attacking style of play we wanted to deliver, as well as reinforcing the need for focus and concentration. The disappointment v NI was enough of an incentive to refocus minds and a reaction was almost inevitable, as players knew they had underachieved. Also after the Northern Ireland defeat we had a very frank and honest discussion at the hotel an hour and a half after the game and the honesty of some players was really refreshing and helped to provide a clean slate for the Republic Of Ireland game.
There will be numerous aspiring youngsters reading this interview scouring for any tips; what qualities do you look for when selecting your players?
There is a definite search for character marginally above ability. No matter what ability a player may have, it is their teamwork, their focus under pressure and their work ethic, that dictate selection. We use questionnaires during the trial process and intense scrutiny of their attitude, especially during the final 32 trial – to help us decide.
For U18 boys wondering whether they should get involved next season, what would you say are the benefits of them seeking selection?
The international experience is wonderful – quite unique for our players and one they will cherish for ever. They are treated like international players in terms of the kit, travel and preparation for the game. But they also have huge demands placed on them and this is the best part as most of them develop as players and as people too. This is brilliant.
What has your year in charge taught you as a teacher or a coach?
It has taught me that humility is a key ingredient in sport and life, that players input is valuable and to trust your judgement when things go wrong. Also just be yourself.
And can you tell us a little about the other members of your staff? I guess they will have played a huge part in the team's success too.
Richie Alderson is my assistant manager who is a great friend of mine, we have been friends for years now and this experience has strengthened our friendship. We have similar values and are family men with a love of football, he has been the most supportive person and we think along the same lines.
Jimmy Kelly was an addition to our team this year. The first time we have had a Performance Coach and he has been a key part of our success. He is detached from the emotion of the game and so he provides an objective viewpoint for the players, helping them focus and prevent anything but focus on the task at hand.
Matt George (the goalkeeper coach) has provided the goalkeeping expertise any football team needs and he has done with enthusiasm and vigour - this can be seen in the progress made by Aidan in gaining a professional contract at Burnley FC. Tony Harris (the physio) has brought a quiet calmness and authority to his role as conditioning coach and physiotherapist. His background has provided a wealth of experience and invaluable knowledge. Boths guys have been excellent additions to help complete the team. They have worked tirelessly in helping to create the elite environment. As a management team we could not have done more for our players than we did, so I can't compliment them enough for their input.
How do you hope to top this year's achievements next season?
We will look at improving the trial process and all aspects of this year's campaign and try to win all games outright!!
Thank you so much for sharing your thoughts with us and letting me pick your brain; I guess the work towards retaining the Centenary Shield in 2018 begins now, so can I be the first to wish you the greatest of luck.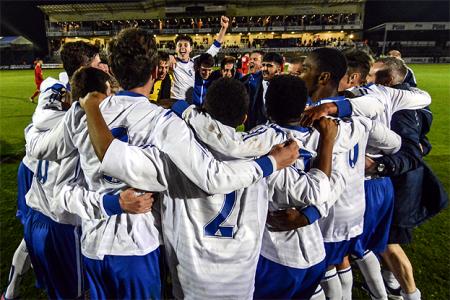 Latest News
Archived News
Seasons
Season 2016-2017
May 2017
10th :: International Focus: Q&A with team managers, past and present