English Schools' FA Girls U15 England Squad Announced
Tuesday 13 December 2016By ESFA Office
Last Updated:
10/02/2021 11:49:56
The North & South Teams ahead of their final trial for the ESFA U15 Girls' England squad on Sunday (11 Dec)
16 Girls named as the 2016-17 ESFA Girls' U15 Squad following final trials last weekend
The English Schools' FA are thrilled to be able to announce the names of the sixteen girls selected to represent their Country in our U15 Schoolgirls squad for the 2016-17 season.
The girls, nominated by their local County Schools' FA, have made their way through regional and national trials to be chosen following Sunday's final trial at Stafford Town FC, by ESFA selectors to play in the England squad – who will this season be defending their title in the Bob Docherty Home Nations tournament.
The ESFA would like to firstly thank all Staff and Volunteers involved in the U15 trial and selection process this season and secondly thank all the girls nominated this season for the opportunity to represent England in our squad. It is a fantastic achievement to be nominated and trial and we wish all those girls every success within the rest of their footballing career. Please keep in touch with the ESFA and don't forget to Tweet us to let us know of your schools' football achievements!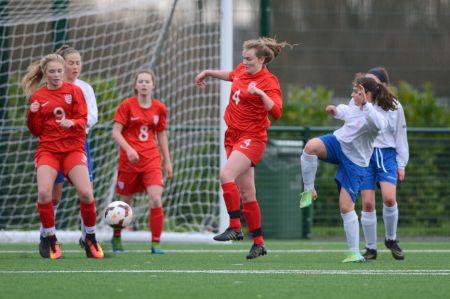 The ESFA U15 Girls' International Squad List 2016-17
| | |
| --- | --- |
| Molly Bull | Lincolnshire |
| Abigail Fenton | Lancashire |
| Melissa Robertson | Lancashire |
| Gemma Lawley | Staffordshire |
| Sharna Wilkinson | Durham |
| Jasmine McQuade | Durham |
| Lexie Harrison | Cheshire |
| Jessica Brown | Northumberland |
| Deearna Goodwin | Worcestershire |
| Lucy Williamson | Essex |
| Libby Gilmore | Oxfordshire |
| Arabella Suttie | Hampshire |
| Georgia Brown | Wiltshire |
| Emma Harries | Berkshire |
| Emily Wallace | Berkshire |
| Sophie Peskett | Hertfordshire |
Huge congratulations to our team for this season – and good luck with all the training and fixtures awaiting you after Christmas.
To keep up with information on the ESFA and both our Girls' U15 and Boys' U18 International squads, you can follow us on Twitter for updates and also find all news stories on our website!
For press enquiries or further information please contact us by email.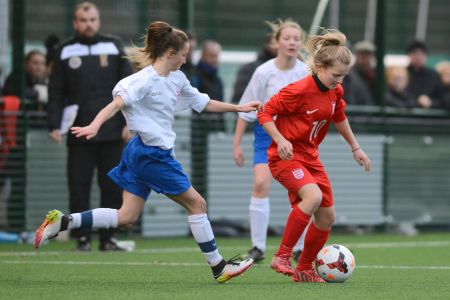 We are very grateful that ESFA accredited photographer, 353 Photography, were in attendance at Sunday's final trial and photos from the match will be available via their website.

Archived News
Seasons
Season 2016-2017
December 2016
13th :: English Schools' FA Girls U15 England Squad Announced