Danone Nations' Cup National Finals Recap 2015/16
Monday 20 June 2016By ESFA Office
Last Updated:
22/06/2016 16:09:56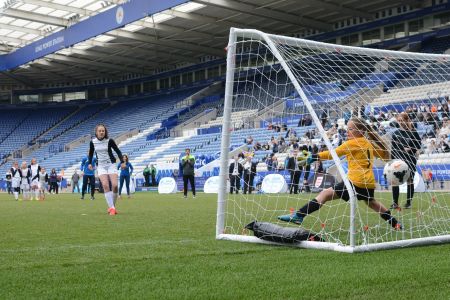 Sunday 22 May saw staff and volunteers from the English Schools' FA and Danone descend on the ground of the Premier League Champions, Leicester City, to hold the ESFA Danone U11 National Finals for Schools', Small Schools', Girls' and District teams.
The finals for the day were split into a morning kick off for two teams and afternoon for the remaining two. The Schools' and Small Schools' finals began at 11:30 and the Girls' and District finals kicked off at 3:30pm.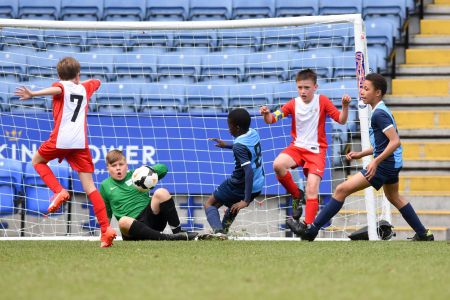 This year's finals pulled in one of the largest crowds achieved at an ESFA Danone National Final, with players' family and friends lining King Power Stadium stands to cheer on their teams! With the use of flat markers, the LCFC pitch was split into four 7-a-side pitches, to allow multiple games to happen at once. Each pitch, with its own Referee and match officials, was managed by an ESFA volunteer to ensure the games ran to time and player transition from stands to match was as efficient as possible.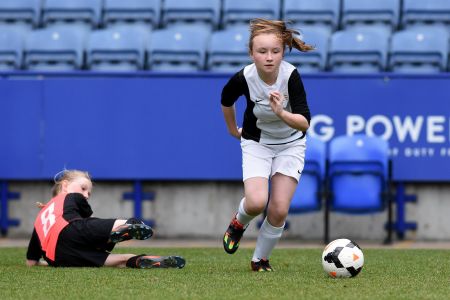 John Scales, DNC England Ambassador, joined in the action and was present throughout the tournaments, enjoying the high level of skill and talent demonstrated by the competing U11s. Each team received medals for their achievement in making it through to the National Finals, all of which were presented by ESFA Chairman Mike Spinks alongside John Scales.
The ESFA and DNC England would like to congratulate the following winners on their success at this year's finals:
ESFA Danone U11 Schools' Cup National Champions:
St Clement's Primary School, Jersey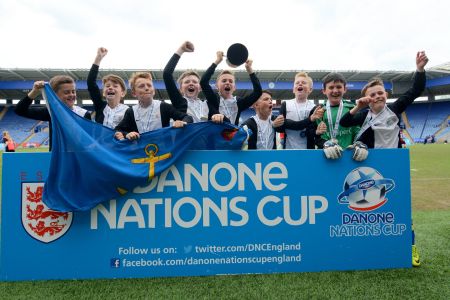 St Clement's Primary School, Jersey, Celebrating Their Win!
ESFA Danone U11 Small Schools' Cup National Champions:
Barkston Ash Primary School, North Yorkshire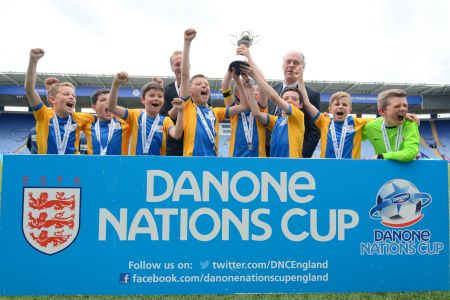 Barkston Ash Lift The Trophy presented by John Scales & Mike Spinks
ESFA Danone U11 Schools' Cup for Girls' National Champions:
St Edward's RC Primary School, Cleveland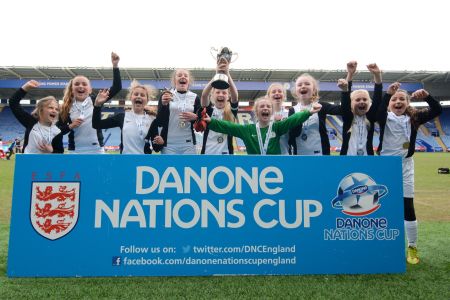 The Girls from St Edwards RC Celebrate their Win!
ESFA Danone U11 Inter Association Trophy National Champions:
Lewisham Primary Schools' FA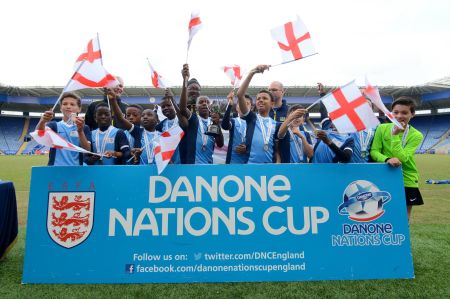 Lewisham PSFA will be representing England in the DNC World Finals in October!
Winners Celebrations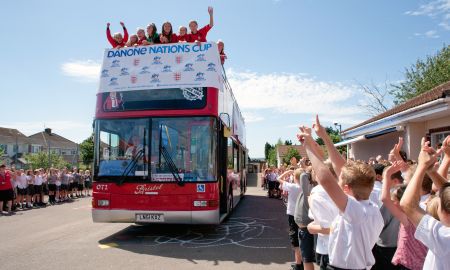 Winners of the Schools', Small Schools' and Girls' Cup Finals will all be treated to an open top bus tour and winners celebration, kindly organised by Danone. St Edward's RC Primary School's tour took place on Friday 17 June, with the celebrations for Barkston Ash and St Clement's arranged for Tuesday and Wednesday of this week – we will publish the news from these events as we receive them!
The winners of the District Finals, Lewisham PSFA will now go on to the Danone Nations' Cup World Finals to represent England against 31 other countries to try and lift the DNC World Cup Winners' trophy in October this year. The team will travel to Paris to take part in the tournament, which is held over three days. Matches will be played behind closed doors, but each team will play one match in the Stade De France for friends and family to be able to cheer them on!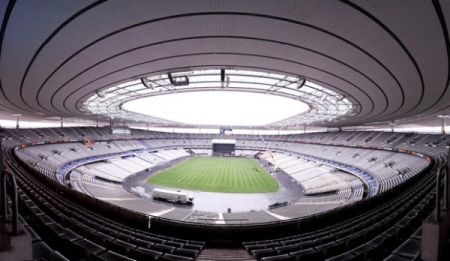 Stade De France, Paris
The English Schools' FA would like to thank Danone for all their on going support with these competitions and congratulate all the teams that took part in the DNC competitions this season. We would also like to extend our gratitude to Leicester City FC for hosting our finals this season.
If you would like to enter your team into these U11 competitions for next season, please contact your local County Schools' FA Secretary, who will be able to inform you on how to get involved in your area. If you require any further information please email the National Competitions Department.
Finally, good look to Lewisham PSFA in their World Finals in October!
Photography was carried out on the day by 353 Photography and the full gallery is available to view here!

Archived News
Seasons
Season 2015-2016
June 2016
20th :: Danone Nations' Cup National Finals Recap 2015/16