PlayStation Schools' Cup Festival Rocks Madejski Stadium – Day 3 Review
Friday 17 June 2016By ESFA Office
Last Updated:
22/06/2016 15:09:56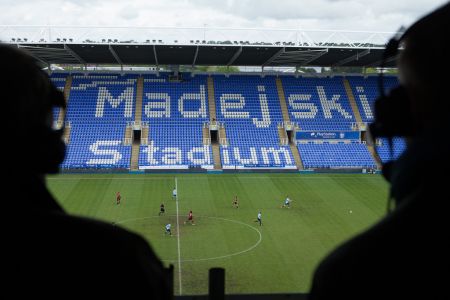 The final day of the ESFA PlayStation Schools' Cup National Finals at the Madejski Stadium saw a rainy day in Berkshire to round off the three days. 10 more teams competed throughout the day to become National Champions in the last five PlayStation Schools' Cup finals.
You can find Wednesday's line-up of events below including an appearance from Arsenal star Alex Iwobi and Clive Tyldesley joined John Scales in the commentary box for the U14 Schools' Final and presented the awards after the match!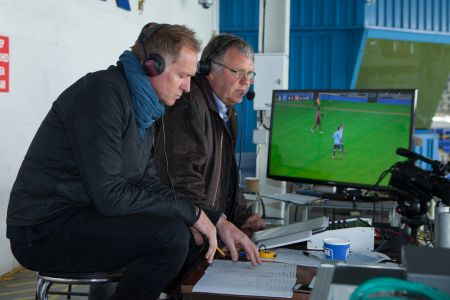 Wednesday 18 May
Day three of the festival saw St Aloysius College and Westfield School receive their medals and trophy on the pitch from Arsenal star Alex Iwobi!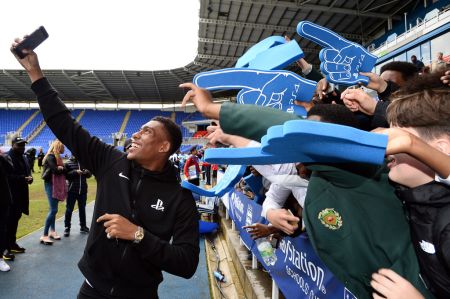 ESFA PlayStation U15 Schools' Cup – Bishop Stortford High School v Thomas Telford School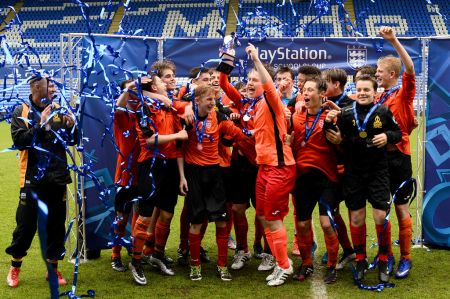 To say the day started in style would be an understatement, as Bishop's Stortford High School and Thomas Telford played out an absolute thriller in the Under 15 Boys' final. Bishop's Stortford raced into a 3-0 lead in the first half as a shell-shocked Thomas Telford failed to get a grasp on the game. However it completely swung on its head early in the second half as Thomas Telford scored three goals in five minutes to remarkably level the game. Against all odds, they then took the lead as rapid striker Austin Samuels scored his second goal of the game to spark wild celebrations. However rather than let their heads drop at squandering a three-goal lead, Bishop's Stortford roared back with striker Bradley Taylor smashing home from 30 yards and Jack Walker scoring a looping free kick with a minute to go to clinch a 5-4 victory.
https://www.youtube.com/watch?v=HSP787J4Ny8
ESFA PlayStation U14 Schools' Cup – Westfield School v St Aloysius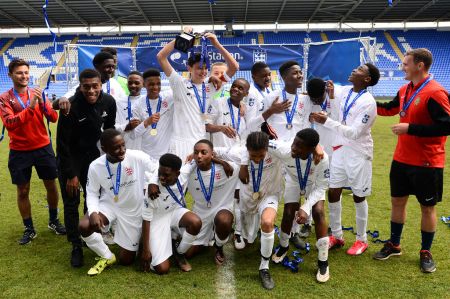 The second game of the day was the Under 14 Boys' final which saw St Aloysius College from Islington take on Westfield School, from Sheffield. The game was settled by an individual goal by St Aloysius' Prosper Keto who headed in a low corner at the near post. Unfortunately the game had to be halted for 15 minutes at the end of the first half due to an injury to Westfield's Sonny Wilson. Everyone at PlayStation and the English Schools' FA wishes Sonny a safe and speedy recovery.
Arsenal star Alex Iwobi was on hand to conduct the award ceremony before taking a lot of time pitchside to sign autographs and pose for selfies with the excited crowd in attendance.
https://www.youtube.com/watch?v=Vb_NU6Hs-P8
ESFA PlayStation U14 Schools' Cup for B Teams – Ivybridge College v Cardinal Heenan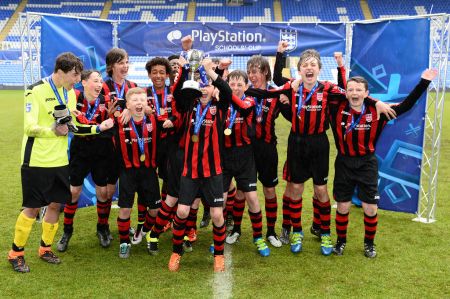 The next game of the day saw Ivybridge Community College and Cardinal Heenan Catholic Sports College contest the Under 14 PlayStation Schools' Cup for 'B' Teams. This also marked lead ITV commentator Clive Tyldesley making his way to the commentary box to call the next two games for the live Web TV broadcast. Clive barely had time to get comfortable in his seat before Cardinal Heenan took control of the game with two goals in the first ten minutes. This proved to be the end of the goalscoring but not the drama as Ivybridge struck the woodwork twice and missed a penalty on a day they may look back on and think what might have been.
https://www.youtube.com/watch?v=IiF_UulSJLo
ESFA PlayStation U14 Schools' Cup for Girls' – St Ivo School v Thomas Telford School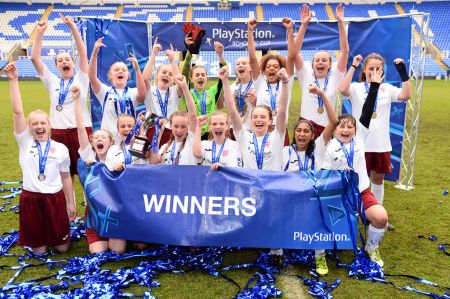 The Under 14 Girls' final almost matched the drama of the day's opening game, as Thomas Telford turned round a two-goal deficit in injury time to draw 2-2 and take their game with St Ivo to penalties. It all looked dead and buried after a goal from Katherine Speed and a Sophie Bramford own goal gave St Ivo a 2-0 lead. However Bramford atoned for her error with a well struck goal before Sadie Craig levelled matters to force spot kicks. It was Thomas Telford who held their nerve, scoring every penalty to seal a 5-4 success.
https://www.youtube.com/watch?v=cPI_t8jZ7Xg
ESFA PlayStation U14 Open Schools' Cup – Hove Park School v Thomas Telford School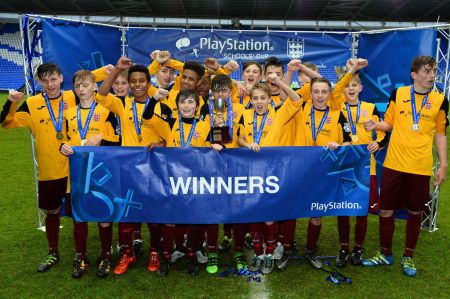 After subsiding most of the day, the pouring rain returned for the Under 14 Open Schools' Cup final between Thomas Telford and Hove Park School. The rain didn't dampen the exciting action however as Thomas Telford put on an incisive finishing display to clinch victory with a 4-0 win.
https://www.youtube.com/watch?v=n-FPbzNE1Fo
The PlayStation Schools' Cup Finals 2016 were a fantastic three days and showcase of the immense talent harboured by schools' football teams! The ESFA would like to thank everyone involved in making the ESFA PlayStation Schools' Cup Festival a huge success, and to Reading FC for allowing use of these fantastic facilities.
Check out the Save of the Tournament and Goal of the Tournament videos.
https://www.youtube.com/watch?v=tDrcf1TNv0o
https://www.youtube.com/watch?v=siDFOA5RICM
Entries for the 2016/17 PlayStation Schools' Cup competitions are now open online – login to your schools' account on the ESFA website to register your entries for this coming season!

Archived News
Seasons
Season 2015-2016
June 2016
17th :: PlayStation Schools' Cup Festival Rocks Madejski Stadium – Day 3 Review