PlayStation Schools' Cup Festival Rocks Madejski Stadium – Day 2 Review
Friday 17 June 2016By ESFA Office
Last Updated:
22/06/2016 16:09:56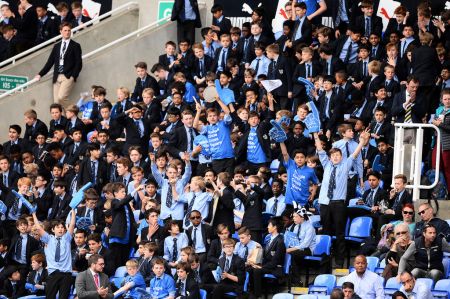 The second day of the ESFA PlayStation Schools' Cup National Finals at the Madejski Stadium got off to another sunny start ahead of 10 more teams competing for the coveted National Champions title in their respective competitions.
You can find Tuesday's line-up of events below including an appearance from Tottenham Hotspur's Danny Rose, just one day after he had been named to play in this season's England Squad in the European Championships 2016!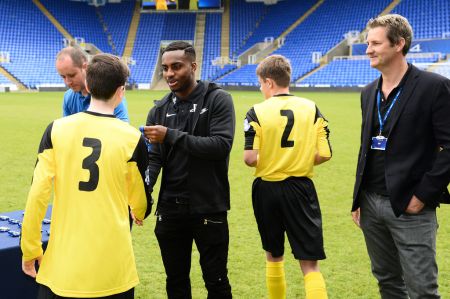 Tuesday 17 May
Day two of the festival saw Northampton School for Boys and Thomas Telford U15 Open Schools' Cup players receive their medals and trophy on the pitch from England star Danny Rose!
ESFA PlayStation U13 Schools' Cup for B Teams – Hurstmere School v Stanley High School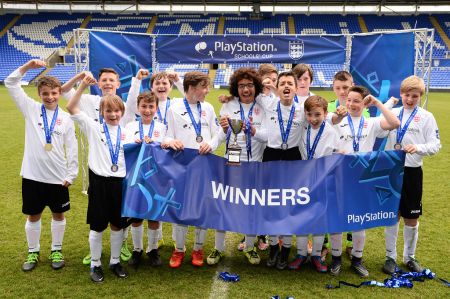 The opening game of the day was the Under 13 B Team final, which saw Sidcup's Hurstmere School line up against Stanley High School. It's the third consecutive year that Stanley have appeared at the Festival and the very same set of players have already tasted success after winning the Under 12 9-a-side B Team Cup last year. They certainly didn't hang around either, with striker Marco Ventura scoring two goals in 60 seconds within the first ten minutes of the game. They extended their lead in the second half and despite a consolation goal from Hurstmere to peg the scoreline back to 3-1; they held on and once again lifted aloft a national trophy on the Madejski Stadium pitch.
https://www.youtube.com/watch?v=Vt73MVulIwU
ESFA PlayStation U13 Schools' Cup – Whitgift School v Thomas Telford School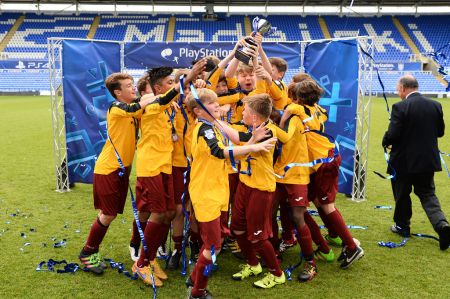 The second game of the day was the Under 13 PlayStation Schools' Cup final between Whitgift School and Thomas Telford, both of whom had already won silverware yesterday on the opening day. The game was played amidst an incredible atmosphere with a strong Thomas Telford contingent complemented by a 600-strong crowd from Whitgift School. However it was Thomas Telford fans who would once again be cheering after a clinical display saw them get their hands on the trophy with a 7-0 win, the highlight being a hat-trick from Jack Broome.
https://www.youtube.com/watch?v=djp87DrHCG8
ESFA PlayStation U14 Small Schools' Cup – Shenfield High School v Stretford Grammar School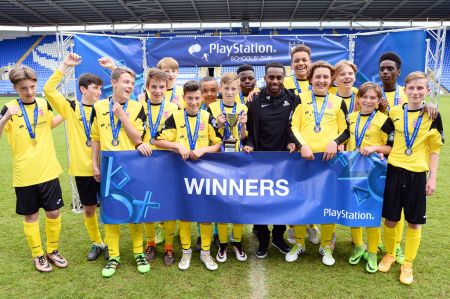 While the next game lacked goals, it certainly didn't lack tension. The ESFA Under 14 PlayStation Small Schools' Trophy between Shenfield High School and Stretford Grammar School went all the way to penalties after the teams were deadlocked at 0-0 after two 35 minute halves. Both teams missed a penalty in their opening five but it was Shenfield who held their nerve in sudden death to edge out their opponents, winning 5-4 and clinching victory. This was the cue for an appearance from Danny Rose who had been named in England's Euro 2016 squad yesterday. The left back was on hand to present the medals to both sides as well as the trophy to the victorious Shenfield team
https://www.youtube.com/watch?v=Gy6gExcSgZg
ESFA PlayStation U13 Schools' Cup for Girls' – St Ivo School v Thomas Telford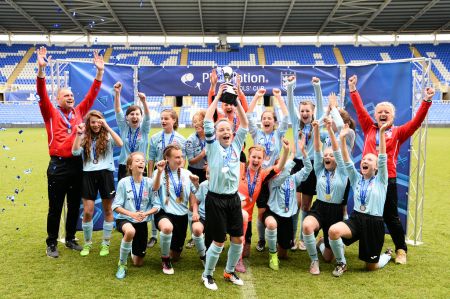 Thomas Telford were back in action next against St Ivo School in the ESFA Under 13 PlayStation Schools' Cup for Girls, the same two teams that will also contested the Under 14 Girls' final on day 3 of the festival. On this occasion it was St Ivo who would come up on top with a 3-0 victory, the highlight being a well-taken brace by Lucy O'Brien. St Ivo finished the match hoping to seal a fantastic double in the U14 match on Wednesday.
https://www.youtube.com/watch?v=IktNyj6Ke-U
ESFA PlayStation U13 Small Schools' Cup – Causeway School v Clitheroe RGS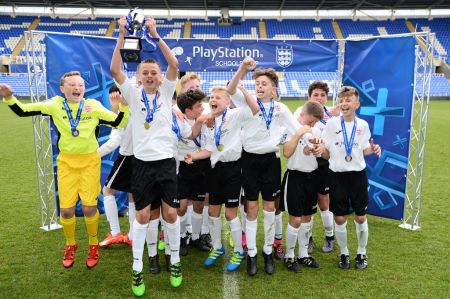 The Under 13 Small Schools' Trophy, the final game of the day, proved to be a thriller and it contained two goals fit to grace any level. Causeway School edged out Clitheroe Royal Grammar School 3-2 with a 35-yard free kick from Ben Thompson and a long-range effort from Ben Overton stealing the show.
Archived News
Seasons
Season 2015-2016
June 2016
17th :: PlayStation Schools' Cup Festival Rocks Madejski Stadium – Day 2 Review