English Schools' FA National Finals - May 2016
Friday 29 April 2016By ESFA Office
Last Updated:
03/05/2016 21:12:07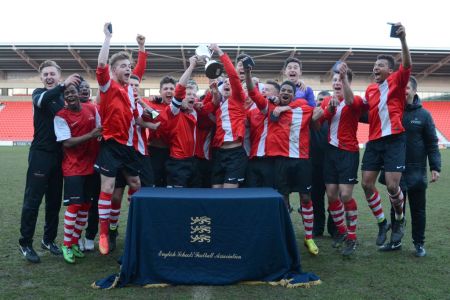 The ESFA are thrilled to be able to announce all our confirmed dates and venues for 2015/16 National Cup Finals!
We are travelling to Nottingham Forest, Manchester City Academy Stadium, Birmingham City FC, Madejski Stadium and Leicester City's King Power Stadium over the course of the next four weeks, to bring you over 30 ESFA National Finals!
Working with our sponsors, PlayStation, the Premier League and Danone we are able to showcase the country's best footballing talent at these fantastic events throughout May.
Hospitality packages are available for some of our National Finals, the details of which can be found here and we will be working with both 353 Photography and 247.TV to ensure every moment of ESFA footballing history is captured for our teams!
Details of individual finals can be found via our Twitter page with regular updates on there – we hope you are looking forward to witnessing this season's pinnacle of football as much as we are!
Good luck to all the teams involved!
Tuesday 03

ESFA PlayStation U15 Inter Association Trophy

Bristol & South Gloucestershire v Sefton or Liverpool

Nottingham Forest FC – 2pm KO

Wednesday 04

ESFA Premier League U16 Schools' Cup

Thomas Telford School v Samuel Whitbread Academy

Manchester City Academy Stadium – 11am KO

Wednesday 04

ESFA Premier League U16 Small Schools' Cup

King Edward's School Witley v Blacon High School

Manchester City Academy Stadium – 3pm KO

Friday 06

ESFA Premier League U16 Schools' Cup for Girls

St Bede's School v Kings' School

Manchester City Academy Stadium – 11am KO

Friday 06

ESFA Premier League U16 Open Schools' Cup

Dorothy Stringer School v Thomas Telford School

Manchester City Academy Stadium – 3pm KO

Saturday 07

ESFA U16 Inter County Trophy

North Yorkshire v Sussex

Nottingham Forest FC – 10am KO

Monday 09

ESFA PlayStation U15 B Team Cup

Weydon School v Cardinal Heenan RC Sports College

Birmingham City FC – 12pm KO

Monday 09

ESFA U18 Inter County Cup

Sussex v Northumberland

Birmingham City FC – 4pm KO

Tuesday 10

ESFA PlayStation U14 Inter County Cup

Surrey v Bedfordshire

Birmingham City FC – 12pm KO

Tuesday 10

ESFA PlayStation U14 Inter County Cup for Girls

Lancashire v Essex

Birmingham City FC – 4pm KO

Wednesday 11

ESFA PlayStation U13 Inter Association Trophy

Chelmsford v Liverpool

Birmingham City FC – 12pm KO

Wednesday 11

ESFA U16 Inter County Trophy for Girls

Somerset v Staffordshire

Birmingham City FC – 4pm KO

Monday 16

ESFA PlayStation U12 9-a-side Schools' Cup

Whitgift School v Moorland School or Cardinal Heenan School

Reading FC – 9:30am KO

Monday 16

ESFA PlayStation U12 9-a-side B Team Cup

Glyn School v Thomas Telford School

Reading FC – 11:30am KO

Monday 16

ESFA PlayStation U15 Open Schools' Cup

Northampton SFB v Thomas Telford School

Reading FC – 1:30pm KO

Monday 16

ESFA PlayStation U15 Schools' Cup for Girls

Shenfield High School v Mirfield Free GS or Thomas Telford School

Reading FC – 3:30pm KO

Monday 16

ESFA PlayStation U15 Small Schools' Cup

Gosford Hill School v Howden School

Reading FC – 5:30pm KO

Tuesday 17

ESFA PlayStation U13 Schools' Cup for B Teams

Hurstmere School v Stanley High School

Reading FC – 9:30am KO

Tuesday 17

ESFA PlayStation U13 Schools' Cup

Whitgift School v Meadowhead School or Thomas Telford School

Reading FC – 11:30am KO

Tuesday 17

ESFA PlayStation U14 Small Schools' Cup

Shenfield High School v Stretford Grammar School

Reading FC – 1:30pm KO

Tuesday 17

ESFA PlayStation U13 Schools' Cup for Girls

St Ivo School v Thomas Telford School

Reading FC – 3:30pm KO

Tuesday 17

ESFA PlayStation U13 Small Schools' Cup

Causeway School v Clitheroe Royal Grammar School

Reading FC – 5:30pm KO

Wednesday 18

ESFA PlayStation U15 Schools' Cup

Bishop's Stortford High School v Thomas Telford School

Reading FC – 9:30am KO

Wednesday 18

ESFA PlayStation U14 Schools' Cup

Westfield School v St Aloysius College

Reading FC – 11:30am KO

Wednesday 18

ESFA PlayStation U14 Schools' Cup for B Teams

Ivybridge Community College v Cardinal Heenan Sports College

Reading FC – 1:30pm KO

Wednesday 18

ESFA PlayStation U14 Schools' Cup for Girls'

St Ivo School v Thomas Telford School

Reading FC – 3:30pm KO

Wednesday 18

ESFA PlayStation U14 Open Schools' Cup

Hove Park School v St Francis Xavier's College or Thomas Telford School

Reading FC – 5:30pm KO

Sunday 22

ESFA Danone Nations' U11 Cup National Finals

Schools' Cup National Finals

Small Schools' Cup National Finals

Leicester City FC – 11am KO

Sunday 22

ESFA Danone Nations' U11 Cup National Finals

Girls' Cup National Finals

District National Finals

Leicester City FC – 3:30pm KO
Archived News
Seasons
Season 2015-2016
April 2016
29th :: English Schools' FA National Finals - May 2016